December 25, 2021
Top 10 stories of 2021: #8
Chapman's Ice Cream doesn't melt under social media heat
BY SOUTHGREY.CA STAFF — Local dairy confection company, Chapman's Ice Cream made the news many times during the last year thanks to some ground-breaking actions and policies. Reaction was not always positive but often solidified their place in the hearts of many within the Grey Highlands community.
In June, it was announced that in an effort to boost its hiring, the company was raising starting rates by $0.50 per hour. This followed a March increase of $1.00 per hour for night shift employees.
Last year, Chapmans gave an increase of $2 per hour to production and distribution workers as part of a strategy to reward them during the pandemic. They later made the pandemic pay boost permanent. When all was added up, Production starting wage settled at $18.50 per hour with many positions such as Distribution Center employees, Forklift Operators and Lab Technicians earning even higher rates. All positions also receive an additional $0.50 per hour upon the completion of their probationary period.
Workers at Chapmans also receive many other benefits including 100% medical, dental and paramedical insurance coverage, subsidized meals, flexible shifts and free ice cream.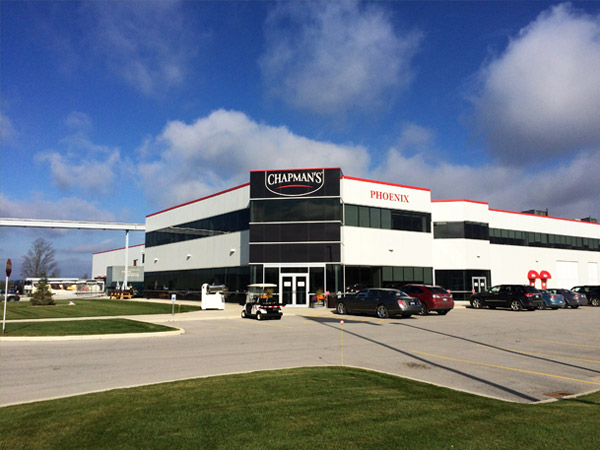 Throughout the pandemic, Chapmans also made the news at the forefront of safety and health measures through diligent screening processes, personal protective equipment and above standard cleaning and sanitizing practices.
In a letter from the Grey Bruce Health Unit penned in June, the Canadian ice cream giant was praised for their proactive involvement in mitigating COVID-19. The letter cited many initiatives:
Chapmans' expertise in freezer technology led the way to the early acquisition of ultra-low temperature cryogenic freezers to store vaccine for the Grey Bruce clinics. They also assisted by sharing their expertise in the specialized safety and handling associated with these super-freezers. Chapman's also assisted in the provision of a specialty cryogenic freezer for Windsor-Essex Public Health.
Chapmans supported the early acquisition and distribution of PPE (personal protective equipment) as it was required across Grey Bruce.
Chapmans assisted in the set-up of the Hockey Hub mass immunization clinics as well as supported local workplace clinics for their workers.
Chapmans has supported the daily immunization clinics by providing water and other break refreshments to volunteers and staff at the clinics; something that is much appreciated by those working in the clinics.
The most visited story involving Chapmans came in November, when it was revealed that fully-vaccinated employees were given a $1 per hour raise, while the unvaccinated employees were not. Unvaccinated workers remained employed in their facilities, but were required to test negative in an on-site COVID-19 test administered twice weekly.
The move prompted immediate criticism from many people on social media, including anti-vax groups who cried foul, claiming the policy was unfair and unnecessarily coercive. However, many more people defended Chapmans as a premier local employer and loudly drowned out any calls for a Chapmans Ice Cream boycott. #Istandwithchapmans became a viral rallying cry for the company's defence.
After we have endured almost two years of the COVID-19 pandemic which many have called "the worst health crisis in a century," social media continues to be the battlegrounds in an epic clash between science and politics, right vs left, and pro-vax vs anti-vax advocates. But through it all, Chapmans Ice Cream has not only survived, but gained favourable lore and unparalleled resiliency.
Visit our stories:
Chapmans Ice Cream hikes wages in preparation for a busy summer season
Glowing praise for Ashley Chapman from Grey Bruce Public Health for COVID-19 role

Is the vaccine debate over yet? Not according to some
---
At South Grey News, we endeavour to bring you truthful and factual, up-to-date local community news in a quick and easy-to-digest format that's free of political bias. We believe this service is more important today than ever before, as social media has given rise to misinformation, largely unchecked by big corporations who put profits ahead of their responsibilities.
South Grey News does not have the resources of a big corporation. We are a small, locally owned-and-operated organization. Research, analysis and physical attendance at public meetings and community events requires considerable effort. But contributions from readers and advertisers, however big or small, go a long way to helping us deliver positive, open and honest journalism for this community.
Please consider supporting South Grey News with a donation in lieu of a subscription fee and let us know that our efforts are appreciated. Thank you.