December 31, 2021
Top 10 stories of 2021: #2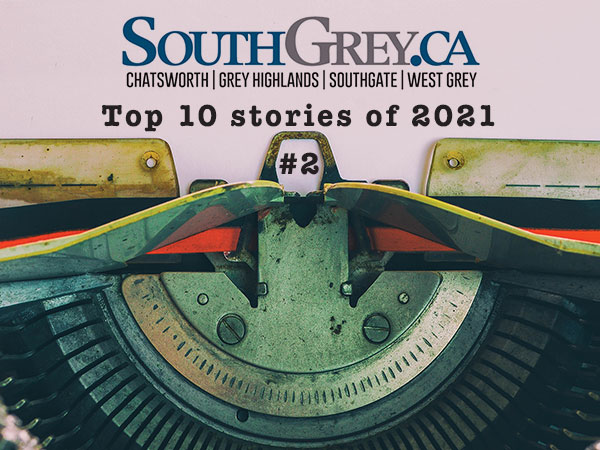 Grey County Reads, and boy, do they ever!
BY SOUTHGREY.CA STAFF — Over 25,000 visits were made to Grey County Reads pages on SouthGrey.ca in 2021, making this year's contest our most successful ever. It checks in at #2 in our countdown.
Over 1,500 votes were cast from February until the end of April. When the dust settled, The Overstory by Richard Powers, advocated by Kaitland Murray squeaked out the narrowest of wins over Son of a Trickster by Eden Robinson, advocated by Shawn Ankenmann.
Three lucky voters were also chosen at random to win Speaking Volumes Books and Audio gift certificates:
Michelle Patey of Markdale wins a $50 certificate
Holger Majorahn of Flesherton wins a $30 certificate
Jennifer Stenberg of Flesherton wins a $20 gift certificate
All six Grey County Chambers of Commerce participated in the competition, bringing forward their own champions to read for the advancement of our public libraries and on behalf of local businesses across the county.
Which brings us to the next edition of Grey County Reads to begin mid-January, 2022. Once again, the Chambers of Commerce have chosen their champions and each will advocate for one of seven books in the next few weeks.
Philly Markowitz (Owen Sound) will read Manikanetish by Naomi Fontaine
Norma Graham (Hanover) will read Deafening by Frances Itani
Kimm Culkin (West Grey) will read The Apollo Murders by Chris Hadfield
Pam Farrow (Southgate) will read The Pull of the Stars by Emma Donoghue
Jennifer Bechan (Grey Highlands) will read What Comes from Spirit by Richard Wagamese
Elora Tarlo (Town of Blue Mountains) will read The Library of Legends by Janie Chang
Julia White (Meaford) will read The Girls by by Lori Lansens

Stay tuned for more information to come. Read our 2022 Grey County Reads preview:
Get Ready! Grey County Reads begins again in January

Visit our wrap-up to the 2021 contest:
Grey County Reads ends another successful year
---
At South Grey News, we endeavour to bring you truthful up-to-date local community news in a quick and easy-to-digest format that's free of political bias. We believe this service is more important today than ever before, as social media has given rise to misinformation, largely unchecked by big corporations who put profits ahead of their responsibilities.
South Grey News does not have the resources of a big corporation. We are a small, locally owned-and-operated organization. Research, analysis and physical attendance at public meetings and community events requires considerable effort. But contributions from readers and advertisers, however big or small, go a long way to helping us deliver positive, open and honest journalism for this community.
Please consider supporting South Grey News with a small donation and let us know that our efforts are appreciated. Thank you.