December 13, 2021
Get Ready! Grey County Reads begins again in January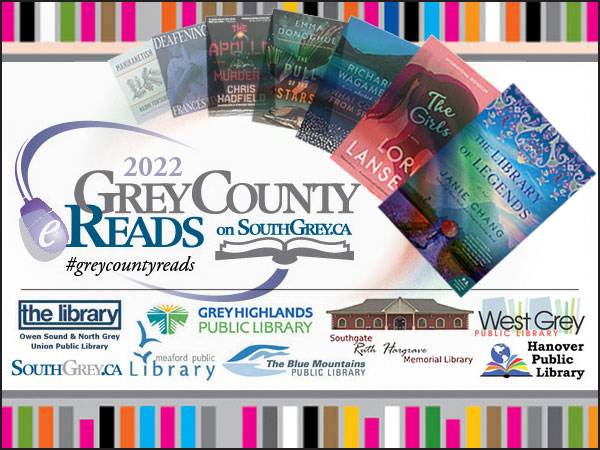 BY SOUTHGREY.CA STAFF — Doing something positive to manage anxiety is a healthy coping strategy. According to the Mayo Clinic, a nonprofit organization committed to clinical practice, education and research in the U.S., reading a book is a healthy distraction from the cycle of negative thoughts that feed anxiety and depression. And, don't you know, we could all use a little bit of that these days!
Cue Grey County Reads, our answer to everything that ails you! Once again, we will treat you to the rantings of our Canadian-authored book champions over the course of this winter. Here's how this next contest will is shaping up...
Tim Nicholls Harrison will read Manikanetish by Naomi Fontaine. Tim is the CEO / Chief Librarian at the Owen Sound & North Grey Union Public Library. He has worked there for over 33 years and is passionate about supporting our local communities and encouraging life-long learning. Tim enjoys spending time with family and friends, writing, reading, studying magic, sipping scotch and playing basketball. Friendly disclaimer: not all at the same time and some activities have been limited by the pandemic.
Naomi Fontaine is a French teacher and Innu author from Uashat, Quebec. Noted as one of the most prominent First Nations writers in contemporary francophone Canadian literature, Naomi has received a lot of attention for her first two published works. Manikanetish is her second novel and was released in 2017.

Norma Graham will read Deafening by Frances Itani. Norma is Assistant Librarian at the Hanover Public Library. An avid reader, Norma brings a wealth of experience to the contest. She will represent Hanover.
With her selection, she will advocate for Francis Itani's second entry into the Grey County Reads program in two years. Francis is a Canadian fiction writer, poet, essayist and Member of the Order of Canada. Check out her interview with Geoff Bowes from the Grey County Reads archives below.

Kimm Culkin will read The Apollo Murders by Chris Hadfield. Another experienced library employee, Kimm works at the West Grey Public Library but also has a lengthy history with the Youth Literacy Council South Grey Bruce. She will represent West Grey.
Chris Hadfield should need no introduction. He is, of course, a well-known retired Canadian Space Agency astronaut, engineer, science communicator and former fighter pilot. The first Canadian to perform extravehicular activity in space, Hadfield has flown two Space Shuttle missions and served as commander of the International Space Station. He is also known to pick up a guitar and belt out a tune or two. With his first foray into fiction writing, he adds yet another entry to his long list of accomplishments.

Pam Farrow will read The Pull of the Stars by Emma Donoghue. Pam is an Architectural Technologist based in Dundalk who loves to read. You can check out her website to read more about her qualifications and offered services. Apropos for the times we currently find ourselves in, she has chosen to examine Donoghue's unsettling story set in a maternity ward in Dublin during the 1918 flu pandemic. She will represent Southgate.
Emma Donoghue is an award-winning Irish-Canadian novelist, screenwriter, and playright. This is also Emma's second appearance in Grey County Reads. Her highly-acclaimed novel The Wonder made an appearance in the 2018 contest.

Jennifer Bechan will read What Comes from Spirit by Richard Wagamese. Jennifer's family-owned business, Fresh Start Duct Cleaning Services Inc. in Markdale, claims to go above and beyond for their clients! She'll be applying that level of care when she advocates for one of Canada's most celebrated Indigenous authors and storytellers collection of non-fiction works. She will represent Grey Highlands.
Richard Wagamese passed away in March 2017, at his home in Kamloops, BC but not before he established a prominent and prolific literary career. He was perhaps best known for his darkly comic 2012 novel, Indian Horse, about a residential school survivor with an extraordinary gift for hockey. His unfinished book Starlight made it into our 2019 contest finals.

Elora Tarlo will read The Library of Legends by Janie Chang. Elora is the owner of Georgian Bay Marketplace, an online shopping site that features local artisans from the South Georgian Bay area. Her Chinese ancestry and a love of Chinese historical fiction, will help her to tackle Janie Chang's captivating story of a convoy of student refugees who travel across China, fleeing the hostilities of a brutal war with Japan. She will represent Town of Blue Mountains.
Today, Janie Chang resides in Vancouver, BC but was born in Taiwan and knew many homelands in her life, including the Philippines, Iran, Thailand, and New Zealand. The Library of Legends is her third book.

Julia White will read The Girls by by Lori Lansens. Julia is a Co-operators Financial Advisor and owner of Julia White & Associates in Meaford. Julia will read the life story of a pair of conjoined twins as told by the twins themselves — Lansens' acclaimed take on this curious subject matter. Julia will represent Meaford.
Lori Lansens is a Canadian novelist and screenwriter originally hailing from Chatham, Ontario. A successful screenwriter, whose credits included the films South of Wawa, Wolf Girl and Marine Life, Lori turned to writing novels and published her first fictional work in 2002. She followed that with her second book The Girls in 2005.
Grey County Reads will begin on January 17, 2022 with instalments from each of our readers as they advocate for their selections in this year's competition. Before then, read more about these books and their authors. Also, return to this page for weekly updates and instructions on how to enter the contest to win books for you and your community!
---
At South Grey News, we endeavour to bring you truthful and factual, up-to-date local community news in a quick and easy-to-digest format that's free of political bias. We believe this service is more important today than ever before, as social media has given rise to misinformation, largely unchecked by big corporations who put profits ahead of their responsibilities.
South Grey News does not have the resources of a big corporation. We are a small, locally owned-and-operated organization. Research, analysis and physical attendance at public meetings and community events requires considerable effort. But contributions from readers and advertisers, however big or small, go a long way to helping us deliver positive, open and honest journalism for this community.
Please consider supporting South Grey News with a donation in lieu of a subscription fee and let us know that our efforts are appreciated. Thank you.