December 18, 2021
Is the community as divided over Talisman as some would have us believe? See our informal survey results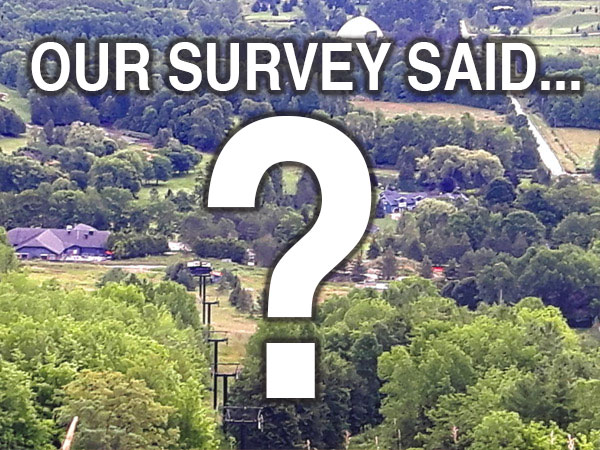 BY SOUTHGREY.CA STAFF — In a five part series, Talisman Lands: Future Partnership or Continued Friction, John Butler explored the many steps taken along the path to the current situation that Grey Highlands Council is faced with.

As it stands, the municipality has accepted a conditional offer from Westway Capital, the ratification of which depends on a favourable conclusion to a due diligence period of unknown length. Multiple questions from residents and groups to Grey Highlands have met with an explanation of confidentiality or plain undecorated silence. As John Butler has explained, warranted or not, this silence has driven a wedge further between the town government and many of its residents.
In their defence, certain members of Council have implied that while some citizens favour less development on these lands, the general public is more divided on this issue. But is this really true? Just how divided are we?
We thought we'd try to clarify the general public position on this issue and created an informal survey to answer two simple questions:
Are you in favour of the sale of former Talisman Resort Lands to Westway?
Do you think Grey Highlands has acted in the public's best interest with regards to the fate of former Talisman lands?
While not entirely scientific, we think the results give a good indication of where the community has landed on this controversy. 316 people responded to our survey in less than a week. 95% of respondents were Grey Highlands residents with an age demographic profile that fits with what we know about the people who live here: 60% aged 55 or older.
On the assertion that the general public is divided on this issue, the results would suggest that Council should rethink that position.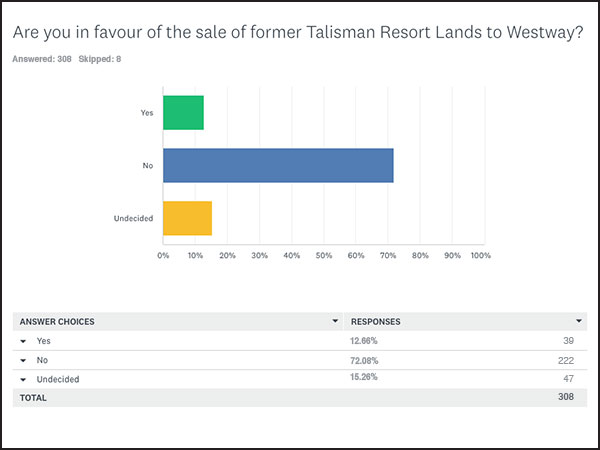 According to our survey, 72% of the general public do not favour the conditional sale of lands to Westway Capital, while 15% seem to be waiting for more information and indicated their indecision. Only one out of every eight citizens actually give the deal a green light.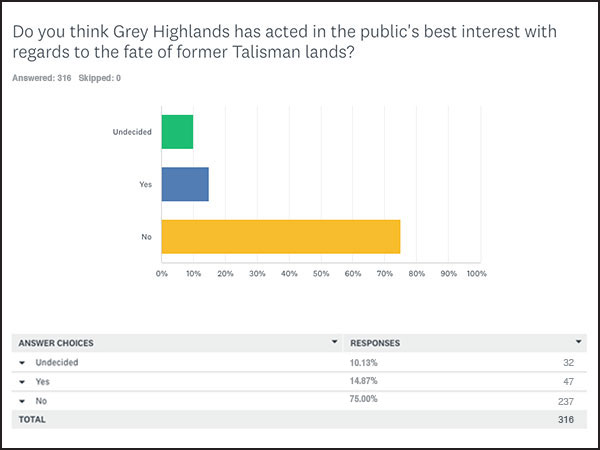 On the question of Grey Highlands integrity to act in the public best interest on this issue, 75% voiced their lack of confidence. 15% of respondents gave staff and Council a thumbs-up, while 10% of jury members were not yet committed to a position.
We want to thank everyone who took time to answer our survey. Results have been extrapolated from the survey pool of 316 un-targeted respondents.
Read the 5-part series Talisman Lands: Future Partnership or Continued Friction
Talisman property 101: How did we get here?
Grey Highlands owns a property it doesn't want
The community raises its voice a little louder
Voices grow louder still, while the municipality's silence deafens
An alternate offer is presented
---
At South Grey News, we endeavour to bring you truthful and factual, up-to-date local community news in a quick and easy-to-digest format that's free of political bias. We believe this service is more important today than ever before, as social media has given rise to misinformation, largely unchecked by big corporations who put profits ahead of their responsibilities.
South Grey News does not have the resources of a big corporation. We are a small, locally owned-and-operated organization. Research, analysis and physical attendance at public meetings and community events requires considerable effort. But contributions from readers and advertisers, however big or small, go a long way to helping us deliver positive, open and honest journalism for this community.
Please consider supporting South Grey News with a donation in lieu of a subscription fee and let us know that our efforts are appreciated. Thank you.