Southgate Adventure
Natural Attractions
SPONSORED CONTENT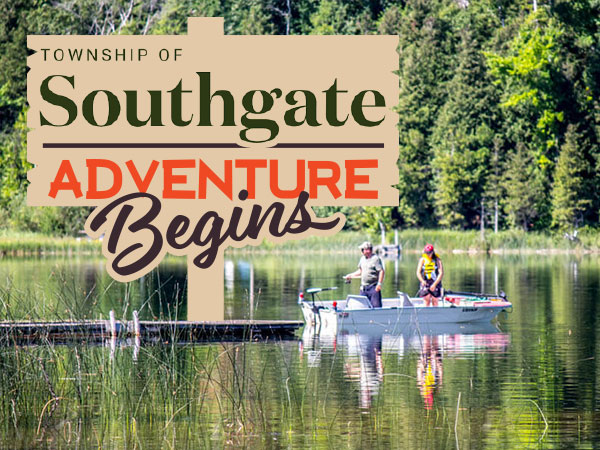 Restrictions imposed to mitigate the spread of COVID-19 may impact many of the experiences described in the pages ahead. To ensure your Southgate adventure doesn't present any unwelcome surprises, please check the applicable rules according to the Ontario Roadmap to Reopen and call ahead when planning to visit businesses.
Natural Attractions
The Township of Southgate is a perfect place to begin your next adventure. From gardens and pristine parkland to nature-filled locations perfect for picnicking, exercising or just getting back to basics, this rural gem will reset your place in the world. Discover yourself in Southgate!
Dundalk
The CP Rail Trail is a 77 km long path that starts in downtown Dundalk and takes you all the way to Owen Sound. Running parallel to Highway 10, the trail forms the key link in most of the ATV and snowmobile trail systems in the area. It also has a nice, flat surface that's perfect for hiking and biking.
Holstein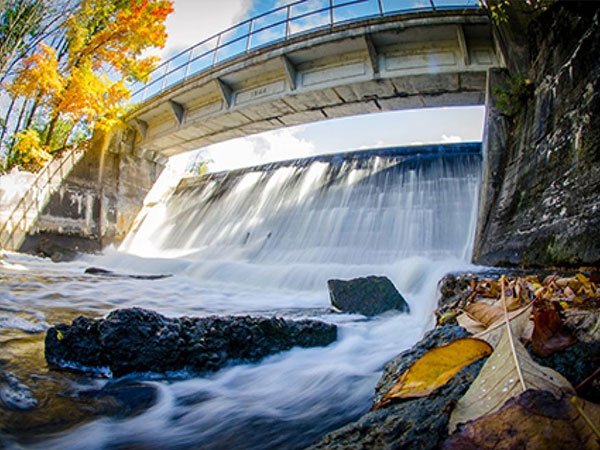 Photo: County of Grey
A worthwhile stop on the Waterfalls Tour of Grey County, Norman Reeves Creek flows over the Holstein Dam to create a five-metre falls, located in Holstein Jubilee Park. The park has viewing areas for the charming waterfall, dam and mill pond stocked with brook trout, but also contains picnic areas, pavilion, ball diamond, playground and walking trails.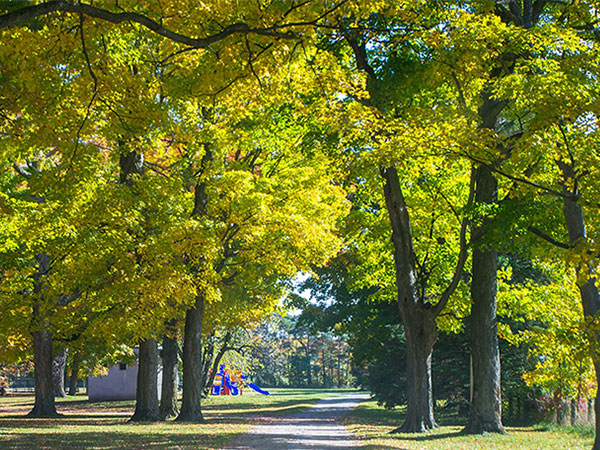 Holstein Jubilee Park. Photo: County of Grey
An old railway trail runs along the top of the dam which provides the best vantage point for the falls. You can also use the trails to explore the park. Look for the foundation of an old sawmill ruin, hidden in the woods and walk past an operational feed mill built on the foundation of the original grist mill built in 1876.
Norman Reeves Creek is a tributary of the Beatty Saugeen River which winds its way through the Township of Southgate beginning its journey near Cedarville, eventually joining up with the Saugeen River near Hanover.
Varney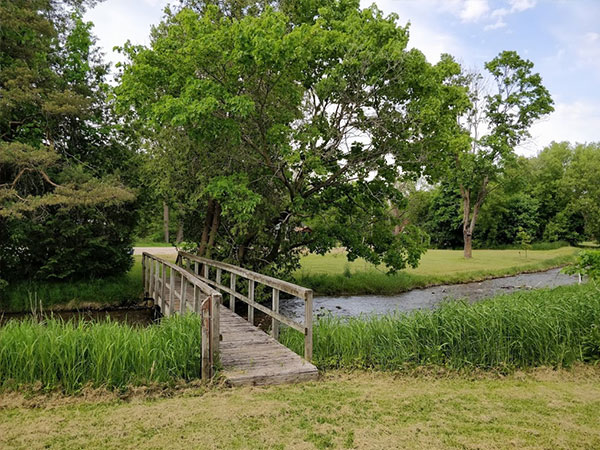 Varney Conservation Area. Photo: Andrew Cruikshank on Google
Varney Conservation Area is a small, roadside park located off Highway 6, south of the Town of Durham in the small hamlet of Varney. This is a perfect stop for a picnic or just to stretch your legs. Reminiscent of days-gone-by, it is one of the few day-use areas still around that provides swimming from an on-site pond. There is no cost to use the park.
Wilder Lake
Swimming, paddling and fishing are just a few pastimes associated with Wilder Lake, a shallow 87-acre lake. Expect to find bass, perch and panfish as the main species occupying the waters. Expect peace, quiet and serenity to be the main themes of your stay.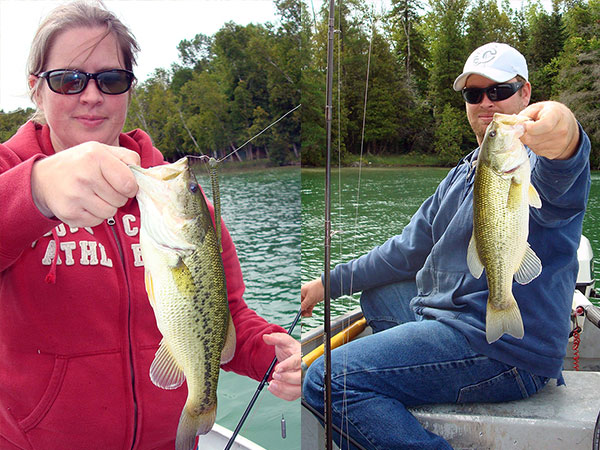 Fishing on Wilder Lake. Photo: www.argosgirloutdoors.com
There's only one spot to see the lake from the road and if you weren't looking for it, you might never suspect that such a pretty little lake existed. But the lake is also visible from Homestead Golf and Winter Resort to the west. In summer, the waters are clear and fishing is good.
ATVing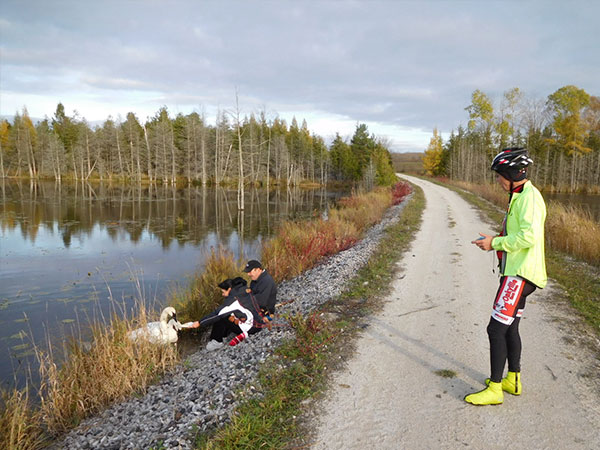 Photo: Dufferin Grey ATV Club
Spend some time off-roading in Southgate, where ATVs are welcome on a portion of the Grey County CP Rail Trail, select county & municipal roads.
There are two ATV Clubs which maintain trails in Southgate:
Dufferin Grey ATV Club
Club West Grey ATV Club
Trail users need to purchase an annual trail pass, available at selected local businesses, ATV clubs and on the Ontario Federation of ATV Clubs (OFATV) website. (https://ofatv.org/). The pass gives access to all of the trails maintained by the OFATV and Eastern Ontario Trail Alliance (EOTA). Money collected helps develop and maintain trails.
Snowmobiling
Southgate is in the heart of snowmobile country. Situated in the Ontario snow belt, there is usually ample snow to keep you happily motoring along the trails from December to April.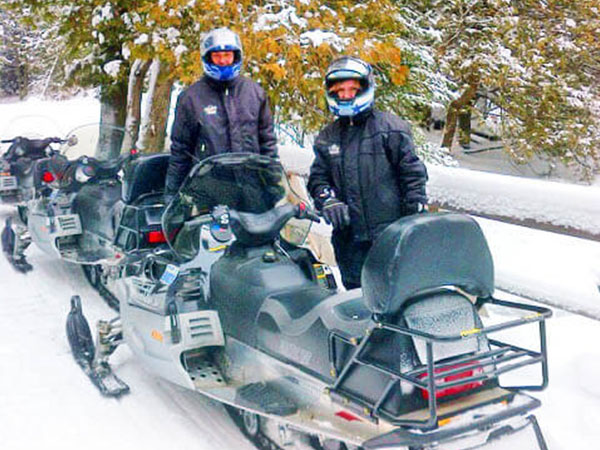 Photo: www.homesteadresort.ca
Snowmobile tour packages are available at Homestead Golf and Winter Resort and include accommodation by Wilder Lake, snowmobile rental for two hours, with a guide (if required). Available vehicles range from two-up or double-rider machines to single person snowmobiles.
A complimentary guide for a two-hour tour on Saturdays and Sundays means that even newer snowmobilers or those with minimal or no experience can enjoy the fun of this outdoor adventure.
For those who prefer to tackle the trails on their own, park your car/truck and trailer in Dundalk where there is ready access to the trail head. The scenery is wonderful and there are plenty of places to eat and shop once the day is done.
With the CP Rail Trail acting as a connecting hub with many other trail systems between Dundalk and Owen Sound, there are five snowmobile clubs and three snowmobile districts that straddle the snowmobiling scene in Southgate:
Klondyke Trail Groomers
Mount Forest Drifters
Durham Trailblazers
Osprey Snowhawks
Dufferin Drift Busters
Permits are necessary to ride the trails. For more information, visit the Ontario Federation of Snowmobile Clubs (OFSC) District 9 website.
Go natural!
We hope we've given you plenty of suggestions to get out and explore this beautiful area. We know that if you look around, you'll also find your own special adventure in Southgate.