January 12, 2023
Vixen 21TD — the raddest answer to a question that nobody asked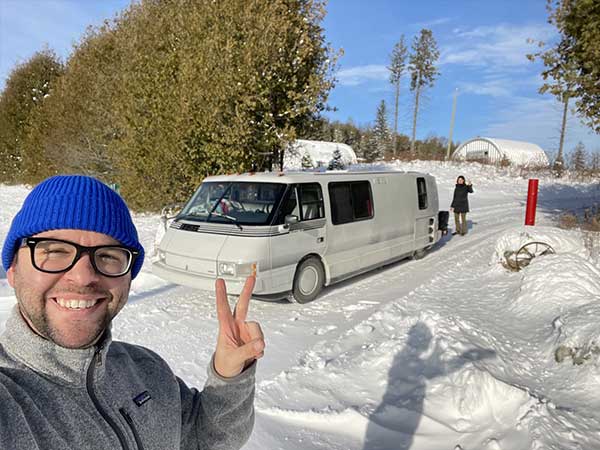 BY ROBERT IANTORNO — The specs read like a sportscar from a tangential 80s universe: Limited production. Fibreglass body. <0.30 Coefficient of Drag. 2.4L in-line 6 cylinder BMW turbocharged engine. 5 speed transaxle. VDO gauges.

Only unlike many sportscars, this thing has a toilet and looks like a big Nintendo.
Meet the Vixen 21TD (21 feet long, TurboDiesel). Built in 1987 in Pontiac Michigan by The Vixen Motor Company, and brainchild of DeLorean engineer Bill Collins, it was intended to answer the call for the sportscar of recreational vehicles — but did anyone ask for that? One example has been clocked at 108 mph.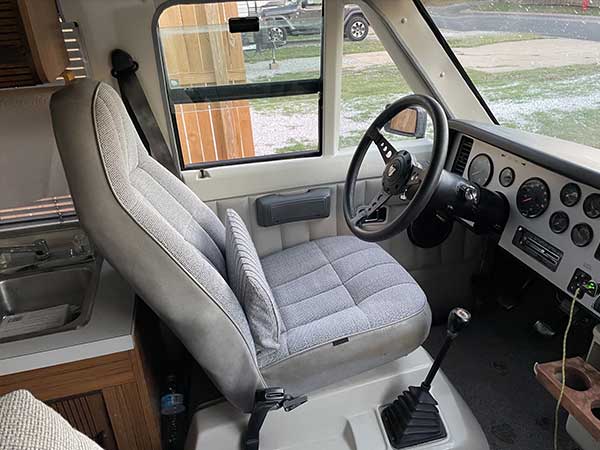 Mine is number 326 of 587, a treasured 1987 model, and one of the best remaining examples of the breed. A few months ago, I flew down to Morro Bay, California to buy it from its owner — his fifth Vixen. It has been thoroughly updated with better suspension and steering geometry and a host of drivetrain modifications including lower first and second gears. It retains its original gel coat paint and vinyl graphics, and even has a solar panel and its original Heart Inverter -a military grade electrical device that provides smooth AC power to the cabin.
After a brief orientation, I set off across Route 66 for a 6 day, 2600 mile journey back to Grey County. Back home at Singhampton Mission Command, my wife Maria was keeping tabs on my journey and coordinating each night's campground stay in advance. After years of zainy adventures, she has developed a real knack for itineraries and forward navigation.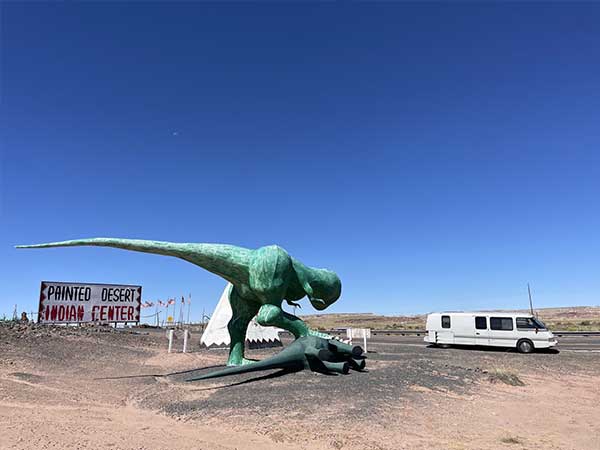 I appreciated the excellent handling of the Vixen as I wound through the canyons in California and saw the Exhaust Gas Temperature Gauge rise on long highway climbs in the thin, hot air of Arizona. In New Mexico, I attended the Vixen Owners Association Annual Meeting in Tucumcari, New Mexico, and was delighted to meet such cool people, passionate about their Vixens. I learned about the many quirks of the marque, plus they gave me a cool hat — it was great.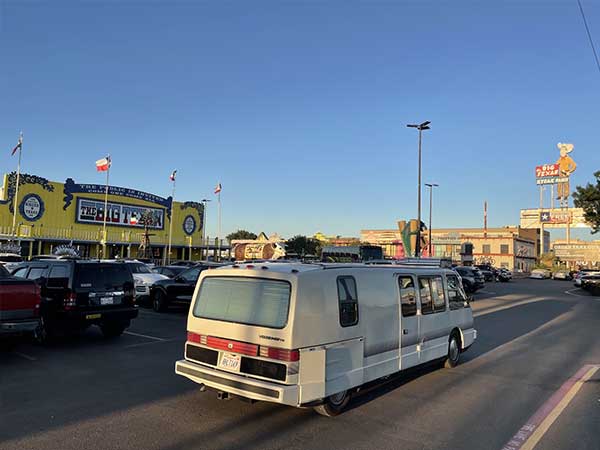 In Texas, I sang the soundtrack to The Big Lebowski at the top of my lungs as I pulled into The Big Texan, home of the 72 ounce steak challenge.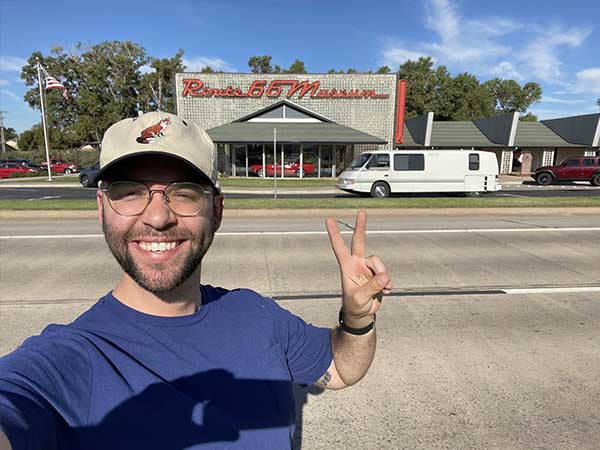 In Oklahoma, I stopped in at the Route 66 Museum and danced around the most amazing private motorcycle collection, including a barn find Indian 'Four' and an original 1913 Pope 1000cc board track tracer that literally gave me goosebumps.
Driving through Rolla, Missouri, I sat down for an authentic US ARMY 'high and tight' haircut from a barber named Chuck, and then ate a full rack of smoked ribs.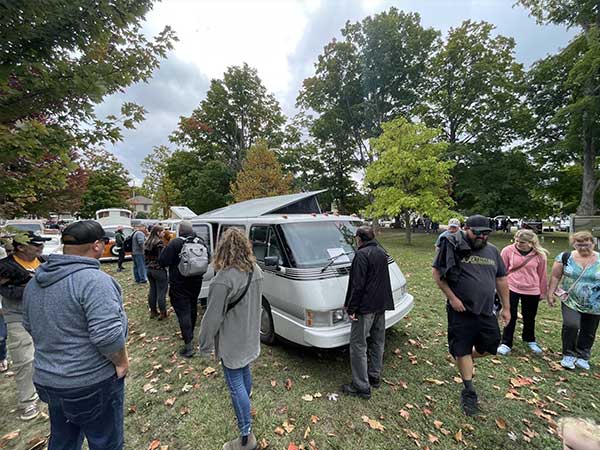 I didn't do much in Illinois, really, except fill up and purchase a big jug of Lucas diesel fuel additive. Did I mention that the Vixen cruises easily at 85 mph and achieves over 30mpg?
The whole trip I was working remotely on a combination of iPhone, AirPods and MacBook. I had to pull over for a few hours under a bridge in Indiana so that I could do some time sensitive magazine layouts and a client proposal. That was ok though because I got to eat several donuts and walk the prettiest rail town mainstreet in a town called Fortville.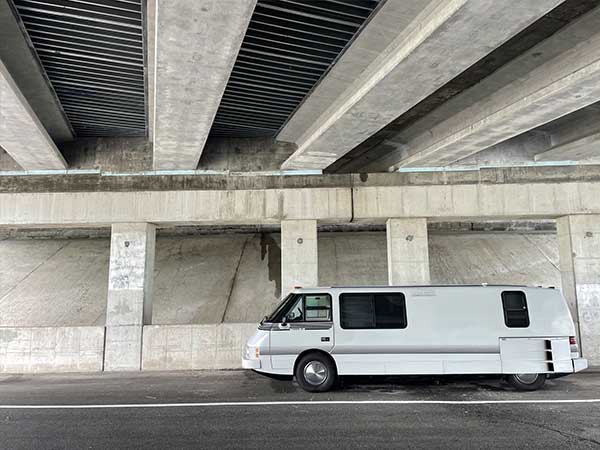 As I was importing the vehicle into Canada (which involved exporting from the US first), I had to make it to the Ambassador Bridge by nightfall on a given day. By the time I entered Michigan I was HAULIN' for the border! Woooooooo!!!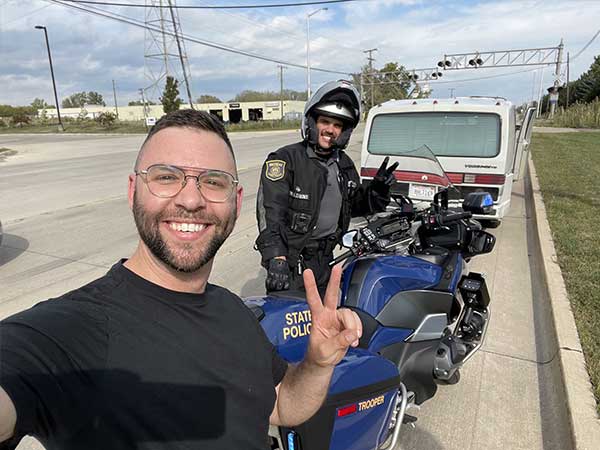 ...and that's when I ran out of gas in Detroit. Stranded at the side of the road, I had just set up orange pylons when a state motorcycle officer came by and struck up a conversation. All conversations near the Vixen start the same way: "What the heck is that thing??" . The Vixen's radness makes a lot of friends, which is highly useful on The Road.
In this case, I complimented the officer on his BMW motorcycle and State-issued moustache. He then pointed out the nearest gas station to carry diesel and radioed to services in the area not to worry about "the Big Space Van" at the side of the road. I walked across the freeway to a gas station, purchased a Dunkin' Donuts coffee (huge, terrible) a jerry can (that now stays in the vehicle), gassed up and got going. Lesson Learned: Drive by the trip meter, don't trust the fuel gauge.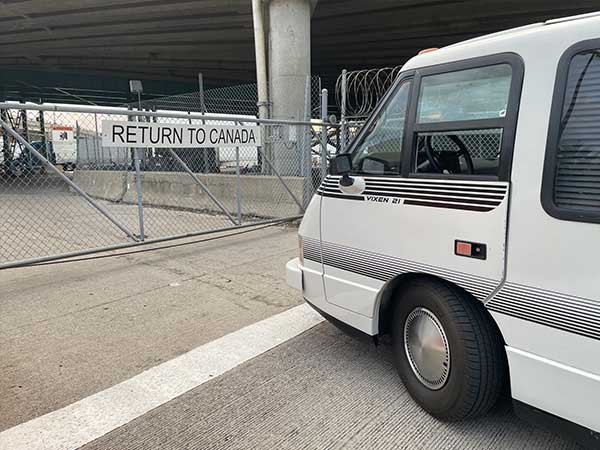 At the border, I had numerous customs officers circling the Vixen, shedding their steely protectionism in the wacky aura of radness as they giggled at it and snapped photos. Weirdness and friendliness can get one through daunting situations — it melts away personas, and people can't help but act like themselves.
Soon I was home in sunny Grey. While troubleshooting a reverse light switch, the fine mechanics in Markdale named the Vixen 'The Moon Bus.' It gets so much attention that I've learned to automatically 'beep-beep' the horn in acknowledgement of waves and thumbs up.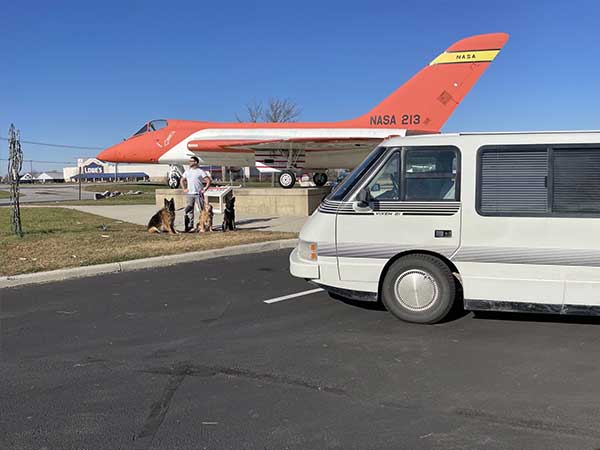 This winter, the Vixen is home for myself, Maria and our 3 dogs down here in Florida. It's small, it's different, and people love it. It's the ultimate conversation starter. We've made many friends, and the Vixen gets VIP treatment everywhere we go. It does answer a question that nobody asked, but maybe answers don't need questions. I'm glad it exists.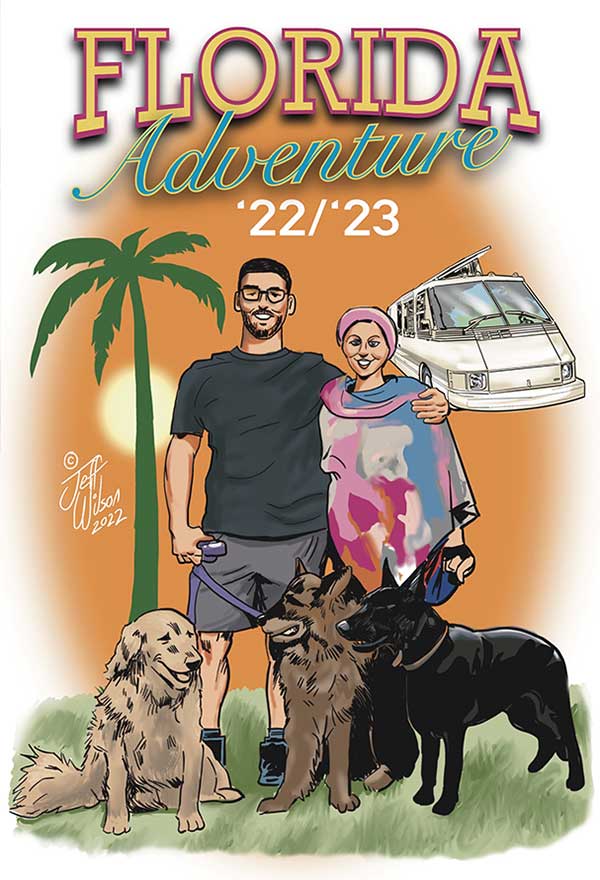 ---
At South Grey News, we endeavour to bring you truthful and factual, up-to-date local community news in a quick and easy-to-digest format that's free of political bias. We believe this service is more important today than ever before, as social media has given rise to misinformation, largely unchecked by big corporations who put profits ahead of their responsibilities.
South Grey News does not have the resources of a big corporation. We are a small, locally owned-and-operated organization. Research, analysis and physical attendance at public meetings and community events requires considerable effort. But contributions from readers and advertisers, however big or small, go a long way to helping us deliver positive, open and honest journalism for this community.
Please consider supporting South Grey News with a donation in lieu of a subscription fee and let us know that our efforts are appreciated. Thank you.