August 22, 2022
1975 Ferrari Dino 308 GT4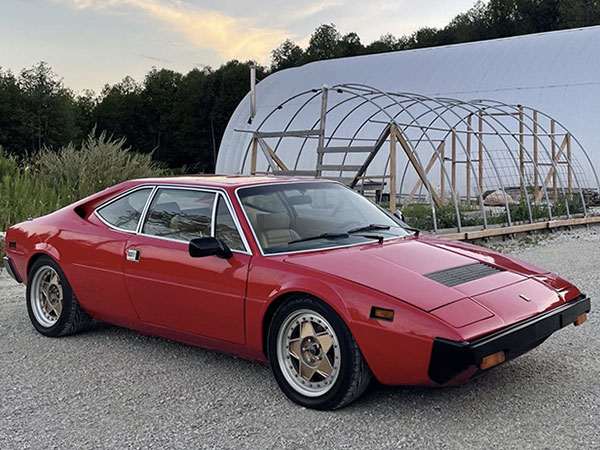 BY ROBERT IANTORNO — I owned this bright red wedge for a time. It messed with my head and I learned from it.

When new, this model wasn't badged Ferrari, but rather Dino (dee-noh) after Enzo Ferrari's late son. 308 GT4 denotes a 3 litre V8 engined Gran Turismo with 4 seats. It was styled by the boy genius Marcello Gandini for the coach builder Bertone, and was originally meant to be a Lamborghini, but the design was rejected. A series of coincidences led to the design being mated with Ferrari mechanicals, and this was the result. For a long time these were misunderstood, but this is a brilliant car.
I first laid eyes on this particular Dino on a dark, freezing day in Meaford back in December 2017. It was sitting in the back of a mechanic's shop on Hwy 26 among fibreglass boats, trucks and miscellaneous muscle cars — a bright red misfit in Grey County. It had suffered a pretty public carburetor fire years before, in Thornbury, and hadn't run right ever since. It was impressive, but clearly needed a lot of work. It had been refinished in its original colour of Rosso Corsa and looked great from the outside. Time to be cool and tread carefully, then.
Yeah, no. I was smitten by the slinky shape, the colour, and by the way it sat on its gold three piece wheels. Fine details like the stainless steel door handles, big MOMO steering wheel, and the detachable little mirror in the glovebox sparked a flurry of synapses in my brain. When I sat in the driver's seat, the smell of the leather interior, old vinyl, gasoline and just a hint of mildew filled my sinuses and better judgement was out the window. My southern Italian genes took over, and I was now along for the ride. Here it was, likely my only chance to own a Ferrari, and I had to have it. I pursued the car for four years, eventually persuading the owner, a gentleman in his 80s, to sell it to me. And then it was all mine.
And then it sat, not driven, barely running, on jackstands in my garage for a year. The Ego is a funny thing. There I was, Ferrari keys in hand, face to face with the very prize I had been pursuing since I was four years old, and yet somehow things didn't add up. I had enjoyed a sojourn as an apprentice Ferrari mechanic and loved working on these machines, but owning this one just didn't feel right. How could that be? Had I been chasing an evanescence? Why didn't this bright red wedge make me feel whole? I stayed in this limbo for months until I finally acknowledged that an object, however red or special it may be, will not by itself bring happiness. I like the chase, the experience... I like the machines for what they are and what they represent, but that doesn't mean that I need to own them to enjoy them. I don't need to parade on a prancing horse.
So with the help of my trusty mechanic Scotty we got the Dino running. Then I triumphantly drove it twice around the block and sold it. Ciao!
---
At South Grey News, we endeavour to bring you truthful and factual, up-to-date local community news in a quick and easy-to-digest format that's free of political bias. We believe this service is more important today than ever before, as social media has given rise to misinformation, largely unchecked by big corporations who put profits ahead of their responsibilities.
South Grey News does not have the resources of a big corporation. We are a small, locally owned-and-operated organization. Research, analysis and physical attendance at public meetings and community events requires considerable effort. But contributions from readers and advertisers, however big or small, go a long way to helping us deliver positive, open and honest journalism for this community.
Please consider supporting South Grey News with a donation in lieu of a subscription fee and let us know that our efforts are appreciated. Thank you.