November 02, 2022
Will there be school on Friday?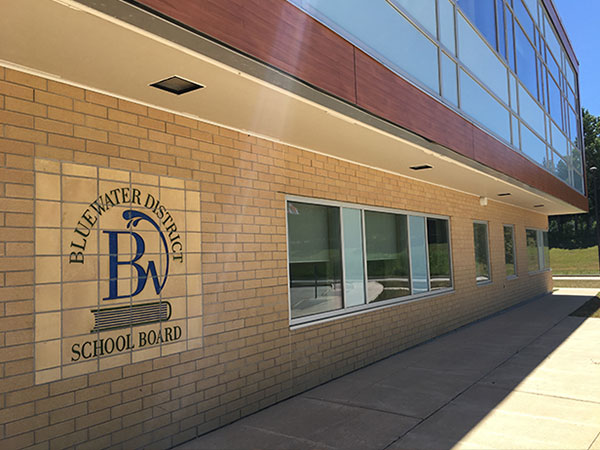 BY SOUTHGREY.CA STAFF — On the weekend, negotiations broke down between the Ontario government and the Canadian Union of Public Employees (CUPE) Ontario prompting the union to give notice that they will strike as of Friday, November 4. Since then, the Ontario government has introduced legislation to invoke the 'notwithstanding clause' in an attempt to force public employees to abandon the option of a legal strike as they have indicated. The clause gives provincial legislatures or Parliament the ability, through the passage of a law, to override certain portions of the Canadian Charter of Rights and Freedoms for a five-year period.

On November 1, CUPE representatives responded. "On Friday, regardless of what this government does, we will be engaging in province-wide political protest where no CUPE education worker will be on the job'" said Fred Hahn, President of CUPE Ontario.
The Bluewater District School Board has custodian and facility maintenance staff who are members of CUPE. On November 2, they issued the following letter to parents/guardians:
"Provincial negotiations are currently underway between the Canadian Union of Public Employees (CUPE) and the Ontario government.
CUPE has provided notice of their intention to withdraw their services on Friday, November 4, 2022. At this time, we are not certain if a withdrawal of services will take place. Regardless, our schools will remain open to students and staff on Friday, November 4, 2022.
In Bluewater District School Board, CUPE includes custodial and maintenance staff.
Our CUPE staff provide essential services in our local schools and board facilities. We will be closely monitoring the impact to daily operations as this situation evolves and making decisions accordingly. We remain firmly committed to prioritizing the health and safety of all our students and staff.
Our students and families can also help us in a significant way at this time. To reduce the amount of waste in our buildings, we are asking for your support in only packing litter-less lunches and snacks when coming to school on Friday. Your cooperation is greatly appreciated.
It should be recognized that the withdrawal of services would necessitate the cancellation of extra-curricular activities. In addition, all rental permits for community events in schools would be cancelled.
As always, we will notify our families immediately regarding any new developments. A designated page for labour updates has also been created on the Bluewater District School Board website at the following link: www.bwdsb.on.ca/Spotlight/Labour_Updates
We value the important work performed by our CUPE members and are hopeful that a collective agreement can be reached soon.
Thank you for your patience and understanding."
"Lecce wants to convince kids and parents and education workers that he has, in his words, no other choice but to introduce this legislation but that's simply not true," said Fred Hahn, President of CUPE Ontario. "He has a choice to offer an adequate salary increase that compensates for over a decade of wage cuts. He has a choice to invest in education to ensure adequate staffing levels from the classrooms to the libraries. And he has a choice to continue negotiations without having the threat of ramming through a contract full of concessions and wage cuts over the heads of frontline workers," said Hahn.
The 'final offer' as presented by Minister of Education, Stephen Lecce consists of a wage increase of 2.5% for employees earning less than $25.95/hr, and 1.5% for those earning more. The offer also provides no paid prep time for education workers who work directly with students and includes a cut to the sick leave/short-term disability plan.
"Lecce calls this offer a generous one," said Hahn. "A half percent wage increase to an already-insulting offer isn't generous. An additional 200 bucks in the pockets of workers earning 39K isn't generous. It wouldn't even be generous to accept our proposal – it would be necessary, reasonable, and affordable. It's simply what's needed in our schools."
"We have three more days of bargaining left despite the tabling of this legislation and imposing this totally inadequate contract," said Hahn. "Lecce and Ford might think they can just rely on this bully tactic of a legislation. But we've been in mass meetings the last week with education workers — frontline workers who've resoundingly expressed their commitment to ensuring good wages, work conditions, and educational environments."
---
At South Grey News, we endeavour to bring you truthful and factual, up-to-date local community news in a quick and easy-to-digest format that's free of political bias. We believe this service is more important today than ever before, as social media has given rise to misinformation, largely unchecked by big corporations who put profits ahead of their responsibilities.
South Grey News does not have the resources of a big corporation. We are a small, locally owned-and-operated organization. Research, analysis and physical attendance at public meetings and community events requires considerable effort. But contributions from readers and advertisers, however big or small, go a long way to helping us deliver positive, open and honest journalism for this community.
Please consider supporting South Grey News with a donation in lieu of a subscription fee and let us know that our efforts are appreciated. Thank you.