September 15, 2022
Letter to the editor: Whoop-dee-do Grey Highlands Council!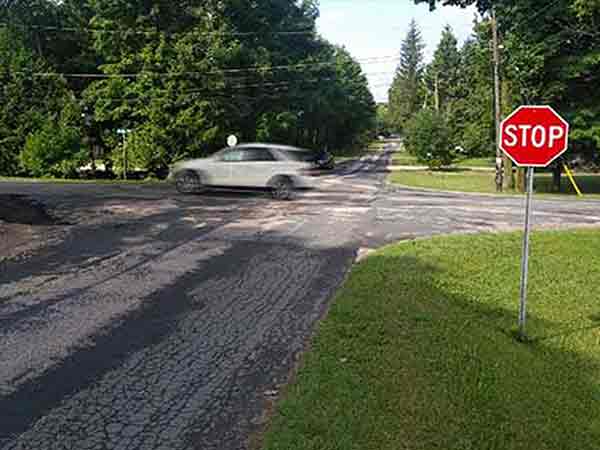 LETTER TO THE EDITOR — On September 7, Council met for the first time since August 3 and not one word was spoken about forming a Grey Highlands Road Safety Committee or following through on any of the recommendations of the World Health Organization's comprehensive "Decade of Action for Road Safety Plan" released last October. Instead, we got the possibility of another study, and even that's just a possibility that is likely to get shot down when budgets are negotiated later this year.
Well, whoop-dee-do!
It seems that while the rest of the world is moving forward on road safety, Grey Highlands is quite happy to stand still, caught like a deer in the headlights. In fact, in that September 7 Council meeting, we heard from a building official that the municipality is only in the business of maintaining the roads and sidewalks in existence — that we can plainly see are in terrible shape.
We heard that they rely on engineering reports (not pedestrian safety reports) to tell them if and when they should repair roads and/or sidewalks, or even get rid of the ones we have because the municipality has let them deteriorate so badly that they have become an insurance liability. And nobody is even acknowledging, let alone considering the wealth of expertise provided to us by the World Health Organization, their extensive list of road safety authorities and stakeholders or their recommendations, not to mention those of the Office of Ontario's Chief Coroner.
This is not good enough.
In a recent conversation with the Grey Bruce OPP Detachment Commander, he enthusiastically told me that "The OPP continually seeks partnerships that benefit public safety. The OPP would be happy to participate in a committee to advance public and traffic safety." And when I asked him to express those thoughts to me in an email, he gladly did so. His experience with a similar committee in Peel Region makes him an ideal partner for such an endeavour.
With regard to another matter before Council, our new planner has recently talked about "public interest." Bless this man! Because "public interest" shouldn't be such an infrequently-used term. But we haven't heard it very often lately.
And I put it to you, that if ever there was a matter of "public interest" in our municipality, it's Road Safety. It's the health and well-being of our citizens. It's the establishment of a Road Safety Committee that draws on the expert recommendations of the World Health Organization, the extensive research carried out by Vision Zero, the wisdom and recommendations of the Police Services Board, and the knowledge and guidance of the OPP, planning staff and community feedback.
Sincerely,
Ron Barnett, Eugenia resident
---
At South Grey News, we endeavour to bring you truthful and factual, up-to-date local community news in a quick and easy-to-digest format that's free of political bias. We believe this service is more important today than ever before, as social media has given rise to misinformation, largely unchecked by big corporations who put profits ahead of their responsibilities.
South Grey News does not have the resources of a big corporation. We are a small, locally owned-and-operated organization. Research, analysis and physical attendance at public meetings and community events requires considerable effort. But contributions from readers and advertisers, however big or small, go a long way to helping us deliver positive, open and honest journalism for this community.
Please consider supporting South Grey News with a donation in lieu of a subscription fee and let us know that our efforts are appreciated. Thank you.