June 07, 2022
Ukrainian aid fundraiser will turn happy local couple into ruthless adversaries competing over a winning lottery ticket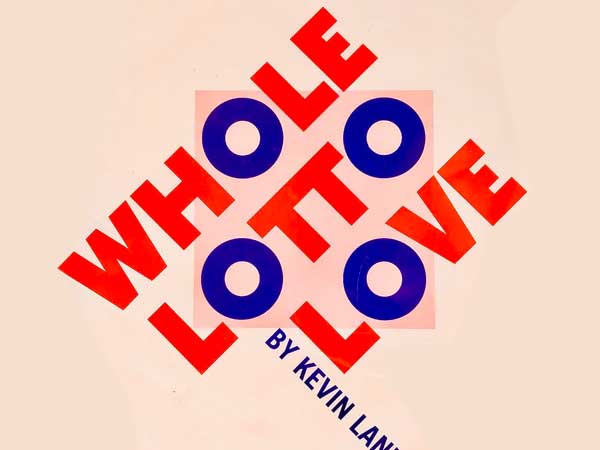 BY JOHN BUTLER — A stage reading for the public on Saturday June 11 at 7:00 pm at Annesley United Church, 82 Toronto Street South in Markdale (across from Foodland), will raise much needed funds to help Ukrainian newcomers to Grey County.
The $15 admission fee (pay at the door) will give attendees a chance to hear readings from the romantic comedy Whole Lotto Love by noted local playwright Kevin Land (and you'll get a Grey County Cares lapel pin, designed by artist Barbara Pearn of Eugenia, as part of the admission fee).
It's also an opportunity to see local wife-and-husband acting team Jessica Walker and Dane Nielsen (a Grey Highlands municipal councillor) — a happily married couple — perform as a highly dysfunctional twosome in Land's play.
It tells the story of Dwight and Lenore, a married couple who have been separated for ten months. When Lenore realizes that the lottery ticket they played a year in advance has won over $30 million, she visits her ex to discuss possible reconciliation, but she is really planning to find the ticket and take off with her new boyfriend. The play was first performed at Theatre on the Grand in Fergus in 1998 and has since had productions at Theatre Aquarius and community theatres across Canada, as well as a professional production in the UK.
"Jessica and I performed together in the past as part of Dundalk Little Theatre," said Nielsen, "but this is the first time we will act together as equals — and as characters enveloped by greed and duplicity." Dane says they are both eager to get back to acting after the hiatus caused by the pandemic, and Saturday's performance is their post-COVID comeback.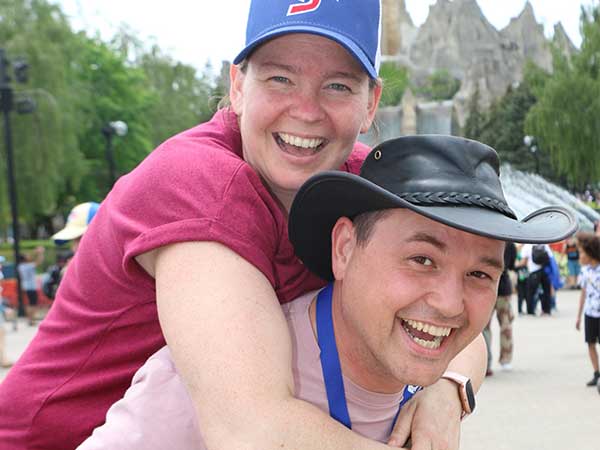 Jessica and Dane goof around for a fun picture.
Nielsen readily admits that Walker is the born actor in the family. She was an ardent participant in the drama program at Grey Highlands Secondary School, and went on to earn a Fine Arts degree from the University of Windsor specializing in drama. Why is acting central to her life? "I love transforming myself into the embodiment of another character for the entertainment of others," says Walker.
Nielsen's theatrical passion has been at the writing and directing end. He wrote two teen-focused one-act plays for Dundalk Little Theatre as part of the group's engagement of more local young people in the theatre, and he hopes to continue melding acting, directing and writing. He also has high hopes that Dundalk's Olde Town Hall will once again become a venue for theatre and community meetings.
Nielsen and Walker are both passionate about the importance of amateur theatre in South Grey, and the need to resurrect and protect it — a passion they share with Priceville playwright Kevin Land, whose play Whole Lotto Love is one of fifteen highly successful plays Land has authored that have been produced — plus three produced screenplays (two were adaptations of his stage plays). When he isn't 'playing,' Land operates Speaking Volumes Books and Audio in Flesherton — a shop with a wide-ranging stock of rare and autographed books and first editions, with a particularly extensive collection of publications about performing arts and film (drop by and see if you can stump him on any trivia question about old movies).
Land points to the interesting origin of Whole Lotto Love. It started out as a play within an earlier play Land wrote called Rave, about vengeance within a summer theatre company doing a romantic comedy called Whole Lotta Love that never really existed — it was a mere dramatic device in Rave. After the success of Rave, Land and the play's director thought that Whole Lotto Love could be a success in its own right — if only it was actually written. And so the imaginary play became a real one, to be shared in part with the audience this Saturday evening in Markdale.
Land, Walker and Nielsen are quick to point out that Saturday's performance will be a theatrical experience — perhaps also a step in reviving theatre in South Grey — but most importantly, it's an opportunity for the audience to help our Ukrainian newcomers, whether they stay here permanently or until the conflict overseas is ended. All proceeds of the stage reading will be funneled into helping Ukrainian refugees and immigrants in South Grey through Grey County Cares, a civic group created two months ago by Kevin Land and others to make us a stronger and more compassionate community.
Land, who has long been interested in the places and times that force history and art to intersect, hopes to sit down someday with kindred Ukrainian writers to learn how they have used their own talents and insights to express their nation's struggle.
A stage reading from Whole Lotta Love will be held on Saturday June 11 at 7:00 pm at Annesley United Church, 82 Toronto St. South in Markdale. Admission at the door: $15. All proceeds will go to help Ukrainim refugees and Immigrants through Grey County Cares.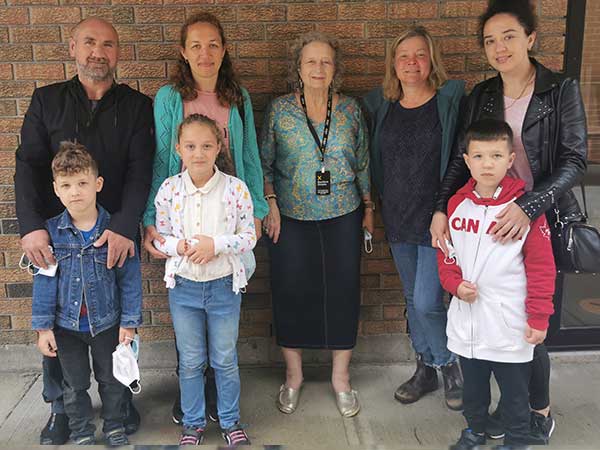 Several Ukrainian families have already come to our area, including the Soenmez Family pictured above with volunteers Lynn Silverton and Susanne von Toerne. Back row from left to right: Ayhan, Katerina, Lynn Silverton, Susanne von Toerne, Tania (Katerina's sister). Front row from left to right: Aliomer, Melisa, Dima (Tania's son). The family fled Ukraine via Istanbul. The kids will take part in summer camp, in addition to a Bible camp in Flesherton. Photo: Lynn Silverton
---
At South Grey News, we endeavour to bring you truthful and factual, up-to-date local community news in a quick and easy-to-digest format that's free of political bias. We believe this service is more important today than ever before, as social media has given rise to misinformation, largely unchecked by big corporations who put profits ahead of their responsibilities.
South Grey News does not have the resources of a big corporation. We are a small, locally owned-and-operated organization. Research, analysis and physical attendance at public meetings and community events requires considerable effort. But contributions from readers and advertisers, however big or small, go a long way to helping us deliver positive, open and honest journalism for this community.
Please consider supporting South Grey News with a donation in lieu of a subscription fee and let us know that our efforts are appreciated. Thank you.