May 19, 2021
West Grey Police report to May 13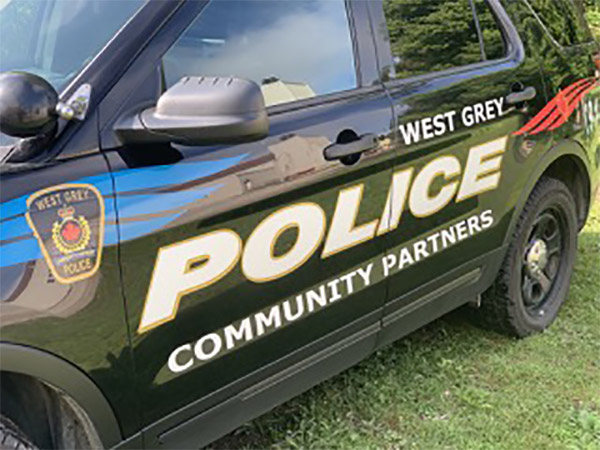 During the week of May 6 to May 13, 2021, the West Grey Police Service responded to 88 total calls for service.
Officers responded to 9 Traffic Complaints / Enforcements, 18 Police Assistance and 5 Suspicious Persons, Officers also provided assistance at 2 Domestic / Family Disputes and de-escalation at 1 Mental Health Act calls.
On May 7, 2021, a 24-year-old male from Priceville was arrested and charged with Threatening. The charge stems from a domestic dispute. The male was processed and later released on an Undertaking with conditions. He will appear in Walkerton Court in June.
On May 10, 2021, Police, Fire and Paramedics were called to a single Motor Vehicle Collision on Baseline Road at Road 35, Normanby Twp. that claimed the life of a 21-year-old male from Kitchener, Ontario. The Ontario Provincial Police – Technical Traffic Investigations Unit was called to assist with the investigation.
The West Grey Police Service express our condolences to the family of the driver and want to thank all emergency responders who assisted at the scene – West Grey Fire – Ayton Station, Grey and Wellington Paramedics, Nurses and Doctors at the Louise Marshal Hospital, Mount Forest.
On May 13, 2021, a 34-year-old female from Durham was arrested and charged with Mischief stemming from a Landlord and Tenant dispute. The female was processed and released on an Undertaking and will appear in Walkerton Court in June.
COVID 19 Update
West Grey Police responded to 8 COVID 19 related calls for service the past week.
On May 10, 2021 a 28-year-old Brampton man was charged under the Emergency Management and Civil Protections Act for violating the current Covid-19 Lockdown. He was issued a Provincial Offence Notice fine of $880.00
---
At South Grey News, we endeavour to bring you truthful and factual, up-to-date local community news in a quick and easy-to-digest format that's free of political bias. We believe this service is more important today than ever before, as social media has given rise to misinformation, largely unchecked by big corporations who put profits ahead of their responsibilities.
South Grey News does not have the resources of a big corporation. We are a small, locally owned-and-operated organization. Research, analysis and physical attendance at public meetings and community events requires considerable effort. But contributions from readers and advertisers, however big or small, go a long way to helping us deliver positive, open and honest journalism for this community.
Please consider supporting South Grey News with a donation in lieu of a subscription fee and let us know that our efforts are appreciated. Thank you.