February 05, 2021
West Grey Police report the week to February 4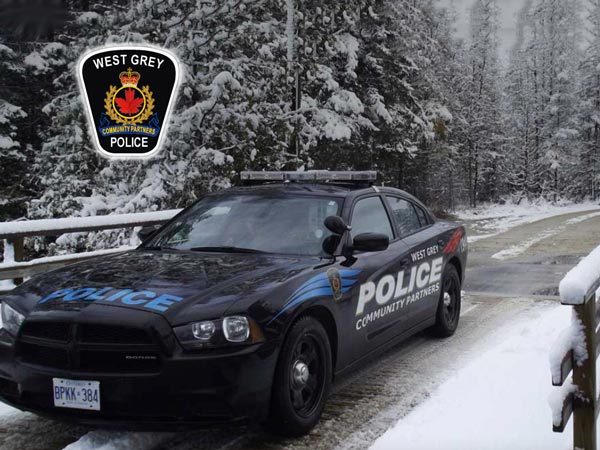 During the week of January 28 to February 4, 2021, the West Grey Police Service responded to 93 calls for service – a marked increase over the previous week.
Officers responded to 5 Motor Vehicle Collisions, Assisted Paramedics and Ambulance at 5 occurrences, recovered 2 stolen vehicles from other jurisdictions while investigations continue on 2 stolen vehicles in the past week from West Grey.
On January 31, 2021 West Grey Police made a routine traffic stop which resulted in the 18-year-old female driver from Windsor, Ontario being arrested on an outstanding warrant held by the OPP
On February 1, 2021 a 44-year-old male from Holstein, Ontario was arrested for Impaired Driving and Drive Over .08. Further investigation led to additional charges of Drive While Suspended, Operate Motor Vehicle No Insurance and Use Plates Not Authorized for Vehicle. The driver was later released and will make a court appearance in March.
On February 3, 2021 a 23-year-old male, West Grey resident was arrested and held for Bail Hearing after being arrested for theft for the THIRD time in a one-week period. The male has been charged with 3 Counts of Theft Under $ 5,000.00, 3 Counts of Fail to Comply with Release Order and 1 Provincial Offence under the Trespass to Property Act. Following a Bail Hearing the accused was released by the court with additional conditions.
COVID 19 Update
West Grey Police responded to 5 COVID 19 related calls for service the past week.
Ontario has extended the declared provincial emergency and all orders currently in force under the Emergency Management and Civil Protection Act until February 9, 2021. This includes the stay-at-home order which requires everyone to remain at home with exceptions for essential purposes. Learn more about what this means for you.
Until next week - Stay Safe West Grey.
---
At South Grey News, we endeavour to bring you truthful and factual, up-to-date local community news in a quick and easy-to-digest format that's free of political bias. We believe this service is more important today than ever before, as social media has given rise to misinformation, largely unchecked by big corporations who put profits ahead of their responsibilities.
South Grey News does not have the resources of a big corporation. We are a small, locally owned-and-operated organization. Research, analysis and physical attendance at public meetings and community events requires considerable effort. But contributions from readers and advertisers, however big or small, go a long way to helping us deliver positive, open and honest journalism for this community.
Please consider supporting South Grey News with a donation in lieu of a subscription fee and let us know that our efforts are appreciated. Thank you.