December 17, 2021
West Grey Police report to December 16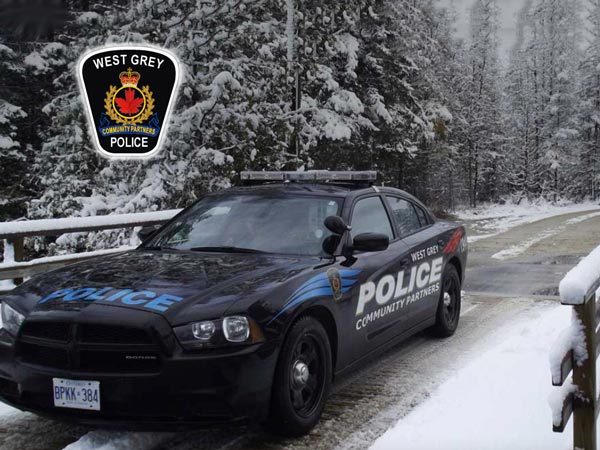 During the weeks of December 16, 2021, the West Grey Police Service responded to 173 total calls for service.
Officers responded to 16 Traffic Complaints / Enforcements with 28 Motor Vehicle Collisions, 16 Police Assistance and 7 Dangerous Conditions complaints. Officers attended at 6 Family / Domestic Disputes. Police provided assistance and de-escalation at 7 Mental Health Act calls while also responding to 15 - 911 calls and assisting paramedics / fire 4 times. West Grey Police executed 8 Arrest Warrants and prevented 2 Breach of the Peace.
The Criminal Investigations Unit continues to investigate 3 Sexual Assaults and 2 outstanding Break and Enter incidents that occurred during this reporting time.
If you have any information on any crime or wanted person you are asked to contact the West Grey Police at 519 369 3046 or Crime Stoppers at 1 800 222 TIPS – You may be eligible for a cash reward.
December 2, 2021 – Warrant Arrest and New Charge – On Thursday December 16, 2021 O.P.P. Huron County arrested a 29 year old male from Listowel on outstanding West Grey Police Warrants. He was returned to West Grey and charged with Fail to Appear in Court. He was held for a Bail Hearing, but was later released by the Ontario Court of Justice.
December 13, 2021 – Charges Laid in Fatal Collision - As a result of an investigation by West Grey Police – Criminal Investigation Unit, an arrest has been made and charges laid in relation to a Fatal Motor Vehicle Collision that took place on Sunday November 7, 2021 at approximately 1:25 pm on Grey Road 4 near Concession 2 east of the (former) Town of Durham.
A 26 year-old of Kincardine Township has been charged with:
Criminal Negligence Causing Death.
Criminal Negligence Causing Bodily Harm (2 counts).
Robbery
Possession of Property Obtained by Crime Over $ 5,000.00
The accused remains held in custody.
No other information is available at the present time as this matter continues to be investigated by the province's Special Investigations Unit.
December 15, 2021 – Recovered Stolen Vehicle and Property – On Wednesday December 15, 2021 West Grey Police were conducting following up investigation into a break and enter that occurred in South Bruce. Officers recovered a stolen ATV and a large quantity of stolen property. The investigation continues with charges pending against several suspects.
December 15, 2021 – Impaired Arrest – On Wednesday December 15, 2021 West Grey Police received a call from a concerned citizen regarding a vehicle in the ditch on Concession 12, Normanby, WGT. The driver was arrested and was found to have more than twice the legal limit. The accused was processed, vehicle impounded and driver's license suspended. He will appear in Walkerton Court in January.
IMPAIRED AND HIGH DRIVERS….. IT'S NEVER WORTH THE RISK!!!
THE WEST GREY POLICE AND ALL SURROUNDING POLICE AGENCIES ARE PREFORMING R.I.D.E. spot checks day and night. DON'T destroy someone else's life and holidays. DRIVE SOBER.
December 16, 2021 – Sexual Assault – On Thursday December 16, 2021 West Grey Police sexual assault investigators with the assistance of Toronto Police Service located a suspect in an ongoing investigation.
Officers from West Grey went to Toronto and effected the arrest.
A 22-year old male from Toronto has been arrest and charged with:
· Sexual Assault
Invitation to Sexual Touching
· Sexual Interference
---
At South Grey News, we endeavour to bring you truthful and factual, up-to-date local community news in a quick and easy-to-digest format that's free of political bias. We believe this service is more important today than ever before, as social media has given rise to misinformation, largely unchecked by big corporations who put profits ahead of their responsibilities.
South Grey News does not have the resources of a big corporation. We are a small, locally owned-and-operated organization. Research, analysis and physical attendance at public meetings and community events requires considerable effort. But contributions from readers and advertisers, however big or small, go a long way to helping us deliver positive, open and honest journalism for this community.
Please consider supporting South Grey News with a donation in lieu of a subscription fee and let us know that our efforts are appreciated. Thank you.