June 01, 2022
West Grey Police Report May 19-26, 2022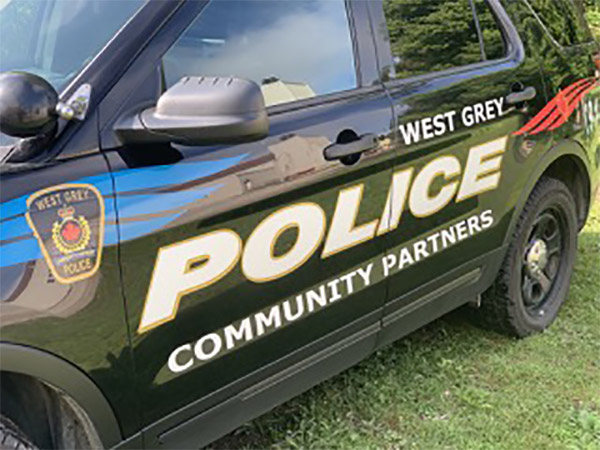 During the week of May 19-26, 2022, the West Grey Police Service responded to 83 total calls for service.
5 – Assist other Police Agencies
1 – Ambulance / Fire Assistance
12 – Mental Health Act
5 – Motor Vehicle Collisions
5 – Police Information / Assistance Calls
2 – Domestic / Family Disputes
2 – Warrants
1 – Recovered Stolen Vehicles
2 – Suspicious Persons / Vehicles
4 – Person Well-Being checks
1 – Police Pursuit
10 – Traffic Hazards / Traffic Enforcements
2 – Sexual Assaults
5 – 911 Calls for service
May 21, 2022 - Dangerous Driving / Fail to Stop After Accident – West Grey Police were called to a motor vehicle collision at the intersection of Grey Road 3 and Deer Creek Crescent, West Grey. On police arrival, investigation revealed a vehicle had driven off the road, stuck a number of signs, fled the scene, and then returned to scene almost striking witnesses. The truck then fled the scene again. Within minutes police received a call of another collision this time on Concession 10 and that the driver had fled into a forested area. O.P.P. Canine Unit, Emergency Response Team and Hanover Police assisted in the search for the male suspect. A 44-year old male from West Grey has been arrested and is charged with:
Dangerous Driving – (Criminal Code)
Fail to Stop After Accident – (2 Counts – Criminal Code)
The male was processed by police, released on an Undertaking and will appear in the Ontario Court of Justice, Walkerton at a later date.
If you have any information on any incident or any crime or wanted person you are asked to contact the West Grey Police at 519 369 3046 or Crime Stoppers at 1 800 222 TIPS - You may be eligible for a cash reward.
Canada Road Safety Week wrapped up during the long weekend. While officers handed out a number of tickets to drivers we are pleased to report that there were NO serious injuries or fatalities on West Grey roadways. R.I.D.E. spot checks were conducted every day and NO persons were arrested for Impaired Driving.
If you DRINK – DON'T DRIVE,
If you are HIGH – DON'T DRIVE,
It's NEVER worth the RISK!!
---
At South Grey News, we endeavour to bring you truthful and factual, up-to-date local community news in a quick and easy-to-digest format that's free of political bias. We believe this service is more important today than ever before, as social media has given rise to misinformation, largely unchecked by big corporations who put profits ahead of their responsibilities.
South Grey News does not have the resources of a big corporation. We are a small, locally owned-and-operated organization. Research, analysis and physical attendance at public meetings and community events requires considerable effort. But contributions from readers and advertisers, however big or small, go a long way to helping us deliver positive, open and honest journalism for this community.
Please consider supporting South Grey News with a donation in lieu of a subscription fee and let us know that our efforts are appreciated. Thank you.