July 07, 2022
West Grey Police Service report from June 30 to July 7, 2022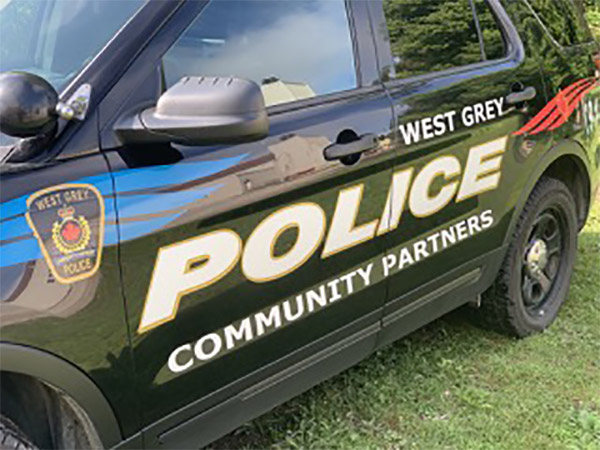 West Grey Police have issued the following report
During the week of June 30 – July 7, 2022, the West Grey Police Service responded to 72 total calls for service
2 – Ambulance / Fire Assistance
4 – Mental Health Act
6 – Motor Vehicle Collisions
9 – Police Information / Assistance Calls
2 – Domestic / Family Disputes
1 – Stolen Vehicle (recovered)
9 – Suspicious Persons / Vehicles
6 – Theft Investigations
1 – Police Pursuit
2 – Traffic Hazards / Traffic Enforcements
1 – Weapons Offence
1 – Warrant
June 29, 2022 – West Grey Police were called to a disturbance in Neustadt. Upon arrival a male and female were located. During the investigation the involved female gave a false name to police, and it was learned that the male was in violation of a Probation Order. A 43-year-old female with no fixed address who gave police a false name was arrested and charged with:
A 35-year-old male from Listowel was arrested and is charged with:
Fail to Comply with Probation Order.
Both persons were processed and later released on an Undertaking. They will appear in the Ontario Court of Justice, Walkerton at a later date.
On July 2, 2022, West Grey Police were called to the Bentinck Landfill Site in response to reported trespassers. On police arrival officers located 3 males on the property and a stolen vehicle from London, Ontario. All three were arrested and taken into custody.
A 43-year-old male from West Grey was arrested and is charged with:
Possession of Stolen Property (X2)
A 50-year-old male from Hanover was arrested and is charged with:
Possession of Stolen Property (X2)
A 56-year-old male from Hanover was arrested and charged under the Trespass to Property Act.
All were processed and later released by West Grey Police.
The 43-year-old male had outstanding warrants with South Bruce O.P.P. and was turned over and arrested on those warrants.
July 5, 2022, West Grey Police received a report of an erratic driver on Grey Road 4, West Grey. Officers located the vehicle and conducted a traffic stop. Investigation revealed the driver had an outstanding arrest warrant held by Hanover Police Service. The 40-year old driver was arrested and turned over to Hanover Police Service.
Durham's 150 Homecoming was a HUGE success!
We would like to extend our sincere thanks to the Organizers, Volunteers and Participants of the 2022 Durham 150 Homecoming Celebration.
This incredible event took place all weekend without any major incidents.
Your Community Partners kept a visible presence throughout West Grey which would not have been possible without the dedication of our Officers and outstanding TEAM of Auxiliary Officers who went above and beyond (as they always do) in donating their time to serve our community.
Thank you once again for making West Grey the best place to live, work and visit.
We will not tolerate impaired drivers.
If you DRINK – DON'T DRIVE,
If you are HIGH – DON'T DRIVE,
It's NEVER worth the RISK!!
If you have any information on any incident or any crime or wanted person you are asked to contact the West Grey Police at 519 369 3046 or Crime Stoppers at 1 800 222 TIPS - You may be eligible for a cash reward.
---
At South Grey News, we endeavour to bring you truthful and factual, up-to-date local community news in a quick and easy-to-digest format that's free of political bias. We believe this service is more important today than ever before, as social media has given rise to misinformation, largely unchecked by big corporations who put profits ahead of their responsibilities.
South Grey News does not have the resources of a big corporation. We are a small, locally owned-and-operated organization. Research, analysis and physical attendance at public meetings and community events requires considerable effort. But contributions from readers and advertisers, however big or small, go a long way to helping us deliver positive, open and honest journalism for this community.
Please consider supporting South Grey News with a donation in lieu of a subscription fee and let us know that our efforts are appreciated. Thank you.