August 25, 2023
Museum curator will explore Walt Disney's Canadian roots at Kimberley presentation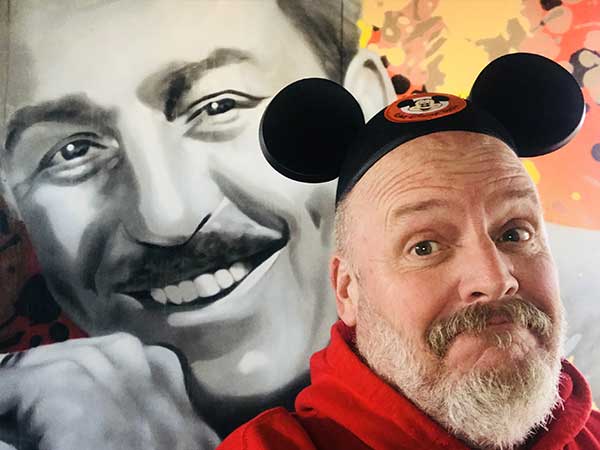 Rural Ontario has produced more than its share of individuals and families whose fame and influence in the greater world transcended their Ontario roots. One such individual was the fourth son of Elias Disney from Bluevale in Southwestern Ontario. That son is known to the world as Walt Disney, creator of some of the world's most endearing and enduring mythical characters and stories. Walt bears his father's name, Elias, as his own middle name. And while Walt Disney himself was born in the Chicago neighborhood of Hermosa after his parents moved to the US, much of Disney's spirit was shaped by his parents' Canadian homeland.

An upcoming presentation in Kimberley will tell us more about Walt Disney's fascinating family roots in Ontario, and the extent to which Disney and his creations were influenced by those roots. This free presentation will be led by Peter Whitehead, Curator of the Grey Highlands Museum and Community Heritage Coordinator for the town of Grey Highlands. It will be held on Wednesday September 13 at 2:00 pm at the Kimberley Community Hall, 235309 Grey Road 13 in Kimberley (doors open at 1:30 pm). The event, open to everyone, is sponsored by the Grey Highlands Probus Club in cooperation with the Kimberly Community Association, the Grey Highlands Public Library and the Grey Highlands Museum.
Whitehead points out that younger generations are familiar with the Disney company and its many entertainment products, yet the very success of the firm that Walt Disney created has obscured the man behind the corporation for people who never experienced Walt's affable and reassuring presence on mid-twentieth century television.
He points out that some of the characteristics that made Disney such a compelling achiever are characteristics that Disney embedded in Mickey Mouse, one of his earliest animated creations. Mickey, like Disney, was a plucky optimist, the perennial little guy with a downhome sense of humor who never gave up, engagingly childlike in his belief in himself, and mischievous — at times to a fault. Disney himself faced a number of failures (including business bankruptcies) during his early years — failures that would have defeated most of us. But Disney, like his beloved Mouse, persevered, and one is left wondering whether some of his persistence was rooted in the southern Ontario farm life that lay at his roots.
"Man and Mouse are pretty good role models," says Whitehead.
Whitehead's interest in the Walt Disney story goes back to his own childhood. Born in 1966, the same year Walt Disney died, Whitehead's boyhood dream was to visit Walt Disney World in Florida and he remembers, as a twelve year old, wearing a distinctly unfashionable blue Mickey Mouse sweatshirt to school. Thanks to obliging parents and his own efforts cutting grass in his neighborhood to raise spending money, he made it to Walt Disney World in 1978 — the first of many holidays in Disney's flagship theme parks in California and Florida. And his own children inherited the Disney bug, accompanying Whitehead and his wife Suzanne on their annual pilgrimage to Walt Disney World, their self-proclaimed 'happy place'. Whitehead also became a collector of Disney memorabilia, and has many of his most prized acquisitions on display in his Flesherton home.
But Disney became more than a personal pastime for Whitehead. Eight years ago his son took a job representing Canada as a cultural ambassador inside EPCOT, one of the theme parks that form the massive Walt Disney World resort in Florida. Whitehead accompanied his son to Kissimmee Florida to help him settle in. During the drive south through Marceline, in Missouri, Walt Disney's boyhood hometown, they visited the Walt Disney Hometown Museum, a facility looking for a new museum director. The opportunity to help tell Walt's story was too good to pass up, so Whitehead applied and became its Creative Director in 2015. While working in Missouri, he came home to Flesherton as often as his schedule allowed. When COVID shut down the border between Canada and the U.S., free healthcare and the allure of being closer to family became overwhelming, so when the position of Community Heritage Curator for Grey Highlands arose, Whitehead jumped at the chance to continue his storytelling career in a community he had come to love.
Whitehead would be delighted to see you at his Kimberley presentation on September 13. But he would be glad to meet you as well at the Grey Highlands Museum in Flesherton. Recently renovated and using state of the art museum display techniques, this gem of a local museum reflects Curator Whitehead's passion for making yesterday part of today. He can be reached at whiteheadp@greyhighlands.ca and at 519-924-2843 if you'd like to talk to him about museum hours and resources, or if you'd like share your own local heritage story with him.
And if there's any local history question or Disney-ish question you've been dying to ask, he probably has the answer.
---
At South Grey News, we endeavour to bring you truthful and factual, up-to-date local community news in a quick and easy-to-digest format that's free of political bias. We believe this service is more important today than ever before, as social media has given rise to misinformation, largely unchecked by big corporations who put profits ahead of their responsibilities.
South Grey News does not have the resources of a big corporation. We are a small, locally owned-and-operated organization. Research, analysis and physical attendance at public meetings and community events requires considerable effort. But contributions from readers and advertisers, however big or small, go a long way to helping us deliver positive, open and honest journalism for this community.
Please consider supporting South Grey News with a donation in lieu of a subscription fee and let us know that our efforts are appreciated. Thank you.