December 29, 2021
MPP Walker and Hanover Mayor Paterson roll up their sleeves for the third dose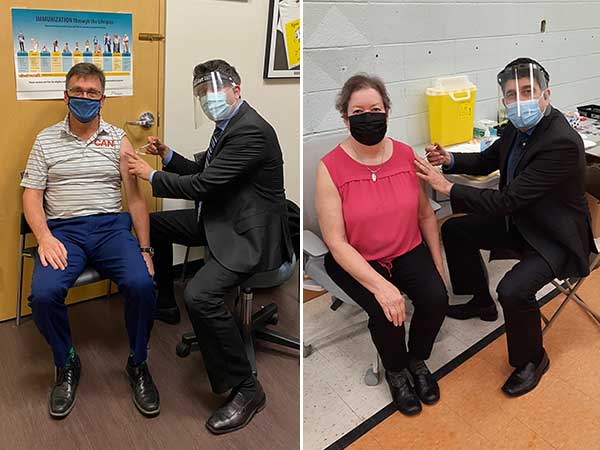 MPP for Grey-Bruce-Owen Sound, Bill Walker and Grey Bruce Public Health Board Chair, Mayor Sue Paterson received their third doses of the COVID-19 vaccine, administered by Dr. Ian Arra, Grey Bruce Medical Officer of Health. The Grey Bruce Health Unit (GBHU) is stressing that with the Omicron Variant circulating, the third dose of the COVID-19 vaccine is more important than ever, to provide enhanced protection to the residents of Grey and Bruce. As such, all eligible booster doses are to be delivered in two weeks.
The Grey Bruce Health Unit has opened vaccine appointments to all Grey Bruce residents eligible for third doses of the COVID-19 vaccine. Using the Hockey Hub model for mass immunization, the Health Unit will deliver all booster doses for the eligible population within two weeks in January. According to the GBHU, this robust plan will ensure the optimal and timely protection of residents, families and communities in Grey Bruce.
The Province of Ontario enhanced eligibility of COVID-19 third doses to those 50+ on December 13, 2021, and to those 18+ on December 20, 2021.
For booster doses, all eligible groups must wait 84 days following their second dose of the COVID-19 vaccine in order to be eligible for a third dose of the COVID-19 vaccine. (example: If you got your second dose of your vaccine on September 25, 2021, you are eligible for a booster dose on December 18, 2021.
Appointments are required for children aged 5-11 and for those eligible for their third dose.
In addition, participating primary care providers and pharmacies may offer the COVID-19 for children and youth. Call them directly to inquire.
For detailed information about the GBHU vaccination process, and booking your vaccine, please review the Health Unit and Provincial website at:
For a current list of all clinics, please visit our weekly Clinic Schedule. Clinics are subject to cancellation due to weather.
---
At South Grey News, we endeavour to bring you truthful and factual, up-to-date local community news in a quick and easy-to-digest format that's free of political bias. We believe this service is more important today than ever before, as social media has given rise to misinformation, largely unchecked by big corporations who put profits ahead of their responsibilities.
South Grey News does not have the resources of a big corporation. We are a small, locally owned-and-operated organization. Research, analysis and physical attendance at public meetings and community events requires considerable effort. But contributions from readers and advertisers, however big or small, go a long way to helping us deliver positive, open and honest journalism for this community.
Please consider supporting South Grey News with a donation in lieu of a subscription fee and let us know that our efforts are appreciated. Thank you.