May 18, 2021
Toronto music company with big plans, scales up and relocates to West Grey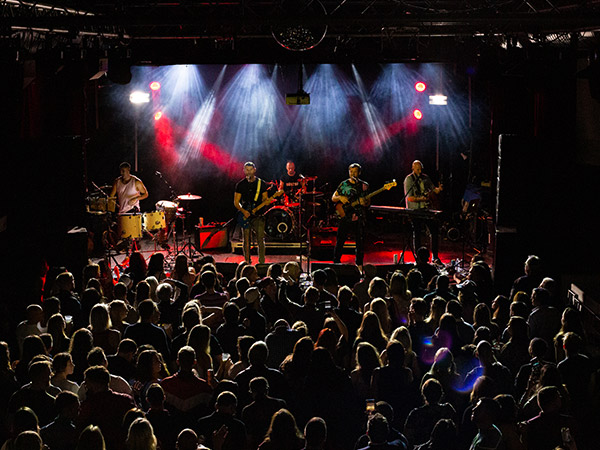 Folk-rock band Hermitage Green, managed by baselineMUSIC, performs at Mod Club in Toronto
Toronto music management and marketing company, baselineMUSIC, is thrilled to announce the relocation of their business to the Municipality of West Grey. With recent and projected growth, and the new relocation, comes big plans for the company to begin offering employment and internship opportunities in the area and to generate an electrifying music scene.
"Prior to the pandemic hitting we were moving along nicely with our plans to continue expanding in Toronto," stated Sean Russell, CEO. "Once we began to see what the effects COVID-19 was doing to those around us, we decided to relocate the business. We want to be able to operate in an area where our future staff can have a great quality of life, while being able to make a positive impact on a small community." That impact being employment, providing exciting internship opportunities for students, bringing live music to the area, partnerships with local businesses and so much more.
Sean and Claire Russell with their children Arlo and Sloan, and the late Zappa, the dog
Sean grew up in Dundalk and he has owned a home and property in the area since 2013, which will play a big role in the future plans with baselineMUSIC. With our growth and in discussing a shift in our company culture, we felt it was important to relocate somewhere our current and future employees can have a better quality of life", says said Cortney Harkin, head of Marketing and Publicity.
A progressive company representing incredible talent from all over the world, baselineMUSIC was launched by CEO Sean Russell as an Artist Management company in 2008. Off the heels of a successful eight years in business, Russell partnered with entertainment marketing professional Cortney Harkin in 2016 who developed and introduced a full-service marketing and publicity division under the company's umbrella. Since, the team has scaled again to include label services for musicians.
"We're really looking forward to having the business in West Grey," said Harkin. "Now more than ever, it's important to us to be able to fully immerse ourselves into the community and introduce opportunities that may not have been available in the past. As of right now, we're going to maintain a digital business atmosphere until it's safe to be back in person. At which point our mandate and focus will be placed on continuing to scale up the marketing division."
"We have done shows in the past and have a venue secured for future gigs. We are excited about building upon that. Bringing arts and entertainment opportunities and enhancing the culture in the community is really important to us," said Harkin.
Cortney and Ryan Harkin with their children Audrey and Oliver. Photo Credit: Jenny Diaz Photography
The team is proud to have worked on projects with world-renowned artists across multiple genres such as Slash (Guns N' Roses), Steve Vai, Noah Reid (Musician, Schitt's Creek), Hermitage Green, Connor Price, Idris Elba (Musician, The Suicide Squad, Luther), Courteney Cox (Friends), The Northern Pikes, Les Stroud (Musician, Survivor Man), Alex Cuba, The Trews, Sarah MacDougall and many more. Artists with the company have received numerous accolades including Grammy, JUNO, West Coast Music Awards, East Coast Music Awards, Canadian Folk Music Awards, PEI Music and Canadian Screen awards.
About Sean Russell and Cortney Harkin:
With over 14 years' experience each in the music and entertainment industry, Sean Russell and Cortney Harkin are both graduates of Fanshawe College in London, Ontario (Music Industry Arts and the advanced Business Administration Marketing programs). Sean, who grew up in Dundalk, began his career as Artist Management and Marketing Director at Bumstead Records. He then created the successful music publishing company Tangents North Music before starting baselineMUSIC. Cortney's previous positions include leading marketing and publicity campaigns for major tours, festivals, arena and theatre shows working for industry giants Spectra Venue Management at Budweiser Gardens in London and Tribute Communities Centre in Oshawa and then Live Nation out of Toronto.
---
At South Grey News, we endeavour to bring you truthful and factual, up-to-date local community news in a quick and easy-to-digest format that's free of political bias. We believe this service is more important today than ever before, as social media has given rise to misinformation, largely unchecked by big corporations who put profits ahead of their responsibilities.
South Grey News does not have the resources of a big corporation. We are a small, locally owned-and-operated organization. Research, analysis and physical attendance at public meetings and community events requires considerable effort. But contributions from readers and advertisers, however big or small, go a long way to helping us deliver positive, open and honest journalism for this community.
Please consider supporting South Grey News with a donation in lieu of a subscription fee and let us know that our efforts are appreciated. Thank you.