December 24, 2021
Top 10 stories of 2021: #9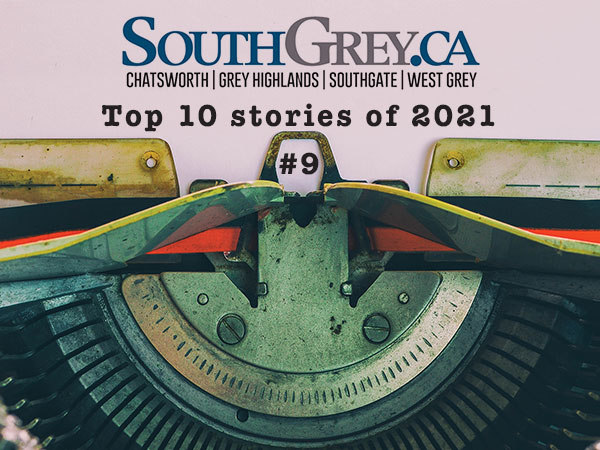 Grey Bruce top doctor's salary turns heads
BY SOUTHGREY.CA STAFF — The Ontario Sunshine List is released annually by the Government of Ontario and is intended to shed light on some of the costs related to public sector employees. This year's list was released in March and created quite a stir when it revealed the salary of Dr. Ian Arra, the Grey Bruce Chief Medical Officer of Health.
Much to the surprise of the general public, the list revealed Dr. Ian Arra's $631,510 in earnings plus $1,690 in benefits for 2020, making him the highest paid Medical Officer of Health among all other Public Health Units in the province.
The news prompted many calls for justification of his salary by the Grey Bruce Board of Health. Owen Sound Councillor John A. Tamming was joined by Georgian Bluffs Councillor Cathy Moore Coburn and Arran-Elderslie Councillors Melissa Kanmacher and Ryan Greig in an attempt to elicit an explanation of the top doc's salary as well as a perceived high rate of management turnover since his appointment.
The group filed a letter addressed to the Grey Bruce Board of Health which refuted communications received from the Board's Chairperson, Sue Paterson. The group also asked why such funds paid to Dr. Arra were not declined, since salaried persons do not usually receive overtime or whether the money could have been distributed more widely among deserving staff.
Presented to Owen Sound Council on March 29, the letter outlined three main requests:
That Dr. Arra return the excess money he was paid and that it either be returned to the province or bonussed out to front line workers employed by the Board to fight the pandemic.
That the Board bring in an Ontario Public Health consultant (HR and otherwise) to advise the Board and Dr. Arra on improving the management of the Health Unit.
That the Board and Dr. Arra be transparent with the public and answer the questions regarding process.
The maligned doctor took serious offence to the group's presentation. He said, "public criticism of the health unit, his $300,000 bonus and high management turnover, risks lives," and went further to say that he "wishes a flamethrower would destroy a certain councillor's seat," referring to Councillor Tamming who led the initiative to seek answers.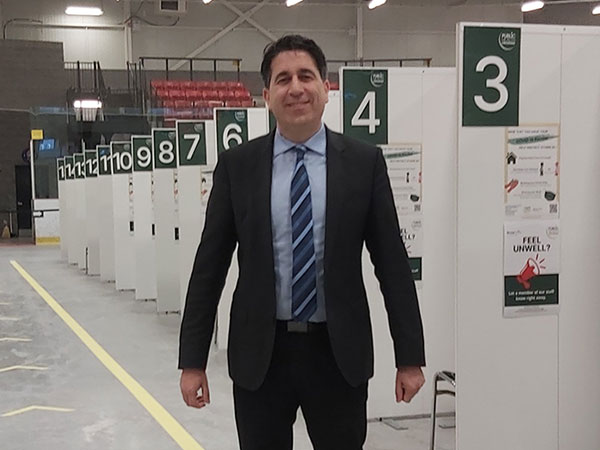 Dr. Ian Arra at the Hanover "Hockey Hub" Vaccine Clinic. His comments prompted criticism in the local press and among the public on social media posts and comments.
In a conversation with South Grey News, Sue Paterson said that the Sunshine List disclosure is indicative of a year like no other. "Dr. Arra has worked every day since cases were first identified in 2020," said Sue Paterson, chair of the Grey Bruce Board of Health. According to Paterson, the region's top doctor doubled his regular hours and worked tirelessly to stay on top of the COVID-19 pandemic. A huge advocate for public communication, Arra continues to issue daily updates and news releases regarding COVID-19 cases, vaccine rollouts and COVID-19 resources — all of this in addition to his regular duties as Chief Medical Officer.
Paterson further explained the role of the Medical Officer of Health, issuing a response to the unflattering media reports about Dr. Arra's salary:
"Throughout all of 2020 and to date, we do not have an Associate Medical Officer of Health. There are certain legislated responsibilities and authority that can only be performed by a Medical Officer of Health or a designated Associate appointed by the Minister. These responsibilities cannot be performed by a physician consultant. A physician consultant does not have the legislative authority to fulfill the Medical Officer of Health on-call requirement as each health unit must have an Medical Officer of Health on call at all times, 24 hours a day. As such, there is no one for whom Dr Arra could pass over the legislated responsibilities.
We have had physician consultants from time to time. Dr Li was in a supporting role until the end of July (ironically hired by Toronto Public Health as a physician consultant) but did not fulfill the MOH on-call requirements. Dr Cole followed with a part-time supporting role from end of September to November, a one to two days a week and again did not fulfill the Medical Officer of Health on-call requirements. A new full time physician consultant was hired in February 2021.
From the beginning of the pandemic, Dr Arra took full responsibility, and worked literally every day, to ensure the health and wellbeing of the residents of Grey Bruce. In addition to his regular hours, he worked the equivalent of almost another year in overtime in the final ten months of 2020. In terms of equity, it is noteworthy he received the same overtime rate as would be available to any unionized staff putting in those kinds of overtime hours. These overtime rates, for all union and non-union positions, are eligible for the provisions under the provincial government's extraordinary funding related to COVID-19."
Although the debate dissipated, it remains one of the most-engaging controversies of the past year.
Visit the original stories:
Grey Bruce top doctor's 2020 salary indicative of a year like no other
Municipal Councillors turn up the heat on Grey Bruce Board of Health over Medical Officer's salary

---
At South Grey News, we endeavour to bring you truthful and factual, up-to-date local community news in a quick and easy-to-digest format that's free of political bias. We believe this service is more important today than ever before, as social media has given rise to misinformation, largely unchecked by big corporations who put profits ahead of their responsibilities.
South Grey News does not have the resources of a big corporation. We are a small, locally owned-and-operated organization. Research, analysis and physical attendance at public meetings and community events requires considerable effort. But contributions from readers and advertisers, however big or small, go a long way to helping us deliver positive, open and honest journalism for this community.
Please consider supporting South Grey News with a donation in lieu of a subscription fee and let us know that our efforts are appreciated. Thank you.