January 22, 2022
Third dose rollout of vaccine hits 55% in Grey Bruce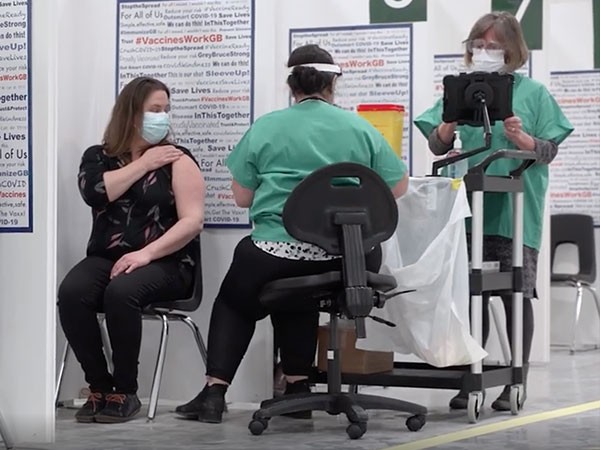 The collective effort of the Grey Bruce COVID-19 Vaccine Task Force led by the Grey Bruce Health Unit (GBAS) has resulted in the relatively high rate of booster doses given, with approximately 55% (about 79 Thousands) of the Grey-Bruce population over 18 with three or more doses of the vaccine. This compares to approximately 49% for the province. COVID-19 vaccinations data | COVID-19 (coronavirus) in Ontario

The Task Force has utilized several vaccine rollout modalities: Mass vaccination hubs, pharmacies, primary care, hospital, primary care, Indigenous Communities, long-term care and retirement homes, and all Grey Bruce Health Unit clinics including municipal clinics, outreach and in-home vaccinations, workplace clinics.
GBAS recognizes the effort put forward by staff, volunteers and partners over the past weeks to save lives by supporting vaccine rollout efforts. Specifically, they thank Grey and Bruce County Paramedics and volunteers for operating the municipal clinics in January that allowed our staff to attend to the Hubs.
It is critical to remember that the booster dose increases protection against severe illness and hospitalization compared to only second doses (from about 30% to 70%). Therefore, we have focused in our strategy on upping the booster dose. However, it is never too late to get your vaccine, so please review the GBAS schedule for Public Health operated clinics. In addition, you can get our vaccine at a participating pharmacy, or primary care provider.
The relative safety in Grey Bruce has been one of the main reasons for our low second dose coverage. GBAS wants to remind everyone, specifically unvaccinated people, that preventive measures are still vital in thwarting the spread of COVID-19 in the community. For details, please visit:
As the large Hubs end, please visit our vaccine schedule for more clinics that will be offered in Grey and Bruce.
---
At South Grey News, we endeavour to bring you truthful and factual, up-to-date local community news in a quick and easy-to-digest format that's free of political bias. We believe this service is more important today than ever before, as social media has given rise to misinformation, largely unchecked by big corporations who put profits ahead of their responsibilities.
South Grey News does not have the resources of a big corporation. We are a small, locally owned-and-operated organization. Research, analysis and physical attendance at public meetings and community events requires considerable effort. But contributions from readers and advertisers, however big or small, go a long way to helping us deliver positive, open and honest journalism for this community.
Please consider supporting South Grey News with a donation in lieu of a subscription fee and let us know that our efforts are appreciated. Thank you.