September 23, 2021
Letter to the editor: Street naming in Grey Highlands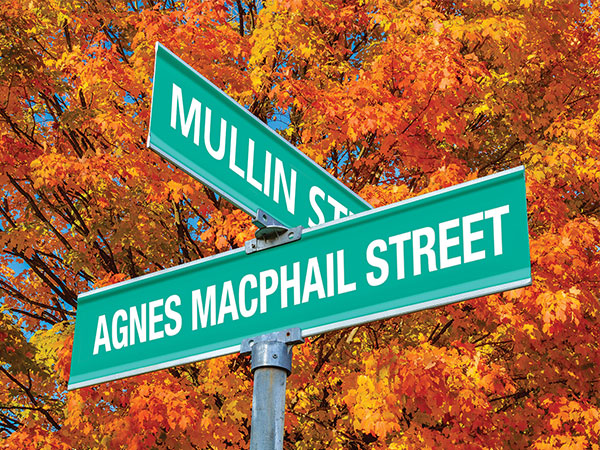 LETTER TO THE EDITOR — It is my understanding that the Municipality of Grey Highlands is considering naming Street A in Markdale's Stonebrook Phase 3 draft plan of subdivision "Mullin Street," presumably to recognize former Grey Highlands Mayor Brian Mullin.
I suggest that Grey Highlands consider an alternate name for this street. In making this suggestion, I mean no disrespect to Mr. Mullin, nor do I cast aspersion on his exemplary service to our municipality.
However, I believe a decision by a current group of municipal politicians to honour a former municipal politician sends an unfortunate message to the community. Rightly or wrongly, the public has a perception that politicians are self-focused. Local politicians honouring former local politicians, to the exclusion of other distinguished local citizens, reinforces this stereotype.
We have many heroes in our past. How about beginning to honour them in new street names? And how about recognizing the under-appreciated roles of women by giving priority to recognizing women from our past?
Most obviously given that this year is the hundredth anniversary of the election of Agnes Macphail as the first woman to sit in Canada's House of Commons, would it not be appropriate to name it "Agnes Macphail Street"? Or if not Agnes Macphail, how about other illustrious local women? How about Cora Hind, distinguished journalist and champion of women's rights? How about medical missionary Dr. Anna Henry? How about Carrie Davis, defender of vulnerable Asian immigrant women and children? How about naming a street after one of many local women who lost a son in war but who continued to serve the community despite their grief? And even if Street A ends up being named "Mullin Street," how about making a municipal commitment to naming future streets after illustrious women from our past?
Through the symbolism of street naming, our municipal elected officials have the opportunity to reach beyond themselves to recognize civic heroism that transcends the realm of municipal officials.
I respectfully hope that Grey Highlands council avails itself of this opportunity.
Sincerely,
John Butler, resident of Grey Highlands
---
At South Grey News, we endeavour to bring you truthful and factual, up-to-date local community news in a quick and easy-to-digest format that's free of political bias. We believe this service is more important today than ever before, as social media has given rise to misinformation, largely unchecked by big corporations who put profits ahead of their responsibilities.
South Grey News does not have the resources of a big corporation. We are a small, locally owned-and-operated organization. Research, analysis and physical attendance at public meetings and community events requires considerable effort. But contributions from readers and advertisers, however big or small, go a long way to helping us deliver positive, open and honest journalism for this community.
Please consider supporting South Grey News with a donation in lieu of a subscription fee and let us know that our efforts are appreciated. Thank you.