February 17, 2023
Still Standing Watch Party, an outstanding show of small town pride for Markdale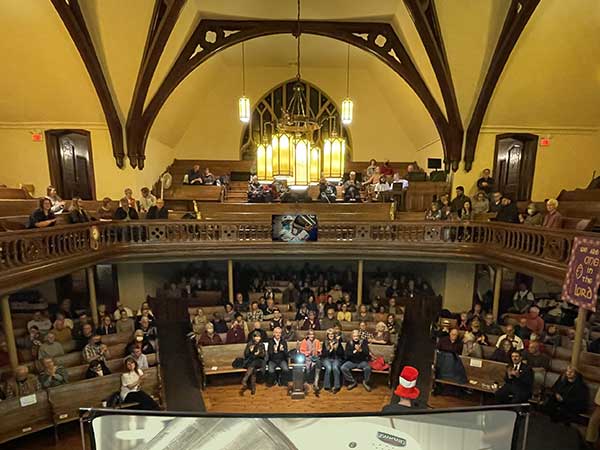 BY SOUTHGREY.CA STAFF — On February 15, nearly 300 people attended an evening of celebration, honouring Markdale and its citizenry at the Annesley United Church. Kicked off with remarks from Grey Highlands Mayor Paul McQueen, Ron Barnett from South Grey News presented a full schedule of entertainment and good-news nuggets, including updates for the new Markdale Hospital from Centre Grey Health Services Foundation (CGHSF) Executive Director Darlene Lamberti and for the new Beavercrest Community School from Bluewater District School Board (BWDSB) Trustee Janice Kaikkonen.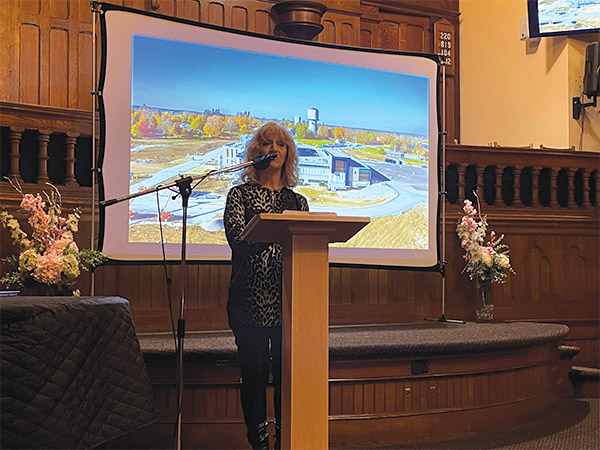 Darlene Lamberti providing an update regarding the new Markdale hospital.
The pre-show incorporated a pre-recorded interview by Barbara Pearn with Still Standing producer, writer and host Jonny Harris and was followed by the main event — the live-streamed episode of the popular CBC-TV show featuring Markdale and its many business and community champions, watched on a big screen in the beautiful setting of the Annesley United Church worship space.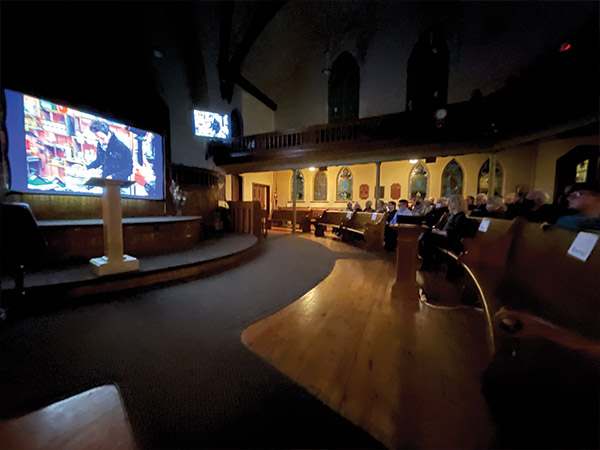 Audience members enjoying the show.
During the show, a feeling of town pride welled up, as the crowd laughed and applauded the interviews and antics of the host and local participants. In the episode, Jonny Harris spoke with Pam Petch, former owner of PJ Knickerbockers; Ashley Chapman, Vice President at Chapman's Ice Cream; Suzi Raposo and Catherine Clarke, owners of Susan's Deli; Barb Sheperd, Development Officer at Hope Haven Therapeutic Riding Centre and; Patrick Petch of the Rotaract Highlanders.
The evening wrapped up with announcements of future community events coming soon to Annesley United Church and several door prizes, followed by a group picture. News and ticket-availablity for these events will be posted on the Annesley.Events website.
Desserts from Susan's Deli were available, as were Markdale t-shirts from JJMJ Embroidery. Chapmans Ice Cream's 50th Anniversary calendars were also handed out to everyone who attended.
If you missed Still Standing's Markdale episode you can watch it here on CBC GEM.
---
At South Grey News, we endeavour to bring you truthful and factual, up-to-date local community news in a quick and easy-to-digest format that's free of political bias. We believe this service is more important today than ever before, as social media has given rise to misinformation, largely unchecked by big corporations who put profits ahead of their responsibilities.
South Grey News does not have the resources of a big corporation. We are a small, locally owned-and-operated organization. Research, analysis and physical attendance at public meetings and community events requires considerable effort. But contributions from readers and advertisers, however big or small, go a long way to helping us deliver positive, open and honest journalism for this community.
Please consider supporting South Grey News with a donation in lieu of a subscription fee and let us know that our efforts are appreciated. Thank you.