May 20, 2021
Note to would-be travellers: provincial Stay-at-Home Order remains in place over long weekend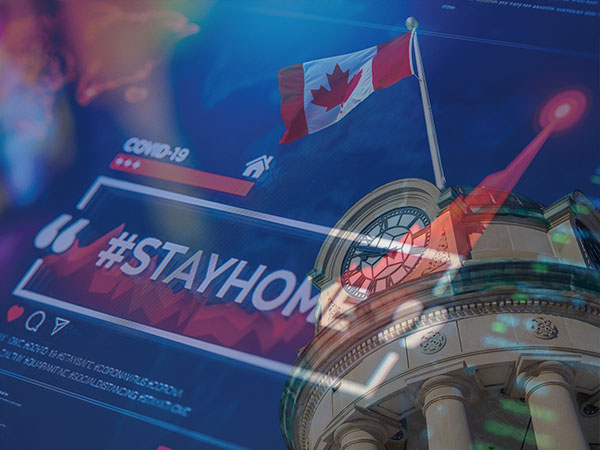 Updated at 3:59 pm, May 21, 2021
The Stay-at-Home order is in place until June 2, 2021, as the province continues to deal with the impacts of COVID-19.
Effective May 22, 2021, certain outdoor recreational amenities will reopen with restrictions in place, such as the need to maintain physical distancing. These amenities include but are not limited to golf courses and driving ranges, soccer and other sports fields, tennis and basketball courts, and skate parks. No outdoor sports or recreational classes are permitted.
Outdoor limits for social gatherings and organized public events will be expanded to five people, which will allow these amenities to be used for up to five people, including with members of different households. All other public health and workplace safety measures under the province wide emergency brake will remain in effect.
Stay-At-Home means you are only allowed to gather indoors with anyone you live with, and limit close contact to only members of your household (the people you live with). If you live alone, you can have close contact with only one other household. Outdoor limits for social gatherings and organized public events is limited to five people.
Stay-At-Home means do not travel outside your region unless absolutely necessary. You should only go out for necessities, such as:
the grocery store or pharmacy health care services (including getting vaccinated)
outdoor exercise or walking pets in your community
work that cannot be done remotely
child care
Stay-At-Home permits outdoor recreational amenities to open as of May 22, including outdoor sports facilities and multi-use fields. However, no outdoor sports or recreational classes are permitted:
golf courses
baseball diamonds
soccer fields
tennis, platform tennis, table tennis and pickleball courts
basketball courts
BMX parks
skate parks
portions of parks or recreational areas containing outdoor fitness equipment
picnic sites and picnic tables
Stay-At-Home means parks and recreational areas, including benches, playgrounds, play structures, play equipment, and off-leash dog parks are open as long as two metres physical distancing can be maintained.
Stay-At-Home means seasonal campgrounds and campsites can only be made available for trailers and recreational vehicles that are used by individuals who are in need of housing or permitted to be there by the terms of a full season contract.
The Province has amended Reg. 82/20 to allow marinas and boat clubs to open for extended services including fueling and launching.
Recreational boating permitted but only members of a household can gather on a boat.
Marinas / Boating Clubs may open with limited services including, repairs or servicing of boats, placing boats in water, and enabling individuals' access to their residence or property.
Any clubhouse, restaurant, pool, communal steam room, sauna or whirlpool, meeting room, fitness centre or other recreational facility on the premises must be closed to the public, except for any portion of those areas that,
is used to provide first aid services,
is used to provide take-out or delivery service,
contains a washroom, or
provides an essential service (eg. a grocery or convenience store, providing fuel supply, boat or watercraft repair and servicing, boat or watercraft docking and boat or watercraft launching services).
Considerations for Boat Launches
Boat launches are not specifically required to be closed by the regulation. Municipalities or businesses may choose to close boat launches.
Anyone using a boat launch must abide by shutdown restrictions currently in place, including the Stay-At-Home order.
Amenities such as boat launches should only be used for their intended purpose and not as a location for a public gathering.
The amending regulation can be found at:
solgen_oreg344-21_amend82-20_2021-05-20.pdf (ontario.ca)
Stay-At-Home means outdoor garden centres, plant nurseries and indoor greenhouses may open for in-person shopping, with limited hours, at a maximum capacity of 25%
Stay-At-Home means restaurants, bars and other food and drink establishments are only open for take-out, drive-through and delivery. All indoor and outdoor dining is closed. Stay-At-Home means garage sales and yard sales are not permitted.
Read Appended Regulations for details.
There are also restrictions in place for both campground operators as well as campers during the current lockdown.
Requirements for Operators
Campground operators must comply with public health advice on physical distancing, cleaning, and screening. Operators shall ensure that a person in an indoor area wears a mask or face covering.
Additionally, seasonal campgrounds/sites must:
be made available only for trailers and recreational vehicles that,

are used by individuals who are in need of housing, or are permitted to be there by the terms of a full season contract.

only allow use of campsites with electricity, water service and facilities for sewage disposal.

close all recreational facilities in the campground and all other shared facilities in the campground, other than washrooms and showers.

close other areas of the seasonal campground to the general public. These areas must only be opened for the purpose of preparing the seasonal campground for reopening

comply with the province's Stay-at-Home Order, which prohibits transient camping, such as weekend reservations at seasonal campgrounds.
We encourage operators to remind users that the Stay-At-Home restrictions allow seasonal campers to either visit their site for no more than 24 hours for an essential purpose, or for a minimum of 14 consecutive days.
Requirements for Users (i.e. Seasonal Campers)
The provincial Stay-At-Home Order allows seasonal campers to visit their site for:
no more than 24 hours for an essential purpose, or

for a minimum of 14 consecutive days.
Trips outside of the home should be limited and only for essential purposes (accessing health care and medication, grocery shopping, child care, exercising alone or with people in your household and in the community where you live, walking pets when required, and supporting vulnerable community members to meet the needs above). Staying home is the best way to protect yourself and others.
Review Government Travel Restrictions for more information.
Seasonal campgrounds
Campsites are available only for trailers and recreational vehicles that are:
used by individuals who are in need of housing

permitted to be there by the terms of a full season contract
Most campground facilities and amenities are closed (other than washrooms and showers)
Campgrounds may choose to have additional restrictions or policies in place. Contact your campground for details before going.
Gathering Limits
Do not invite other households to your campsite. Close contact is allowed only with people living in the same household. Two metres physical distancing should be maintained from everyone else. Individuals who live alone may consider having close contact with another household. Follow provincial gathering limits at all times.
Be Aware of the Local Situation
Be aware of local restrictions and what amenities may be closed or operating in a different manner.
Seek out information on COVID-19 restrictions through reliable sources like the Grey Bruce Health Unit and local municipalities.
Please use these resources to assist:
Campground Restrictions During COVID-19 Infographic
---
At South Grey News, we endeavour to bring you truthful and factual, up-to-date local community news in a quick and easy-to-digest format that's free of political bias. We believe this service is more important today than ever before, as social media has given rise to misinformation, largely unchecked by big corporations who put profits ahead of their responsibilities.
South Grey News does not have the resources of a big corporation. We are a small, locally owned-and-operated organization. Research, analysis and physical attendance at public meetings and community events requires considerable effort. But contributions from readers and advertisers, however big or small, go a long way to helping us deliver positive, open and honest journalism for this community.
Please consider supporting South Grey News with a donation in lieu of a subscription fee and let us know that our efforts are appreciated. Thank you.