May 09, 2023
South Grey celebrates the Coronation of King Charles III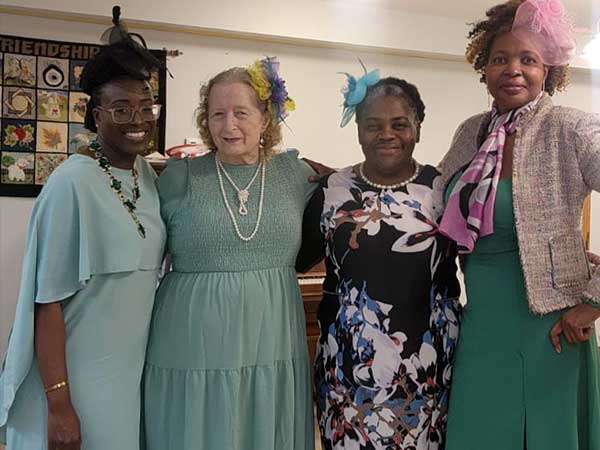 DD Watson, Lynn Silverton, Rev Beveron and Councillor Joan John pose for a photo at the Grey Gables event. Photo: Lynn Silverton
BY JOHN BUTLER — The sanctuary of Annesley United Church was South Grey's living room last Saturday morning as about 50 people gathered at a Coronation watch party sponsored by Annesley Events and the Grey Highlands Peace Committee. This was only the second House of Windsor coronation ever televised. The first one, Elizabeth II's in 1953, was seen by a few millions on grainy black and white TV sets, while this week's ceremony was witnessed by many more on larger screens. But few could outdo the large screen at Annesley that reproduced the footage of the event held in the wee hours of the morning, Canadian time. Deftly staged by local podcaster Tim Reilly of Leaking Ambience Studio, the event had as its master of ceremonies Grey Highlands Deputy Mayor Dane Nielsen, whose commentary augmented the events on the big screen. Nielsen even abandoned his trademark broad brimmed hat for the morning, choosing instead to model one of the 'fascinator' millinery creations so favoured in royal circles. The viewing was followed by The Crown in Canada, a podcast from Leaking Ambience Studio featuring Canadian Monarchy expert Nathan Tidridge explaining the constitutional importance of the Monarchy to Canada and to First Nations.
The viewing was followed by a free Coronation lunch in the church's main assembly hall, catered by Jenny McQuaid of Markdale's Tastea Treats. In addition to sandwiches and typically British sweet treats served by suitably behatted genial volunteers, the lunch featured a range of teas, and instructions from McQaid on the best ways to prepare and enjoy the iconic beverage. The hall was regally decorated, focused on a central table displaying royal memorabilia from Lacy Sciamanna — a collection inspired by her mother's interest in objects related to the Crown. Each table of guests gave opportunity to share stories of brushes with royalty. At one table, a guest described seeing the late Queen emerge, smiling, from the back entrance of an Ottawa hotel, another described seeing the Queen from his perch atop a coal pile in Parry Sound harbour, and another said his mother often reminded him that he was born during a royal visit by George VI to Canada.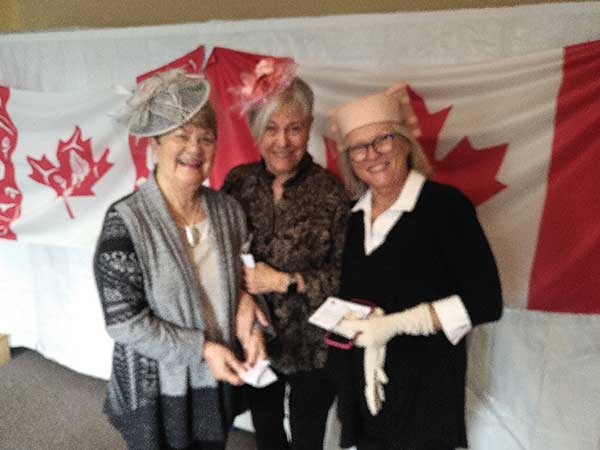 Attendees to the Coronation Watch Party came dressed for the event.
The Coronation watch party was one of many events held in Annesley's community space. Said Watch Party organizer Ron Barnett, "What a great place to watch such a grand and historic event! With the big screen, the beautiful Annesley Church sanctuary, the world-renowned Westminster Abbey Orchestra and Choir and all the Coronation pageantry, it was an amazing show."
On Sunday in Markdale, the Grey Highlands Peace Committee, in association with JunCtian Community Initiatives, sponsored a public ceremony dedicating a recently planted red oak in honour of the new King, followed by afternoon tea. The ceremony was meant to take place in the back garden of Grey Gables Home for the Aged, where the oak was planted, but English rainy weather scotched that idea, and the event was held within Grey Gables. MP Alex Ruff, MPP Rick Byers, Grey County Warden and Southgate Mayor Brian Milne, and Grey Highlands Deputy Mayor Dane Nielsen all brought greetings to attendees. While the oak was drinking rain in the garden, a ribbon was cut indoors to wish the tree long life. Two young people from Flesherton's Hanley Institute — Maddie Patten and Anthony Galbraith, in partnership with Grey Gables residents Helen and Barrie — cut the floral ribbon, after Peace Committee member Elizabeth Norrington gave introductory praise of the importance of trees. Noted Gospel singer DD Watson of Dundalk rendered both the National Anthem and the Royal Anthem with verve at the commemoration, Committee members Stewart Halliday and John Butler gave biographical sketches of the new King and Queen emphasizing their commitment to service, and Rev. Beverone Bagal, in a dedicatory prayer, reminded attendees of the spiritual component of the Coronation. Volunteers Ed Boer and Melissa MacKenzie and Committee member Pam Burgess ensured that a video and still pictures were taken at the event, to preserve it as part of community history.
The King's red oak is one of two commemorative regal trees donated and planted by Saugeen Conservation Authority. The first, a white pine planted at Grey Gables in June last year, commemorates the late Queen's Platinum Jubilee. A metal plaque describing the Queen's pine was unveiled at Sunday's event by the tree's 'godparents' Jennifer Stephens, General Manager of Saugeen Conservation, and Kim Mustard, Grey Gables' Manager of Resident and Family Services.
The event also featured a presentation by Joan John, Founder of JunCtian Community Initiatives, to Peace Committee Chair Lynn Silverton, honouring her as one of South Grey's outstanding women. As well, MP Alex Ruff awarded a Coronation badge to Committee member June Butler for her volunteer efforts. After the ceremonies, Committee members — many sporting fascinator headgear donated by Lynn Silverton — served sandwiches, Coronation cake and non-alcoholic Coronation punch to guests.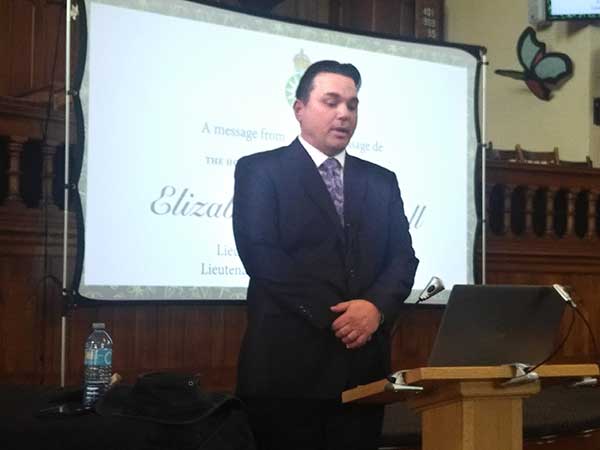 Dane Nielsen hosted the Coronation Watch Party at Annesley United Church on Saturday.
Reflecting on his role at both Coronation events, and echoing the land acknowledgment made at Sunday's event by Committee member Emmett Ferguson, Grey Highlands Deputy Mayor Dane Nielsen said, "Beyond the pomp and circumstance lies an enduring charm. A King held in esteem above everyone else, the prestige, the authority, the pressure. King Charles has a once in a lifetime chance to make changes — some subtle, some more apparent. The late Queen gave stability and structure. King Charles can move the Monarchy forward. Canada would benefit from royal partnership in the saga for truth and reconciliation."
---
At South Grey News, we endeavour to bring you truthful and factual, up-to-date local community news in a quick and easy-to-digest format that's free of political bias. We believe this service is more important today than ever before, as social media has given rise to misinformation, largely unchecked by big corporations who put profits ahead of their responsibilities.
South Grey News does not have the resources of a big corporation. We are a small, locally owned-and-operated organization. Research, analysis and physical attendance at public meetings and community events requires considerable effort. But contributions from readers and advertisers, however big or small, go a long way to helping us deliver positive, open and honest journalism for this community.
Please consider supporting South Grey News with a donation in lieu of a subscription fee and let us know that our efforts are appreciated. Thank you.