August 19, 2021
Bruce Trail Conservancy re-affirms strong interest in permanently securing the Bruce Trail on the former Talisman Resort lands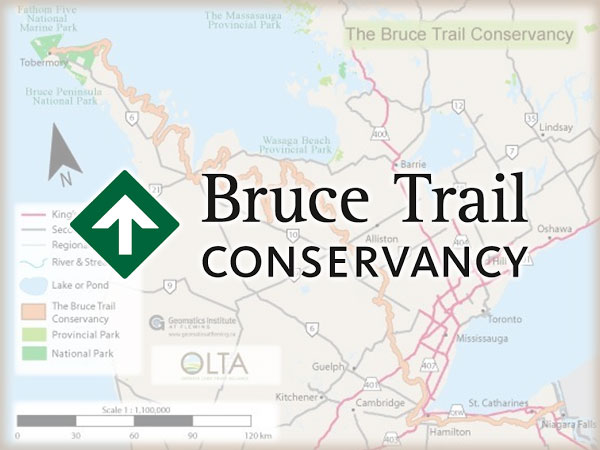 As the process to determine the future of the former Talisman Resort lands continues, the Bruce Trail Conservancy has reaffirmed their strong interest and commitment to securing the Bruce Trail in this location. The Bruce Trail has crossed these lands by verbal agreement since 1965. This section of Trail forms part of an 86 kilometre continuous route through the Beaver Valley that links with the Town of Blue Mountains and the Municipality of Meaford. It is evident that the Trail passing through the former Talisman Resort lands forms a critical link between a chain of publicly owned lands, including Bruce Trail Conservancy lands secured specifically for the Bruce Trail, and its conservation corridor.
Understanding the importance of this route, the Bruce Trail Conservancy is optimistic public access in this location will be maintained, permanently. The Bruce Trail in this location provides all-season recreation to local residents and visitors to the area. More than 8 million Ontarians live within a 90-minute drive of the Niagara Escarpment and countless others travel further to enjoy this ribbon of wilderness. If permission to cross these lands is withdrawn, it would force the Trail and thousands of hikers every year to use busy roads.
The Bruce Trail Conservancy hopes to continue to provide this amenity and to promote the Bruce Trail through Grey Highlands as a destination to these visitors, and in doing so, provide important economic support to area businesses. "The Bruce Trail Conservancy is guided by our strong mission, and we commit to working with any and all stakeholders to protect the continuity of Canada's oldest and longest public footpath" explains Michael McDonald, CEO of the Bruce Trail Conservancy, "As one of Ontario's largest land trusts, and creators and stewards of the Bruce Trail, we balance conservation and recreation priorities, and share in a commitment to building active healthy communities."
---
At South Grey News, we endeavour to bring you truthful and factual, up-to-date local community news in a quick and easy-to-digest format that's free of political bias. We believe this service is more important today than ever before, as social media has given rise to misinformation, largely unchecked by big corporations who put profits ahead of their responsibilities.
South Grey News does not have the resources of a big corporation. We are a small, locally owned-and-operated organization. Research, analysis and physical attendance at public meetings and community events requires considerable effort. But contributions from readers and advertisers, however big or small, go a long way to helping us deliver positive, open and honest journalism for this community.
Please consider supporting South Grey News with a donation in lieu of a subscription fee and let us know that our efforts are appreciated. Thank you.