October 20, 2021
School Bus Driver Appreciation Day on October 20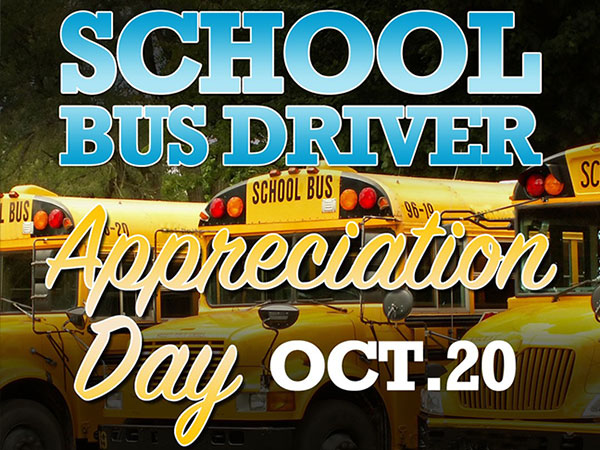 On Wednesday, October 20, 2021, we celebrate School Bus Driver Appreciation Day. Parents/guardians and school staff are encouraged to recognize their school bus drivers and monitors with a simple "thank you" or other acknowledgement of a job well done, often under complex conditions.


School Bus Driver Appreciation Day coincides with School Bus Safety Week, which occurs during the third week of October. The Student Transportation Service Consortium of Grey-Bruce, which oversees school bus transportation for Bluewater and Bruce-Grey Catholic District School Boards, takes this opportunity to shine the spotlight on school bus safety.


The iconic yellow school bus is a critical part of the education system, and we appreciate the work undertaken by those who serve our students each day. Throughout Bruce and Grey counties, 325 school buses travel 38,000 kilometres each day to transport 17,000 students to and from school. Beyond those who utilize the service to get to and from school, many students use school buses to travel on field trips or participate in athletic events.


School Bus Safety Week provides an opportunity to talk about the overall importance of safety. Whether you have children travelling on a school bus or are a motorist in a school zone, everyone benefits from an increased focus on road safety, obeying posted speed limits, and carefully observing those engaged in active travel, be it walking or wheeling. Road safety in our communities is vital to overall citizen satisfaction.
The Student Transportation Service Consortium of Grey-Bruce would like to remind everyone how critical it is to come to a complete stop while the red signal lights of a school bus are flashing. There is a maximum fine of $2,000 and six demerit points under the Highway Traffic Act for vehicle owners who choose to disobey the law, and illegally pass a stopped school bus.


Of equal importance to safety around the bus is the conduct of students who are on board the vehicles. Parents/guardians are encouraged to talk to their children about expected on-board behavior. Simple rules make for a more enjoyable shared-ride experience – backpacks on laps or under the seats, remaining seated for the entire ride, and keeping voice levels down so the school bus driver can concentrate.

---
At South Grey News, we endeavour to bring you truthful up-to-date local community news in a quick and easy-to-digest format that's free of political bias. We believe this service is more important today than ever before, as social media has given rise to misinformation, largely unchecked by big corporations who put profits ahead of their responsibilities.
South Grey News does not have the resources of a big corporation. We are a small, locally owned-and-operated organization. Research, analysis and physical attendance at public meetings and community events requires considerable effort. But contributions from readers and advertisers, however big or small, go a long way to helping us deliver positive, open and honest journalism for this community.
Please consider supporting South Grey News with a small donation and let us know that our efforts are appreciated. Thank you.