May 17, 2022
Grey Bruce CMHA's Ride Don't Hide mental health fundraiser is back Sunday June 26th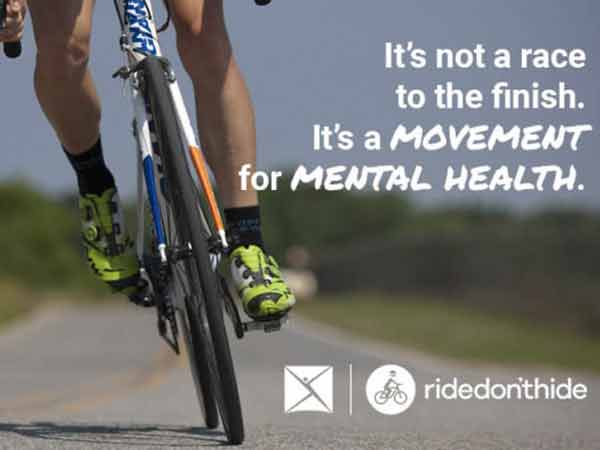 More than 45 per cent of Ontario residents report worsening mental health since the onset of the pandemic, which came with school closures, lockdowns, social isolation, and economic insecurity. In response, the nation's largest mental health bike ride, Ride Don't Hide, is bringing people together to raise funds in support of the mental health and well-being of our hardest hit community members, while boosting their own moods through movement.
Now in its 9th anniversary year, Ride Don't Hide is "rolling" with the times and evolving its local rides into the virtual physical activity challenge of your choice. A Ride Don't Hide mobile app allows participants to connect with teammates, track their activity, fundraise, spread the word, and participate in weekly challenges throughout June all while on the go through your smartphone. Participants from across Canada will set a personal challenge to ride, run, walk, dance, or even meditate, for at least 330 minutes throughout the month of June to support CMHA's vital community mental health programs and services in one of its 330 locations near you.
"The pandemic has been hard, but the silver lining is that more people are aware of their own mental health, and more willing to talk freely about their stresses and struggles," says Clark MacFarlane of the Canadian Mental Health Association Grey Bruce. "Our local residents are displaying great resilience and courage in this time of crisis, and this is helping bring mental health into the open."
This year, local riders—and spinners, walkers, runners, yogis, meditators, and other mental health champions—will raise funds to support youth mental health, social programs as well as domestic violence prevention in Grey Bruce. Join the in-person event at Kelso Beach on Sunday, June 26th or sign up as a virtual rider and participate "Your Own Way."
"Two things that have gotten me through the past year are my friends and my walks outside. I really want our community to know that there is help if they need it, so I'm running 100km from now until June 26th and asking sponsors to support me," says April Robinson. "We need to raise funds for mental health now more than ever."
In past 9 years, Ride Don't Hide Grey Bruce has raised over $400,000 for local mental health programs and services.
"People can set their own goals and move in their own way, on their own time, but it all rolls up to more timely, more accessible mental health help when people need it," says Clark MacFarlane, CEO. "Find that walking buddy and join your neighbours to raise money, raise your heart rate and raise your spirits!"
To find out more, please visit www.ridedonthide.com.
About Ride Don't Hide
Ride Don't Hide is the largest mental health bike ride in Canada, raising over $10 million dollars in the past decade for community-based Canadian Mental Health Association mental health programs and services.
About Canadian Mental Health Association, Grey Bruce Mental Health and Addiction Services
At CMHA Grey Bruce Mental Health and Addiction Services we cultivate hope, resilience and community for those who live with, and are impacted by, mental illness and/or/addiction. We work to create an inclusive community inspiring hope, choice and well-being for all. We are driven by our values of compassion, dignity, inclusivity, integrity and choice. For more information, visit www.greybruce.cmha.org
About the Canadian Mental Health Association
Founded in 1918, the Canadian Mental Health Association (CMHA) is the most established, most extensive community mental health organization in Canada. Through a presence in more than 330 communities across every province and one territory, CMHA provides advocacy, programs and resources that help to prevent mental health problems and illnesses, support recovery and resilience, and enable all Canadians to flourish and thrive. For more information, please visit www.cmha.ca
---
At South Grey News, we endeavour to bring you truthful and factual, up-to-date local community news in a quick and easy-to-digest format that's free of political bias. We believe this service is more important today than ever before, as social media has given rise to misinformation, largely unchecked by big corporations who put profits ahead of their responsibilities.
South Grey News does not have the resources of a big corporation. We are a small, locally owned-and-operated organization. Research, analysis and physical attendance at public meetings and community events requires considerable effort. But contributions from readers and advertisers, however big or small, go a long way to helping us deliver positive, open and honest journalism for this community.
Please consider supporting South Grey News with a donation in lieu of a subscription fee and let us know that our efforts are appreciated. Thank you.