November 02, 2021
Project Lifesaver available in Grey and Bruce Counties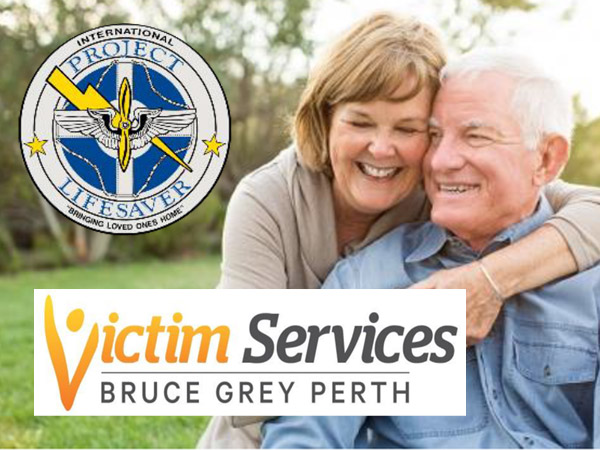 Victim Services Bruce Grey Perth along with the Alzheimer Society of Grey-Bruce, South Bruce Ontario Provincial Police (OPP), Grey Bruce OPP, West Grey Police Service and Owen Sound Police Service is announcing the launch of Project Lifesaver in Bruce and Grey Counties.
Project Lifesaver is a proactive program for wandering persons that may not be able to get themselves home. Program participants wear a one-ounce personalized wristband that emits a continuous radio frequency that can be tracked by a Project Lifesaver receiver.
Select police officers that have been qualified as Project Lifesaver Electronic Search Specialists operate the radio frequency based tracking system. Project Lifesaver uses proven technology that allows first responders to quickly locate a wandering person and get them back to their families.
Time is of the essence in missing person investigations; the longer that someone is missing, the greater the concern for their well-being becomes:
If the missing person is someone living with a cognitive diagnosis, such as Dementia, this increases the search urgency. Tracking their assigned radio frequency will not only help to locate them in a timely manner; their frequency will help responders to identify them.
In fall and winter, when there are less hours of daylight and lower temperatures, the search urgency increases, particularly when a winter storm is forecast.
Bruce and Grey Counties have large bush lots and large agricultural properties that take time to properly search. Having a radio frequency to track gives responding officers a proven technology to quickly locate a missing person and reunite them with their families.
Victim Services Bruce Grey Perth is pleased to announce that we already have Project Lifesaver clients registered in Bruce and Grey Counties. There is a cost to join and an annual maintenance cost, but we encourage you to reach out if you feel this program is a good fit for someone you care about.
To get a family member registered, or for more information on Project Lifesaver, please contact Victim Services Bruce Grey Perth at 1-866-376-9852 or visit them online at http://www.vsbgp.com.
---
At South Grey News, we endeavour to bring you truthful up-to-date local community news in a quick and easy-to-digest format that's free of political bias. We believe this service is more important today than ever before, as social media has given rise to misinformation, largely unchecked by big corporations who put profits ahead of their responsibilities.
South Grey News does not have the resources of a big corporation. We are a small, locally owned-and-operated organization. Research, analysis and physical attendance at public meetings and community events requires considerable effort. But contributions from readers and advertisers, however big or small, go a long way to helping us deliver positive, open and honest journalism for this community.
Please consider supporting South Grey News with a small donation and let us know that our efforts are appreciated. Thank you.