November 16, 2021
Don't make it easy for vehicle thieves — pocket your keys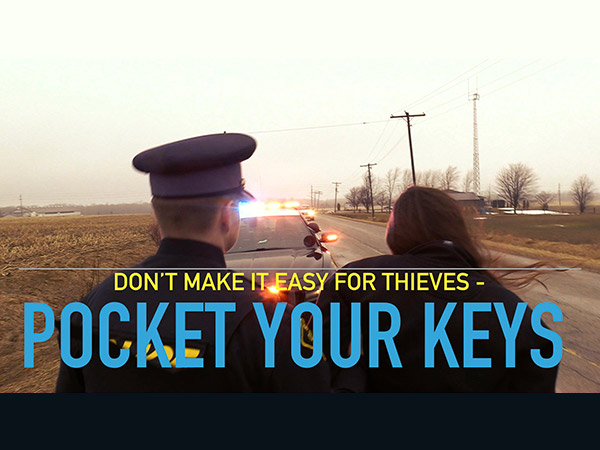 November 7-13, 2021 is Crime Prevention week and the OPP would like to highlight #PocketYourKeys.
The Lock it or Lose it and #PocketYourKeys campaigns are designed to help prevent vehicles from being taken. An added benefit to these programs, is the reduction of the theft of items from inside the vehicle.
Here are some simple steps to help reduce the number of stolen vehicles and protect you as the vehicle owner:
Do not leave your keys in your vehicle.
Do not leave your vehicle running.
Lock your vehicle.
Treat your keys like cash — Don't leave keys in places where they are easy to steal such as a gym locker, on your desk at work, in an open purse or unattended in a shopping cart.
Never leave anything in your vehicle in plain view such as loose change, cell phones, cameras, clothing, gifts, cigarettes, medication, firearms or any other valuables.
When a vehicle is stolen, the consequences go far beyond its loss. The vehicle could be used in a criminal act like a break and enter, transporting stolen property, trafficking of drugs or human trafficking. Another risk for a vehicle owner is the liability should it be involved in a serious crash.
Theft is a crime of opportunity that you can help control so #PocketYourKeys to help prevent the loss of your vehicle.
"The theft of a vehicle is often much more than the loss of your vehicle. It also impacts our community's safety and wellbeing. When a vehicle is stolen it is certainly an inconvenience to the owner. But if that stolen vehicle is then used to commit a crime or becomes involved in a serious collision, it can have a lasting impact well beyond just the vehicle owner. It can have damaging and possibly tragic results for our community and community members. To prevent this please make sure you #PocketYourKeys when your vehicle is not in use" - Inspector Krista Miller, Detachment Commander, South Bruce OPP.
The South Bruce OPP is requesting anyone with information to cal l 1-888-310-1122. Should you wish to remain anonymous, call Crime Stoppers at 1-800-222-8477 (TIPS) or submit a secure web-tip at www.cstip.ca, where you may be eligible to receive a cash reward of up to $2000.
---
At South Grey News, we endeavour to bring you truthful up-to-date local community news in a quick and easy-to-digest format that's free of political bias. We believe this service is more important today than ever before, as social media has given rise to misinformation, largely unchecked by big corporations who put profits ahead of their responsibilities.
South Grey News does not have the resources of a big corporation. We are a small, locally owned-and-operated organization. Research, analysis and physical attendance at public meetings and community events requires considerable effort. But contributions from readers and advertisers, however big or small, go a long way to helping us deliver positive, open and honest journalism for this community.
Please consider supporting South Grey News with a small donation and let us know that our efforts are appreciated. Thank you.