September 06, 2022
OPP bring Ride Smart Program to Grey Highlands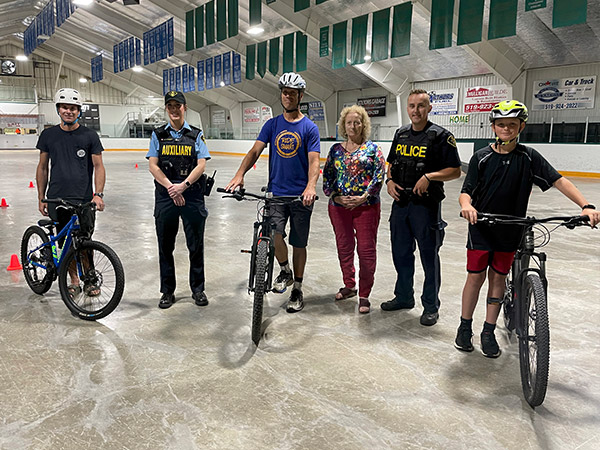 Above: Andrew Hibma, Ride Smart organizer, Ride Smart is a new bike safety program in the area which originated in Hamilton, Ontario.
Andrew Hibma works with New Hope Community Bikes a cycle education charity out of Hamilton. They present cycle education programming in schools, and started the Ride Smart Program in 2015.
Above: Ride Smart Manager Andrew Hibma, OPP Auxillary Sergeant Michaela Littlejohn, OPP Constable Adam Belanger, Grey Highlands Police Board Chair Lynn Silverton, OPP Constable Nick Wilson and Bronley one of the participants in the Bike Smart Program.
Ride Smart has partnered with the OPP since Feb 2021.
"We provide the bikes and helmets so that everyone has the opportunity to ride a bike, if they couldn't bring their own bike with them." said Hibma.
As part of the Ride smart program at a schools or communities, kids' bike gears, brakes are looked at and on the spot repairs are done so bikes leave in better working condition than when they arrived.
A safety check at the beginning, is done on the program bikes and kids learn how to do a safety check on their own bikes as well.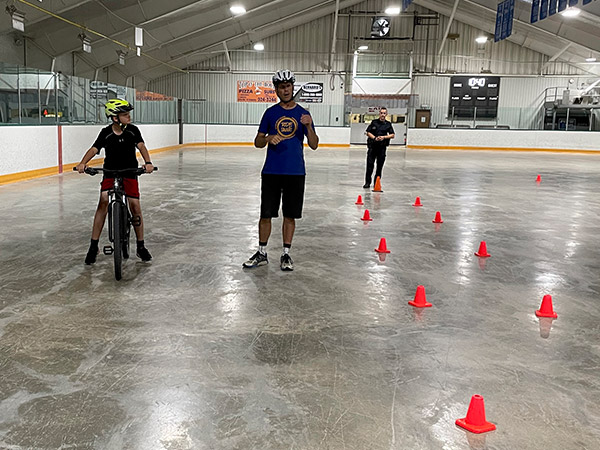 OPP Constable Adam Belanger, Provincial Coordinator, Ride Smart Cycle Education Program works with the kids who attended the program.
Bronley rides over plywood with a narrow path cut out, testing for co-ordination.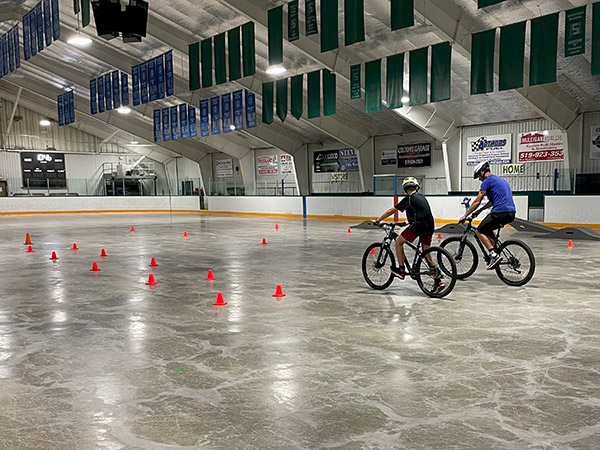 Belanger leads participants over a course familiarizing them with signalling, shoulder checks, maneuvering bikes around obstacles and over tracks with a focus on safety.
This is the first time the Ride Smart Program has taken place in Grey Highlands. It was piloted at Bruce Peninsula District School in Lion's Head before being adopted.
OPP is working to build positive relationships with young people and felt this was a good opportunity for a provincial effort.
---
At South Grey News, we endeavour to bring you truthful and factual, up-to-date local community news in a quick and easy-to-digest format that's free of political bias. We believe this service is more important today than ever before, as social media has given rise to misinformation, largely unchecked by big corporations who put profits ahead of their responsibilities.
South Grey News does not have the resources of a big corporation. We are a small, locally owned-and-operated organization. Research, analysis and physical attendance at public meetings and community events requires considerable effort. But contributions from readers and advertisers, however big or small, go a long way to helping us deliver positive, open and honest journalism for this community.
Please consider supporting South Grey News with a donation in lieu of a subscription fee and let us know that our efforts are appreciated. Thank you.