May 05, 2021
Ontario recruiting 25 new Conservation Officers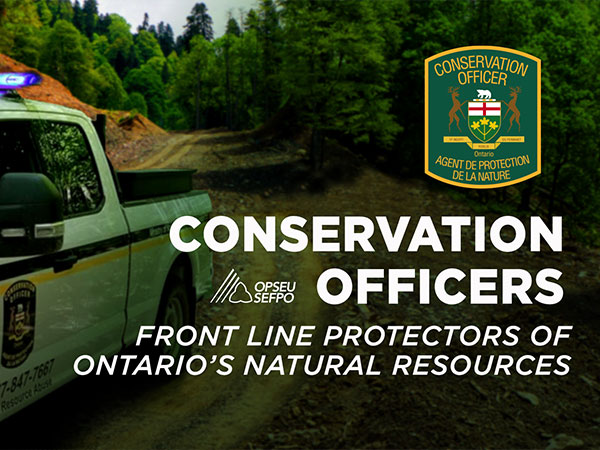 Photo: opseu.org
Bruce-Grey-Owen Sound MPP Bill Walker has announced that the Ontario government is hiring 25 new Conservation Officers in an attempt to enhance the protection of the province's precious natural resources and ensuring public safety by recruiting additional conservation officers.
"Ontario's natural resources are world class; to maintain that standard, we promised to hire more conservation officers to protect our natural resources," said Premier Doug Ford. "We're making good on that commitment."
"We are incredibly fortunate to have a wealth of natural resources in Ontario. Our government is committed to ensuring that our children and grandchildren will see the benefits of these resources," said John Yakabuski, Minister of Natural Resources and Forestry. "That's why I am delighted to announce that we are hiring more conservation officers."
"I'm pleased our government is taking this action to protect our beautiful natural resources," said Bruce-Grey-Owen Sound MPP Bill Walker. "Hiring and training more officers will strengthen enforcement efforts and help make sure Ontario's natural resources are sustainably managed."
Recruitment is now open for 25 additional officers across Ontario. These officers will help the ministry increase focus on its sustainable resource management and public safety goals, such as:
promoting hunting safety
preventing illegal hunting
preventing illegal trade and commercialization of Ontario's animal and plant species
preventing the introduction and spread of aquatic invasive species
"We're looking for 25 extraordinary individuals who are passionate about the outdoors to join the team," said Mike Harris, Parliamentary Assistant to the Minister of Natural Resources and Forestry. "Whether you're from a small town or a big city, a long line of conservation officers, or you're the first in your family to pursue this rewarding career, we encourage you to consider applying."
For more information on how to apply, visit the Ontario government website.
---
At South Grey News, we endeavour to bring you truthful and factual, up-to-date local community news in a quick and easy-to-digest format that's free of political bias. We believe this service is more important today than ever before, as social media has given rise to misinformation, largely unchecked by big corporations who put profits ahead of their responsibilities.
South Grey News does not have the resources of a big corporation. We are a small, locally owned-and-operated organization. Research, analysis and physical attendance at public meetings and community events requires considerable effort. But contributions from readers and advertisers, however big or small, go a long way to helping us deliver positive, open and honest journalism for this community.
Please consider supporting South Grey News with a donation in lieu of a subscription fee and let us know that our efforts are appreciated. Thank you.