November 22, 2022
OFSAA Girls' A Basketball Championships to be held November 23-26 in Walkerton and Kincardine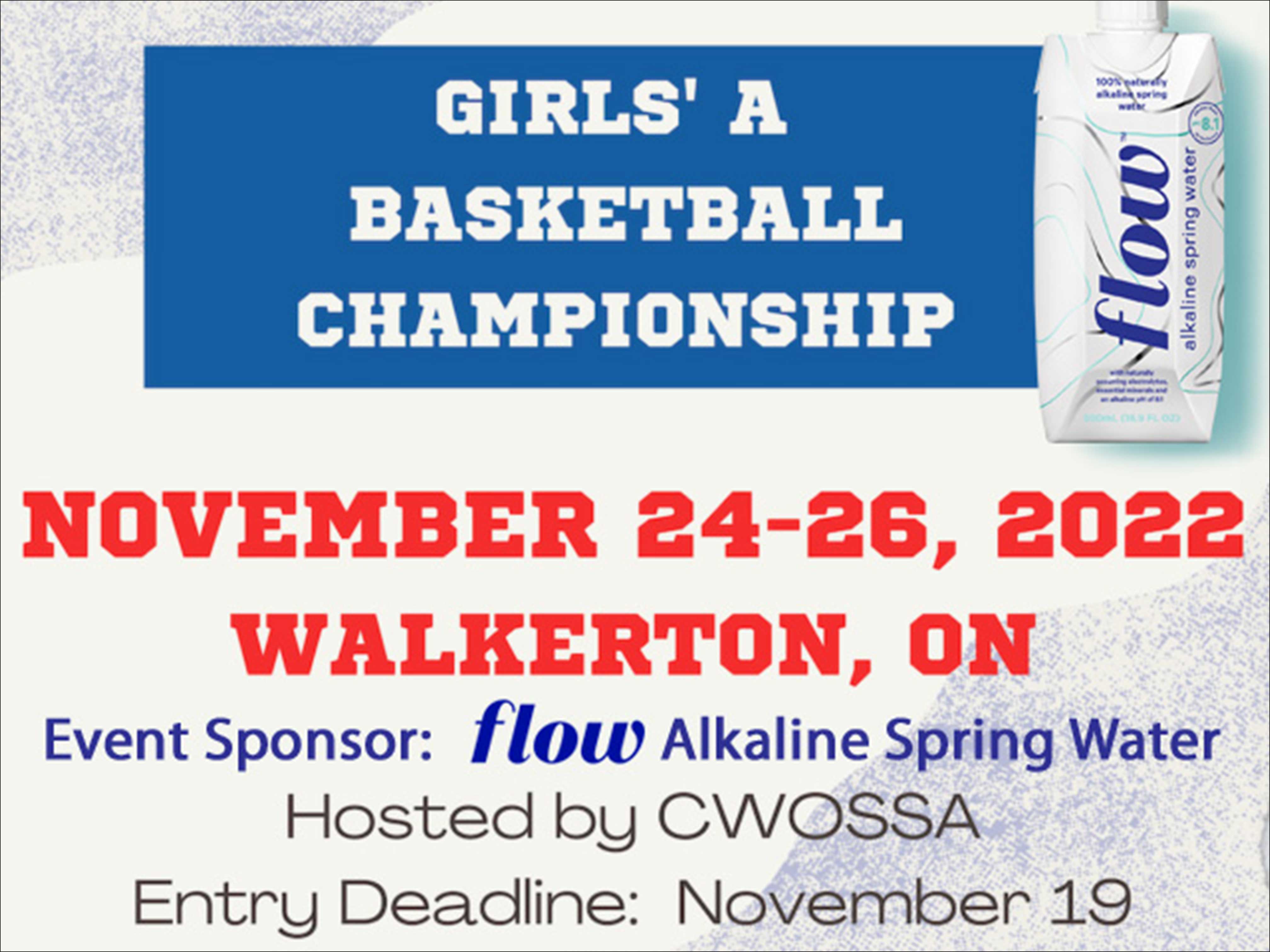 On November 22, Dan Rourke, Head of Guidance/Career Education and Senior Boys Basketball Coach at Walkerton District Community School announced that the 2022 Ontario Federation of School Athletic Associations (OFSAA) Girls' A Basketball Championships will be held from November 23-26, 2022 in the communities of Walkerton and Kincardine, hosted by Walkerton District Community School. Rourke is also the Convenor of the event.
This event is one of Ontario's most prestigious basketball competitions, bringing together hundreds of players and coaches from across the province and also draws the attention of thousands of spectators and on-line broadcast viewers from all corners of the province. Games played on the final day of the championship will also be broadcast on Wightman Community TV. The tournament is a stepping-stone for many athletes who hope to play at the college or university level.
The seeding and schedule were approved by OFSAA on November 22. Seeding is as follows:
Hamilton Christian District High School (Ancaster)
Nicholson Catholic College (Belleville)
Woodland Christian High School (Breslau)
St. Mary Catholic High School (Brockville)
Roland Michner Secondary School (South Porcupine)
Smithville Christian High School (Smithville)
Osgood Township High School (Ottawa)
FE Madill Secondary School (Wingham)
Oakwood Collegiate Institute (Toronto)
Walkerton District Community School (Walkerton)
E.S.C. Ste-Trinite (Oakvile)
E.S.C. Lageunese (Windsor)
E.S.C. Horizon (Sudbury)
University of Toronto Schools (Toronto)
St Thomas Aquinas High School (Kenora)
E.S.C. Nouvelle Alliance (Barrie)
All information (schedule, results, locations, parking) can be found on the OFSAA website. Please find me or a site convenor when you arrive at WDCS or KDSS and we can get you a media pass and program, help arrange interviews and escort you to the gym/hospitality lounge. Results will be posted as quickly as possible (at the end of each quarter). All games are live-streamed form the OFSAA website.

---
At South Grey News, we endeavour to bring you truthful and factual, up-to-date local community news in a quick and easy-to-digest format that's free of political bias. We believe this service is more important today than ever before, as social media has given rise to misinformation, largely unchecked by big corporations who put profits ahead of their responsibilities.
South Grey News does not have the resources of a big corporation. We are a small, locally owned-and-operated organization. Research, analysis and physical attendance at public meetings and community events requires considerable effort. But contributions from readers and advertisers, however big or small, go a long way to helping us deliver positive, open and honest journalism for this community.
Please consider supporting South Grey News with a donation in lieu of a subscription fee and let us know that our efforts are appreciated. Thank you.