October 26, 2021
New Markdale water tower unveiled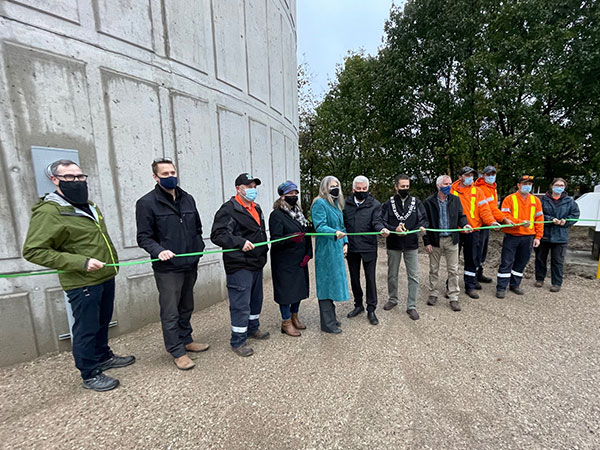 On October 26, members of Grey Highlands staff and Council, along with Project Manager Neal Campbell from Landmark Structures Co. and Project Engineer Ryan DeVries from BM Ross and Associates gathered to cut the ribbon and turn the tap on the new Markdale water tower. "It was a pleasure working out here. Thank you very much for the opportunity," said Campbell as the crowd admired the inner workings of the system.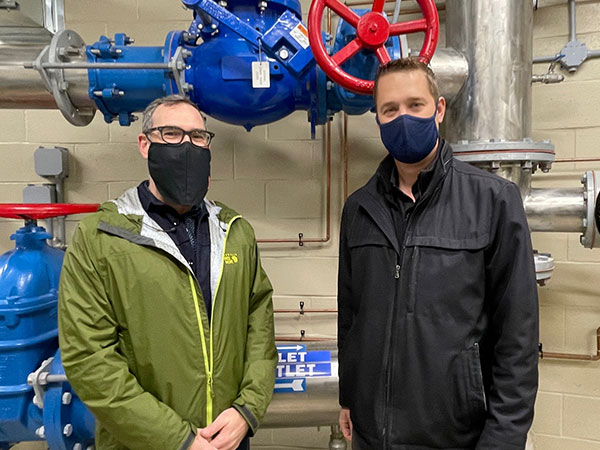 Neal Campbell from Landmark Structures Co. and Ryan DeVries from BM Ross and Associates.
"This has been a long time coming," said Grey Highlands Mayor Paul McQueen. For McQueen, the project is a significant accomplishment for the community, following several failed senior government funding applications which began in 2009. "Eventually we were successful, persevered and made it happen," he added. Mayor McQueen and Grey Highlands Director of Environmental Services Shawn Moyer together turned the large valve that opened the pipe to allow water to flow into the system.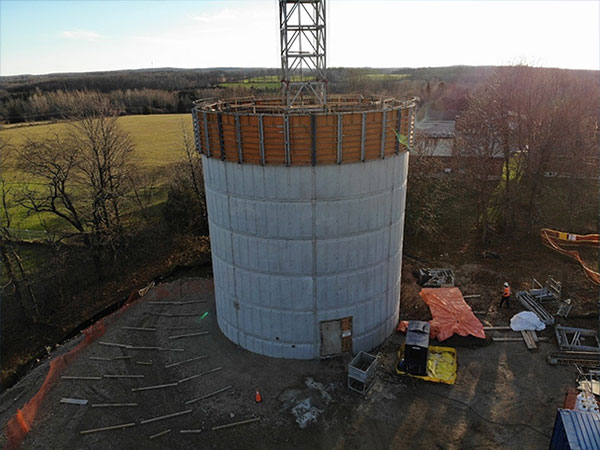 Construction of the new water tower in Markdale.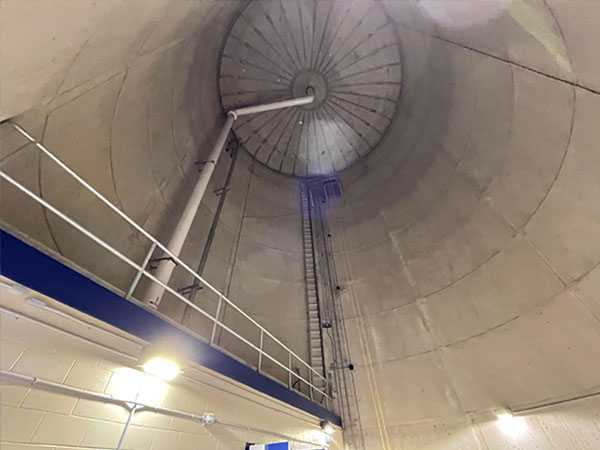 The new Markdale water tower as seen from the inside looking up.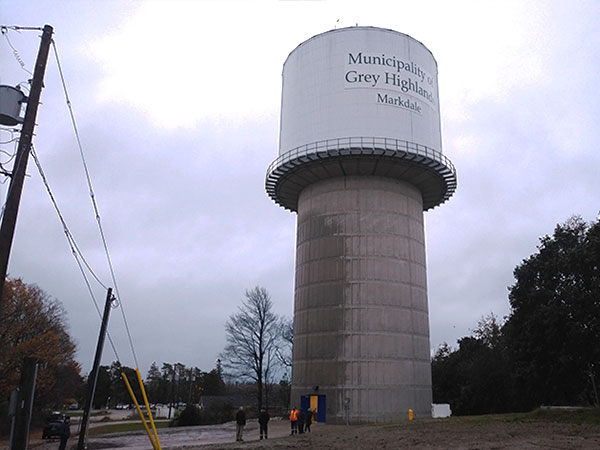 The completed Markdale water tower from the outside.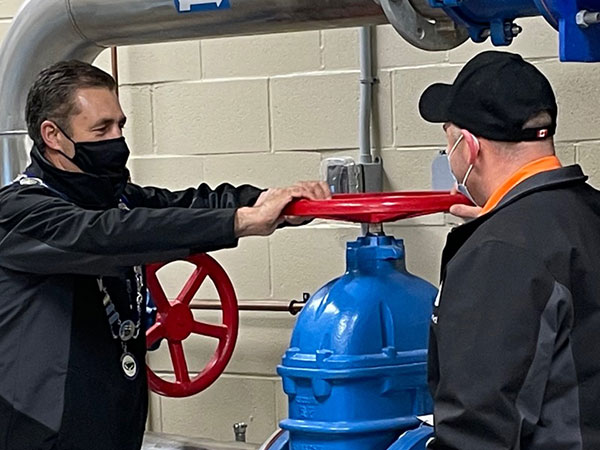 Grey Highlands Mayor Paul McQueen and Director of Environmental Services Shawn Moyer turn the water on.
The impressive structure was built by Burlington-based Landmark Structures, a specialty engineering and contracting company who claims to be the market leader in composite elevated water storage tanks. According to Landmark, the tensile strength and watertight containment of the steel tank combines with the efficient load carrying characteristics of the reinforced concrete pedestal, for an optimum application of materials. The pedestal transmits loads to a foundation specifically suited to local geology. Within the protected pedestal interior, piping and other integrated systems are contained as well as office or storage space, equipment installations, and other multiple uses.
"The town is ready for better pressure," said Moyer, who explained that residents will experience a 12 psi increase in their water pressure over the previous water delivery system. Moyer said that the new tank has a capacity of 2,900 cubic metres as compared with 1,900 cubic metres for the old standpipe. It is fed by three local wells and pumped to a maximum height of 34 metres. The high water level is approximately 1,500 feet above sea level.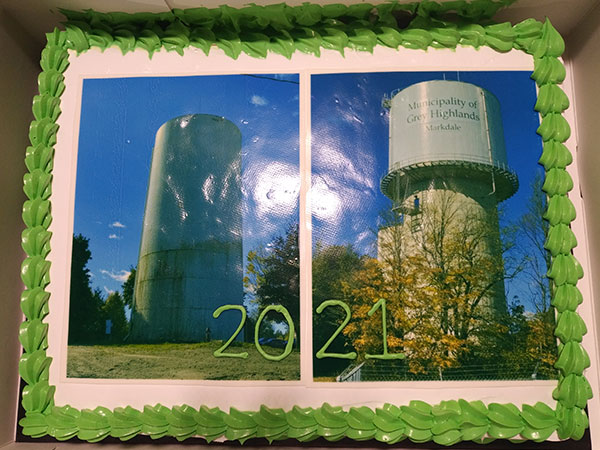 Cake was served to staff and dignitaries at the ribbon cutting.
With an expected life span of 75 years, the new structure sets the municipality in good stead for anticipated growth. "It's an exciting day," said Grey Highlands CAO Karen Govan, who noted that the project had begun before her arrival to Grey Highlands municipal staff. "I guess wastewater is next," quipped Councillor Paul Allen, indicating the next big item on the agenda.
I'd like to congratulate staff and everyone involved," said Councillor Tom Allwood.
---
At South Grey News, we endeavour to bring you truthful up-to-date local community news in a quick and easy-to-digest format that's free of political bias. We believe this service is more important today than ever before, as social media has given rise to misinformation, largely unchecked by big corporations who put profits ahead of their responsibilities.
South Grey News does not have the resources of a big corporation. We are a small, locally owned-and-operated organization. Research, analysis and physical attendance at public meetings and community events requires considerable effort. But contributions from readers and advertisers, however big or small, go a long way to helping us deliver positive, open and honest journalism for this community.
Please consider supporting South Grey News with a small donation and let us know that our efforts are appreciated. Thank you.