November 03, 2021
MPP Walker's resolution recognizing Ontario's medical isotope industry receives unanimous support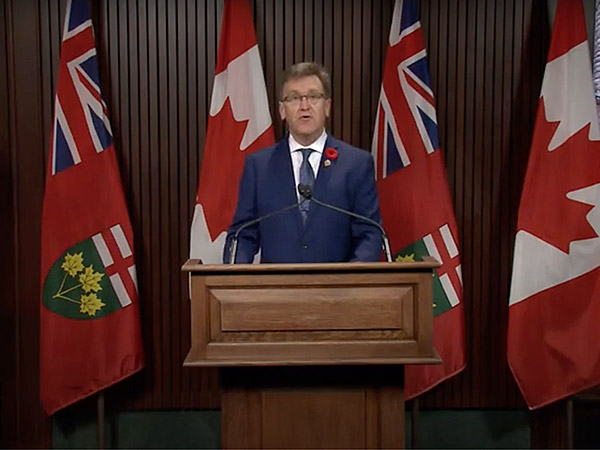 Bruce-Grey-Owen Sound MPP Bill Walker was thrilled to see his private member's resolution recognizing the importance of the medical isotope industry in Ontario receive unanimous consent from all parties in the Ontario Legislature.

Walker's resolution, introduced on November 3, 2021, passed with all party support.
The bill asserted Ontario's global role as a leader in the supply of medical isotopes to fight COVID, keep hospitals safe, and fight cancer.
"What makes me so passionate about this file is two things. First and foremost, my family like many others, has been impacted by cancer and we have an obligation to lead and provide hope. Second, Ontario is a leader in medical isotopes and the world is counting on us to provide leadership in the development, production, and export of these isotopes to keep hospitals clean and safe, diagnose, and treat cancer," said Walker. "With the passing of this bill, Ontario's leaders have demonstrated their ability to come together and support a sector that is fundamental to our health care system and improving patient outcomes all around the world," MPP Walker added.
The resolution passed November 3, 2021 in the legislature read as follows:
"That in the opinion of this House, the Government of Ontario should recognize the supply of medical isotopes used to diagnose and treat cancer and sterilize medical equipment as a key strategic priority for the Province in its health, economic, export, inter-provincial, energy, research and infrastructure planning and policies as Ontario recovers from the COVID-19 pandemic, leveraging, its existing strong foundation in nuclear technology, isotope production and supply chain, and cancer and health research to position itself as a global leader in supply of 'Made in Ontario' life-saving medical isotopes."
Ontario Minister of Energy Todd Smith expressed his support for the resolution and its recognition of Ontario's nuclear industry.
"I wholeheartedly support MPP Bill Walker's Motion and his long-time advocacy for the production of life-saving medical isotopes that help so many people every day," said Smith. "Our entire nuclear sector is truly world-class and at the forefront of innovation in the production of not just emission-free electricity but also life-saving medical isotopes. We will continue to position Ontario as a world leader in this space. Isotopes present many tremendous opportunities for improved health and economic growth, and we look forward to championing the many benefits that made-in-Ontario isotopes can bring to our province and our country."
"The importance of medical isotopes from Ontario to patients around the world knows no ideology or political boundaries," said James Scongack Chair of the Canadian Nuclear Isotope Council. "This is truly a non-partisan issue that we can all agree on that puts patients first. By voting in support of this motion today, government is demonstrating its ability to come together and work toward a common goal that helps fight cancer and save lives."
With a critical mass of capability, a storied history, and access to essential infrastructure, the Ontario isotope ecosystem is at the forefront of medical isotope technology. It continues to innovate to meet future needs created by the increasing demand for existing medical isotopes and the developing demand for new ones. Investments in new production routes that increase production capacity and expand availability are ongoing.
Additionally, the Ontario and Canadian ecosystem includes a network of producers, typically operators of cyclotrons and associated processing facilities, which directly supply their local hospitals and research institutes but do not make their products available on a commercial basis.
"Canada and Ontario have played a key leadership role in establishing the value of medical isotopes and have cemented themselves as a global leader in production and supply," said Dr. Karin Stephenson, the CNIC's Chief Scientific Officer, and the Manager of Commercial Operations for McMaster University's Nuclear Operations and Facilities. "Key infrastructure has been harnessed and developed, and an ongoing investment in people and skills has led to Canada developing one of the most sophisticated and supportive medical isotope production ecosystems in the world."
"This passed motion supporting the Ontario isotope ecosystem will help provide essential support to the world's health care sector and an environment that will support and allow businesses producing or using medical isotopes to prosper," Dr. Stephenson added.
With CNIC trade missions to both Europe and the U.S. just days away, momentum for this sector is at an all-time high. From here, the CNIC hopes to build on this momentum with the passing of this motion to other provinces across Canada and to the federal government.
Watch the media conference on the resolution here:

---
At South Grey News, we endeavour to bring you truthful and factual, up-to-date local community news in a quick and easy-to-digest format that's free of political bias. We believe this service is more important today than ever before, as social media has given rise to misinformation, largely unchecked by big corporations who put profits ahead of their responsibilities.
South Grey News does not have the resources of a big corporation. We are a small, locally owned-and-operated organization. Research, analysis and physical attendance at public meetings and community events requires considerable effort. But contributions from readers and advertisers, however big or small, go a long way to helping us deliver positive, open and honest journalism for this community.
Please consider supporting South Grey News with a donation in lieu of a subscription fee and let us know that our efforts are appreciated. Thank you.