May 02, 2023
Noted author Merilyn Simonds to headline Spring Café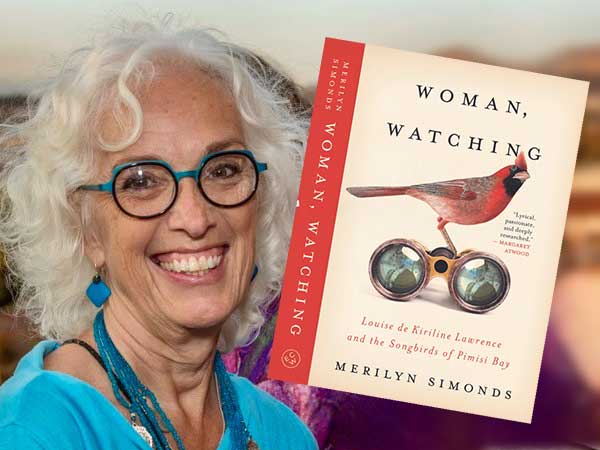 Book aficionados are in for a literary treat when the widely-read Kingston-based writer, Merilyn Simonds, makes her first public appearance locally at the Kinplex in Flesherton on May 16th. Jennifer Murley, CEO and Chief Librarian with the Grey Highlands Public Library system, has confirmed that arrangements are in place to bring Ms. Simonds to Grey Highlands, where the highly accomplished author will headline the annual Spring Harvest Café.
The author's latest book, Woman, Watching: Louise de Kiriline Lawrence and the Songbirds of Pimisi Bay, currently receiving rave reviews, will be the subject of a featured presentation. Simonds will introduce the audience to a truly extraordinary woman born to a life of privilege in Sweden, but destined to experience several lives in one long and exceptionally productive life time. A practical person firmly committed to serving others, she would face untold hardships as a Red Cross Nurse during the turbulent years of the Russian Revolution. Her love affair and marriage to a dashing officer in Russia's White Army rivals that of the famed Doctor Zhivago film. Simonds' readers are offered rare and highly descriptive glimpses of an earlier time in both Sweden and Russia.

Ultimately accepting that her husband had been shot while interred in a concentration camp, Louise chose to emigrate to Canada in the spring of 1927. Her nursing experience was sorely needed in the Ontario northland, and taking on new responsibilities suited her ideally. Fluency in several languages including French was a plus, and won over her many French-Canadian patients. She quickly became a trusted and familiar figure travelling in winter with her dog-sled team or at other times in her first car, which the dogs claimed as their mobile home, due to the spacious rumble seat. Not surprisingly this strong of mind and body Swedish woman was to become much beloved and in time acquired legendary status, all the while becoming better known in the isolated communities she visited on her errands of mercy. But this represents only one portion of the life of an exceptionally resilient woman, who was to go on to become an award-winning author of nature books and ultimately a much celebrated and internationally respected amateur ornithologist known for her groundbreaking bird studies.
High praise for Simonds' latest book has come from numerous heavyweights in the literary world, including Margaret Atwood, Helen Humphries, and Alissa York. The latter's endorsement speaks volumes: "This book is a gift. Get one for yourself and another for somebody you love." The beautifully written book has also garnered accolades from prominent naturalists and leading bird experts. Birds Art Life author, Kyo Maclear, describes Simonds' current book as "an entrancing blend of biography, memoir, history, research, and homage unlike anything I've ever read." The author and her book, it can now be revealed, has a local connection as Grey Highlands resident and publisher emeritus, Barry Penhale, enjoyed a close association with Louise de Kiriline Lawrence and remains her literary executor. Some of the images and information within Woman, Watching came from Penhale's personal archives, which he was absolutely delighted to share with Merilyn Simonds, a friend and writer whom he has long admired.
For the record, though it took many years before the new book appeared in print, both Penhale and Louise de Kiriline Lawrence had made it known much earlier, that Simonds was their unanimous choice to write Lawrence's life story. And that remarkable life history will unfold when the biographer appears on the Kinplex stage at the coming Harvest Café. This evening for book enthusiasts will include treats prepared by the Friends of the Flesherton Library and coffee/tea prepared by Highland Grounds of Flesherton. Those planning to attend may purchase tickets in advance at library branches and at the Kinplex door on the evening of the event.
---
At South Grey News, we endeavour to bring you truthful and factual, up-to-date local community news in a quick and easy-to-digest format that's free of political bias. We believe this service is more important today than ever before, as social media has given rise to misinformation, largely unchecked by big corporations who put profits ahead of their responsibilities.
South Grey News does not have the resources of a big corporation. We are a small, locally owned-and-operated organization. Research, analysis and physical attendance at public meetings and community events requires considerable effort. But contributions from readers and advertisers, however big or small, go a long way to helping us deliver positive, open and honest journalism for this community.
Please consider supporting South Grey News with a donation in lieu of a subscription fee and let us know that our efforts are appreciated. Thank you.