September 08, 2023
New Markdale Hospital has Open House Friday September 15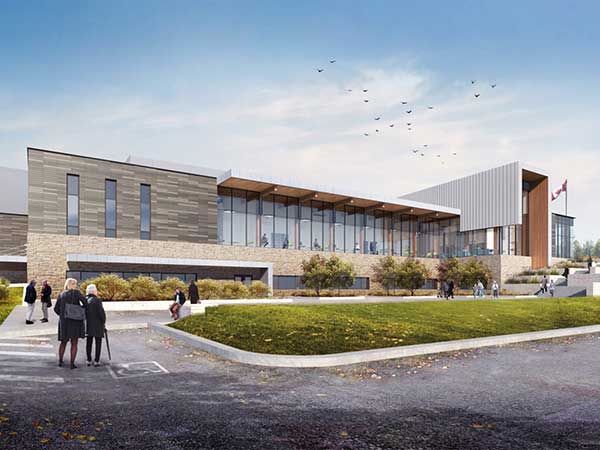 BY SOUTHGREY.CA STAFF — There will be a Community Open House for the newly-constructed Markdale Hospital. Bright Shores Health System (formerly Grey Bruce Health Services) will host the 'Come and Go' on the grounds of the new facility, open to all on Friday, September 15 from 11 am - 2 pm. A walk-through of the entrance and front lobby of new build will take place before the rest of the hospital opens later this month.
The Mayor and members of Grey Highlands Council and several local dignitaries will be on hand to officially mark the occasion the day before, on Thursday, September 14, as well as Premier Doug Ford and Ontario's Deputy Premier and Minister of Health Sylvia Jones. This event is not open to the public.
"It is stunning," said Heather Torry, Chair of the Together in Care Family Campaign for the new Markdale Hospital. "This will allow people to get an idea of the interior for when that need arises and where to come."
Located at 220 Toronto Street South in Markdale, the new Markdale Hospital will be completely opened on September 24.
There is a lot to celebrate as the new facility opens its doors. Staff are in the process of cleaning and making final preparations for receiving their first patients.
"It's an incredibly exciting time for our organization, the Markdale Community, and all Grey Bruce residents," said Brightshores Health System President & CEO Gary Sims. "With the opening of this new state of the art facility, with updated equipment and the space to grow to meet the needs of this growing community, the future is very bright for local healthcare."
The Emergency Department doors at the new location will open at 6:00am and be in full operation. Inpatients will transfer from the current hospital to the new facility on September 24 and the current Markdale Hospital will permanently close its doors once the emergency department is cleared. Additional information on any temporary transitional impacts to outpatient and other clinical services will be communicated as we approach our opening date.

"Congratulations to the entire Markdale Community, Foundations, staff and all stakeholders who have reached this tremendous milestone," said Brightshores Health System Board Chair, Jo Flewwelling. "The new Markdale facility positions the community for access to care now and into the foreseeable future."

The Pennywise thrift store located adjacent to the current hospital facility will continue to operate from their existing location until the future ownership of the hospital site is determined in the coming months.
---
At South Grey News, we endeavour to bring you truthful and factual, up-to-date local community news in a quick and easy-to-digest format that's free of political bias. We believe this service is more important today than ever before, as social media has given rise to misinformation, largely unchecked by big corporations who put profits ahead of their responsibilities.
South Grey News does not have the resources of a big corporation. We are a small, locally owned-and-operated organization. Research, analysis and physical attendance at public meetings and community events requires considerable effort. But contributions from readers and advertisers, however big or small, go a long way to helping us deliver positive, open and honest journalism for this community.
Please consider supporting South Grey News with a donation in lieu of a subscription fee and let us know that our efforts are appreciated. Thank you.