December 01, 2022
Safe Communities committee leads project to map AED locations in Grey-Bruce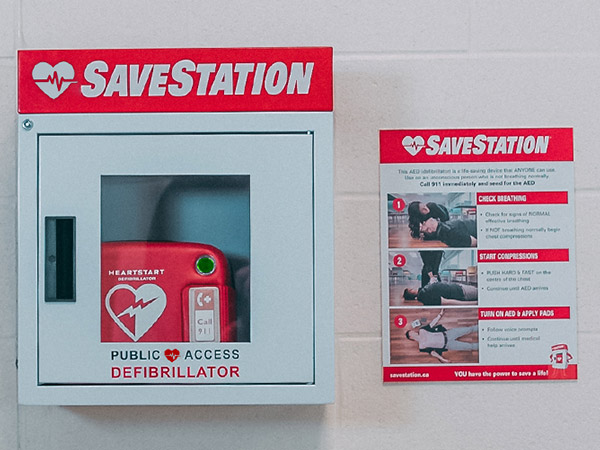 Photo: actionfirstaid.ca
The South Bruce Safe Communities Committee, co-led by the Grey Bruce Health Unit (GBHU), has spearheaded an initiative to create a comprehensive, up-to-date list of AED (Automated External Defibrillator) locations in Grey-Bruce.

AEDs – small, portable, easy-to-use medical devices that can help restart the heart of someone who has gone into cardiac arrest – can be found in community centres, halls, churches, schools, businesses, and other public places.
A map of AED sites in Bruce County can be found on Bruce County's website, while locations in Grey County can be found on Grey County's website.
"Having a current picture of where AEDs are located in Grey-Bruce will allow residents to know if the space they'll be using has one of these potentially life-saving devices available. It also reveals any gaps in AED availability in Grey-Bruce and locations where new AEDs could be placed in the future," says GBHU Health Promoter Kaela Sales, who co-leads the South Bruce Safe Communities Committee (SBSCC) with the Saugeen Shores Police.
About 35,000 cardiac arrests occur annually in Canada, with about 80% happening outside of a hospital. About one in 10 victims do not survive. Performing CPR and using an AED on a person experiencing cardiac arrest can double their chances of survival.
CPR & Defibrillation training/recertification is available through several local organizations.
The SBSCC is a multi-sectoral partnership that supports the implementation of a co-ordinated approach to addressing safety issues in Bruce County.
Organizations, groups, and businesses with AEDs can add their locations to the local AED lists by emailing PAD@grey.ca (Grey County) or info@brucecounty.on.ca (Bruce County).
---
At South Grey News, we endeavour to bring you truthful and factual, up-to-date local community news in a quick and easy-to-digest format that's free of political bias. We believe this service is more important today than ever before, as social media has given rise to misinformation, largely unchecked by big corporations who put profits ahead of their responsibilities.
South Grey News does not have the resources of a big corporation. We are a small, locally owned-and-operated organization. Research, analysis and physical attendance at public meetings and community events requires considerable effort. But contributions from readers and advertisers, however big or small, go a long way to helping us deliver positive, open and honest journalism for this community.
Please consider supporting South Grey News with a donation in lieu of a subscription fee and let us know that our efforts are appreciated. Thank you.