June 03, 2022
Lystek International Corp supports new Markdale hospital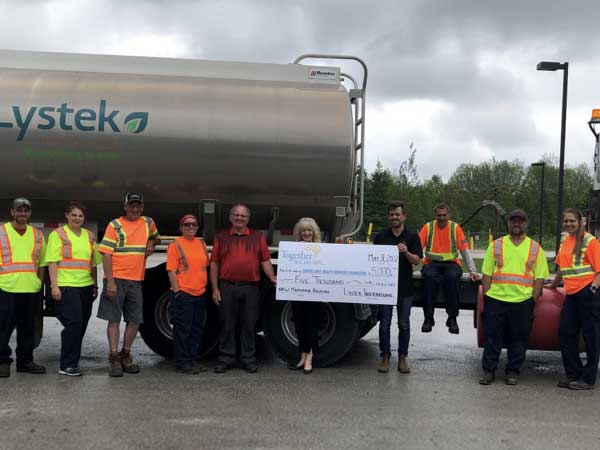 Lystek International Corp., a division of the Tomlinson Group of companies, was proud to support the new Markdale Hospital project this week. "It is with pride that we welcome Lystek to our donor family" stated Paul Stewart, volunteer member of the Together in Care campaign for the new Markdale Hospital. "A value of Lystek is to support programs and organizations that directly improve the health and wellbeing of families within our communities and enable them to live healthy lifestyles. That makes this project a perfect fit" said Simon Meulendyk, Southgate OMRC Plant Manager.
Harvey Fraser, Chair of the Centre Grey Health Services Foundation and the Together In Care campaign for the new Markdale Hospital, expressed his gratitude. "This donation from Lystek International Corp. will help impact health care in this community for generations. We are grateful for their support" stated Fraser.
The new Markdale Hospital, located behind Grey Gables Home for the Aged on Hwy 10 is almost 50% complete. Several structural elements including framework and base of the roof are now complete. The project is on track for completion mid-2023.
For further details on how you can help, please visit www.togetherincare.com
---
At South Grey News, we endeavour to bring you truthful and factual, up-to-date local community news in a quick and easy-to-digest format that's free of political bias. We believe this service is more important today than ever before, as social media has given rise to misinformation, largely unchecked by big corporations who put profits ahead of their responsibilities.
South Grey News does not have the resources of a big corporation. We are a small, locally owned-and-operated organization. Research, analysis and physical attendance at public meetings and community events requires considerable effort. But contributions from readers and advertisers, however big or small, go a long way to helping us deliver positive, open and honest journalism for this community.
Please consider supporting South Grey News with a donation in lieu of a subscription fee and let us know that our efforts are appreciated. Thank you.