May 23, 2023
LookUp Theatre gains more online capabilities thanks to a $25,000 OTF grant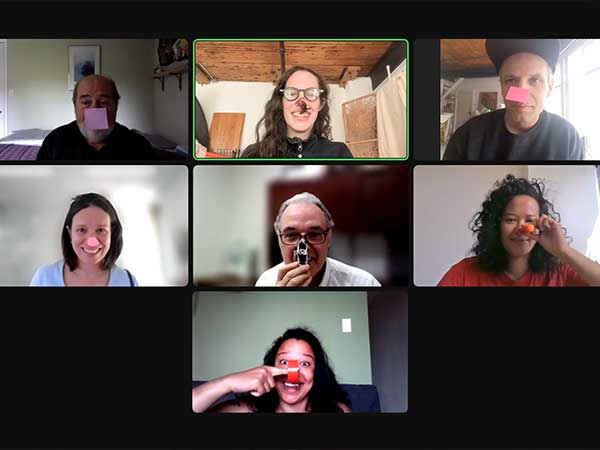 This is what happens when you ask the attendees of an OTF recognition event, an OTF volunteer and your local MPP to find a clown nose in 10 seconds or less. Always a fun time at Lookup Theatre! Left to right: Huge Wilson (OTF Volunteer), Angola Murdoch (Lookup Theatre's Artistic Director), Eamon Mac Mahon (Lookup Theatre's Digital Media Director), Kate Allan (Lookup Theatre's Board Member - Treasurer), MPP Rick Byers, Bruce Grey Owen Sound, Alia Abaya (Lookup Theatre's Board Member - President), Hayley Landry (Lookup Theatre's Program Director)
On May 23, MPP Rick Byers joined an online conversation with the team at LookUp Theatre to hear how a six-month, $25,000 Resilient Communities Fund grant from the Ontario Trillium Foundation (OTF) has helped the popular group remain connected with young people during the pandemic. The Resilient Communities Fund grant program was designed by OTF to help non-profit groups to rebuild and recover from the impacts of COVID-19, and in the case of LookUp Theatre, that meant increasing its technical infrastructure to offer hybrid, in-person and live stream options for its programming.
"Congratulations to Lookup Theatre on receiving the Resilient Communities grant from the Ontario Trillium Foundation. And thank you for your excellent programs for children and youth in our Grey Bruce community" MPP Rick Byers, Bruce Grey Owen Sound.
Funds from the grant, which was awarded last year, helped with the technological purchases to deliver online programming, as well as helping with some administrative costs. The grant has also made an impact with the group as it was able to develop and implement new, strategic fundraising plans for moving forward. The grant also allowed Lookup Theatre to continue to deliver free circus experiences to children and youth in Grey and Bruce County.
"Our programming provides access to free, community-based arts education for children and youth in Bruce-Grey County," said Angola Murdoch, Artistic Director and founding member in 2009. "This funding has allowed us to continue and pivot our circus programming and performing in a pandemic environment."
Lookup Theatre serves the creative and artistic needs of Ontario youth living in rural communities. Its mission is to provide free circus training to youth with lived mental health experience, rural youth, and youth who identify as BIPOC and LGBTTQ+. It aims to provide youth with a space to develop physical literacy and self-expression through various artistic means, notably through circus performances. www.lookuptheatre.com
The Ontario Trillium Foundation (OTF), an agency of the Government of Ontario, and one of Canada's leading granting foundations celebrates 40 years of grant-making in Ontario and making a lasting impact in communities. Last year, OTF invested over $110M into 1,022 community projects and partnerships, which included funding for the Government of Ontario's Community Building Fund. Visit otf.ca to learn more.
Photo left to right: Huge Wilson (OTF Volunteer), Angola Murdoch (Lookup Theatre's Artistic Director), Eamon Mac Mahon (Lookup Theatre's Digital Media Director), Kate Allan (Lookup Theatre's Board Member - Treasurer), MPP Rick Byers, Bruce Grey Owen Sound, Alia Abaya (Lookup Theatre's Board Member - President), Hayley Landry (Lookup Theatre's Program Director)
---
At South Grey News, we endeavour to bring you truthful and factual, up-to-date local community news in a quick and easy-to-digest format that's free of political bias. We believe this service is more important today than ever before, as social media has given rise to misinformation, largely unchecked by big corporations who put profits ahead of their responsibilities.
South Grey News does not have the resources of a big corporation. We are a small, locally owned-and-operated organization. Research, analysis and physical attendance at public meetings and community events requires considerable effort. But contributions from readers and advertisers, however big or small, go a long way to helping us deliver positive, open and honest journalism for this community.
Please consider supporting South Grey News with a donation in lieu of a subscription fee and let us know that our efforts are appreciated. Thank you.