May 10, 2023
Local disabled man continues to look for relief from late tax payment penalties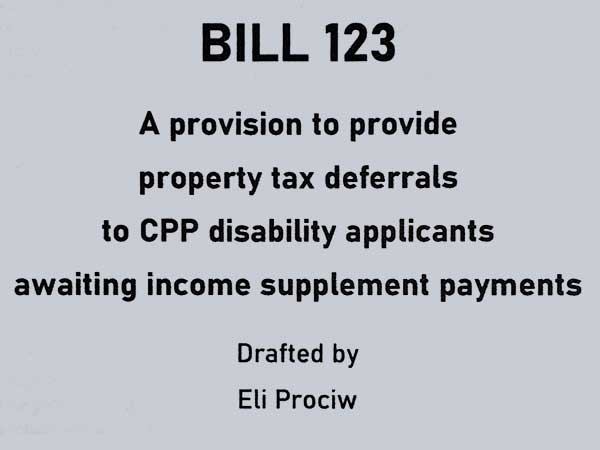 BY SOUTHGREY.CA STAFF — Delays in the reception of federal aid can mean financial hardship for people caught up in situations beyond their control. That was the case for Eli Prociw, whose story we told back in April, 2022.
After years of negotiations with Revenue Canada for desperately needed CPP benefits, the 56-year-old victim of Ehlers-Danlos Syndrome (EDS) amassed thousands of dollars worth of unpaid municipal property tax bills and late payment penalties. Although he was eventually awarded compensation, he was unable to find accommodation for his circumstance from the municipality. Prociw has attempted to pay his arrears but remains drowning in his accrued debt and would like to have the late penalties waived.
We recently checked in with the retired home builder at his home in Flesherton where he described his ongoing battle with the Human Rights Tribunal and handed over reams of research compiled over the course of the last year.
The crux of his problem is that while he might qualify for relief from his debts based on the Tribunal's ideal of 'equality for the disabled,' the collection of taxes are exempt from consideration for such accommodation. In their subjective definition of taxes, they also include penalties for late payment. "Penalties are not taxes," argues Prociw. But so far, his argument has fallen on deaf ears.
As reported in our original story, Ontario MPP Peter Shurman had proposed Bill 78 in 2008, which would have superseded Eli's financial troubles. The proposed Act would have provided property tax deferrals to low-income seniors and low-income persons with disabilities up to a maximum of $10,000.
The proposed Act stated, "An owner of property in the residential property class who is an eligible owner with respect to the property is entitled to a deferral of property taxes on the property for which the owner would otherwise be liable for a taxation year." Unfortunately for Prociw, Bill 78 was defeated by the Liberal government of the time.
Originally inspired to rewrite this Bill to solve his problem at the provincial level — entitled Bill 123 — Eli promoted his document during the recent provincial election campaign. "I had given it to each of the candidates last election," explained Prociw. "I submitted it for discussion at the Candidates Town Hall. The NDP showed the most positive response and I also had a discussion with Rick Byers of the Conservative party, regarding similarities to senior deferrals legislation in the Province on Alberta."
Since then, he has re-focussed locally and wants to include other Canadians in his fight, who have faced similar hardship when federal funding is delayed. Able bodied residents and business owners have been similarly affected, he explains. Anyone who relies on federal aid for their survival has also suffered deep personal debt while waiting for that cheque in the mail.
We only have to look back on the recent pandemic to site many examples of businesses who were forced to close and/or lay off workers as a result of COVID-19 restrictions and measures. Timely financial support for businesses and the Canada Emergency Response Benefit (CERB) often meant the difference between survival and demise for many Canadians. Eli Prociw explains, "Grey Highlands Council chose to waive penalties for people who lost their sole income and waited for CERB to arrive, yet chose to enforce penalties on people who lost their sole income, waiting for CPP-Disability to arrive."
Prociw continues to lobby local Councillors in the hopes of receiving accommodation that was previously denied by the municipality.
---
At South Grey News, we endeavour to bring you truthful and factual, up-to-date local community news in a quick and easy-to-digest format that's free of political bias. We believe this service is more important today than ever before, as social media has given rise to misinformation, largely unchecked by big corporations who put profits ahead of their responsibilities.
South Grey News does not have the resources of a big corporation. We are a small, locally owned-and-operated organization. Research, analysis and physical attendance at public meetings and community events requires considerable effort. But contributions from readers and advertisers, however big or small, go a long way to helping us deliver positive, open and honest journalism for this community.
Please consider supporting South Grey News with a donation in lieu of a subscription fee and let us know that our efforts are appreciated. Thank you.