January 04, 2022
Literary riches continue in this year's Grey County Reads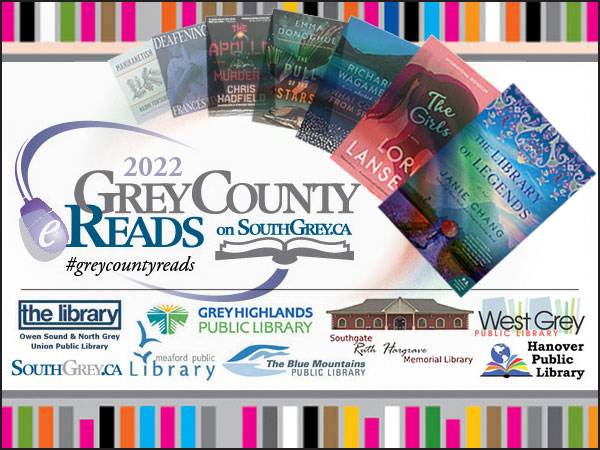 BY SOUTHGREY.CA STAFF — So many great writers find their home in Canada. Although they may have been born and lived elsewhere for a time, something has drawn them to this country and we are all the better for it. The authors of these two novels in the 2022 Grey County Reads contest are no exceptions. Check them out!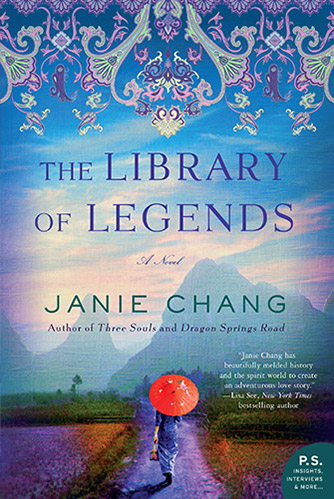 The Library of Legends by Janie Chang
The Library of Legends is a captivating historical novel in which a convoy of student refugees travel across China, fleeing the hostilities of a brutal war with Japan.
When Japanese bombs begin falling on the city of Nanking, nineteen-year-old Hu Lian, her classmates at Minghua University and its staff and faculty must walk 1,000 miles to the safety of China's western provinces. During the journey, Lian and her classmates must also safeguard the Library of Legends, a priceless 500-year-old collection of myths and folklore.
Lian learns of the connection between her two companions and a tale from The Library of Legends, The Willow Star and the Prince. This revelation comes with profound consequences, for as the ancient books travel across China, they awaken immortals and guardian spirits who embark on an exodus of their own, one that will change the country's fate forever.
Janie Chang is a graduate of The Writer's Studio at Simon Fraser University. She was the founder and main organizer of Authors for Indies, a 100% volunteer-staffed event that promoted a national day of support by Canadian authors for Canada's independent bookstores; the event ran from 2015 - 2017 and transitioned to Canadian Independent Bookstore Day which is organized by the Canadian Independent Booksellers Association.
Born in Taiwan, Janie has lived in the Philippines, Iran, Thailand, and New Zealand. She now lives in beautiful Vancouver, Canada.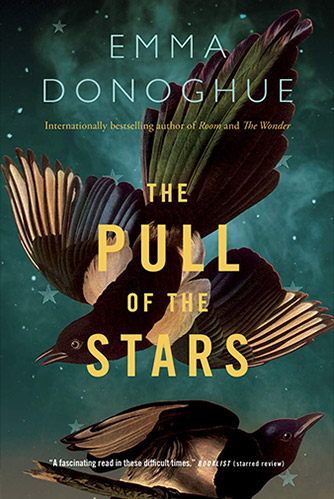 The Pull of the Stars by Emma Donoghue
The Pull of the Stars is set during three days in a maternity ward at the height of the Great Flu in 1918. In an Ireland doubly ravaged by war and disease, Nurse Julia Power works at an understaffed hospital in the city centre, where expectant mothers who have come down with the terrible new flu are quarantined. Into Julia's regimented world step two outsiders — Doctor Kathleen Lynn, on the run from the police, and a young volunteer helper, Bridie Sweeney. In the darkness and intensity of this tiny ward, over three days, these women change each other's lives in unexpected ways. They lose patients to this baffling pandemic, but they also shepherd new life into a fearful world. With tireless tenderness and humanity, caregivers and mothers alike, somehow do their impossible work.
Although she works in many genres, Emma Donoghue is best known for her fiction, which has been translated into over forty languages. Her many books and short stories have received awards and accolades in the UK, US and Canada.
Born in Dublin, Ireland, Emma Donoghue is the youngest of eight children. In 1990, she earned a first-class honours BA in English and French from University College Dublin and soon moved to England where she received her PhD at the University of Cambridge. From the age of 23, Emma has earned her living as a writer, and according to her, she has been lucky enough to never have had an 'honest job' since being sacked from an unfortunate summer position as a chambermaid. In 1998, she settled in London, Ontario, where she now lives with her family.
---
At South Grey News, we endeavour to bring you truthful up-to-date local community news in a quick and easy-to-digest format that's free of political bias. We believe this service is more important today than ever before, as social media has given rise to misinformation, largely unchecked by big corporations who put profits ahead of their responsibilities.
South Grey News does not have the resources of a big corporation. We are a small, locally owned-and-operated organization. Research, analysis and physical attendance at public meetings and community events requires considerable effort. But contributions from readers and advertisers, however big or small, go a long way to helping us deliver positive, open and honest journalism for this community.
Please consider supporting South Grey News with a small donation and let us know that our efforts are appreciated. Thank you.