March 13, 2023
Local Immigration Partnerships team up to encourage Allyship on International Day for the Elimination of Racial Discrimination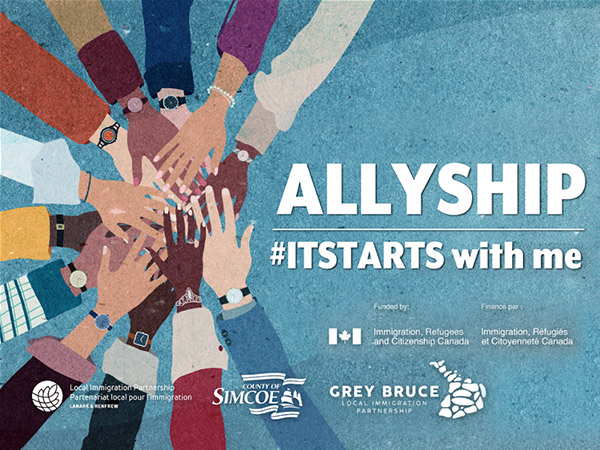 On March 21 from 12 pm to 1:30 pm, Local Immigration Partnerships in Simcoe, Grey-Bruce and Lanark and Renfrew Counties are jointly hosting an online panel discussion on Allyship to mark International Day for the Elimination of Racial Discrimination. Expert panelists will discuss what it means to be an ally and provide guidance on how to address racism in different environments. The discussion will be followed by a half-hour, open Q&A session.

The panel includes experts in diversity, equity and inclusion, community building, advocacy and changemaking. The discussion will be moderated by employees from Georgian and Algonquin College. For more information on the panelists and to preregister, visit the Allyship registration page. The event will also include information on the County of Simcoe's #ITSTARTS campaign. Now in its seventh year, this annual campaign seeks to address racism and discrimination and promote a unified community through public education and social media engagement. More information on #ITSTARTS is available at the #ITSTARTS web page.
This panel discussion will be broadcast live on YouTube. A recording will also be posted on YouTube following the event. For anyone interested in actively participating in the live Q&A session, pre-registration is required to access the Zoom link.
The federal government provides funding for Local Immigration Partnerships (LIP) across Canada, including 36 LIPs in Ontario. LIPs bring together service providers, settlement agencies, community groups, employers and other key organizations across a municipality to create welcoming communities for newcomers. Allyship is key to establishing inclusive communities. LIPs work hard to break down barriers, elevate newcomers' voices, and develop and strengthen supports for immigrants.
For more information on LIPs, visit the LIP website.
The UN General Assembly first proclaimed March 21 as the International Day for the Elimination of Racial Discrimination in 1979. It is observed annually on the day the police in Sharpeville, South Africa, opened fire and killed 69 people at a peaceful demonstration against apartheid 'pass laws' in 1960. Pass laws required all indigenous Africans over the age of 16 to carry a passbook everywhere they went, severely restricting and controlling travel, and dictating when, where and for how long black South Africans could stay within white areas. For more information on International Day for the Elimination of Racial Discrimination, visit the United Nations website.
---
At South Grey News, we endeavour to bring you truthful and factual, up-to-date local community news in a quick and easy-to-digest format that's free of political bias. We believe this service is more important today than ever before, as social media has given rise to misinformation, largely unchecked by big corporations who put profits ahead of their responsibilities.
South Grey News does not have the resources of a big corporation. We are a small, locally owned-and-operated organization. Research, analysis and physical attendance at public meetings and community events requires considerable effort. But contributions from readers and advertisers, however big or small, go a long way to helping us deliver positive, open and honest journalism for this community.
Please consider supporting South Grey News with a donation in lieu of a subscription fee and let us know that our efforts are appreciated. Thank you.