October 05, 2023
Letter to the Editor: Three step process to remedy the Doug Ford Greenbelt fiasco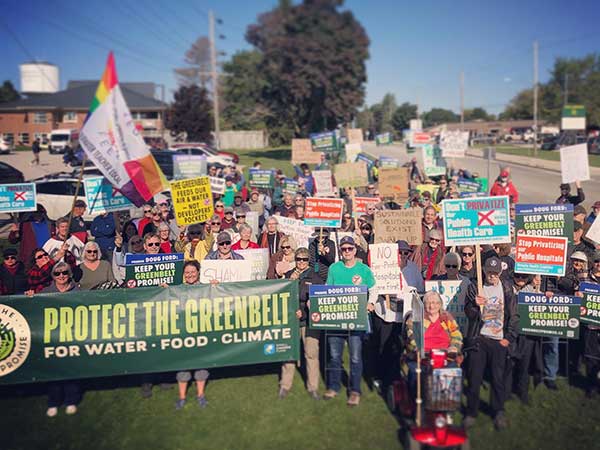 Protesters lined the Highway 10 entrance during the recent Markdale Hospital Opening ceremonies.
LETTER TO THE EDITOR — Now that Doug Ford has apologized for the Greenbelt Errors, it is time to do the necessary repair work.
Legislate a Greenbelt Protection zone similar to the Niagara Escarpment and establish a commission to oversee and administer.
Stop the Hwy 413 and use the existing Hwy 407 as the east west corridor. Buying it back and making it free for everyone. It does not destroy any more greenspace or wetlands and is already in place. Certainly far less expensive than building a new highway.
Reinstate the power of the Conservation Authorities to oversee land use development and eliminate the Ministerial Zoning Powers.
Let's start acting as a democracy and be honest and forthright.
Richard Bino,
Singhampton
---
At South Grey News, we endeavour to bring you truthful and factual, up-to-date local community news in a quick and easy-to-digest format that's free of political bias. We believe this service is more important today than ever before, as social media has given rise to misinformation, largely unchecked by big corporations who put profits ahead of their responsibilities.
South Grey News does not have the resources of a big corporation. We are a small, locally owned-and-operated organization. Research, analysis and physical attendance at public meetings and community events requires considerable effort. But contributions from readers and advertisers, however big or small, go a long way to helping us deliver positive, open and honest journalism for this community.
Please consider supporting South Grey News with a donation in lieu of a subscription fee and let us know that our efforts are appreciated. Thank you.