May 20, 2022
Merlen Kropf Foundation donates $50k for the new Markdale Hospital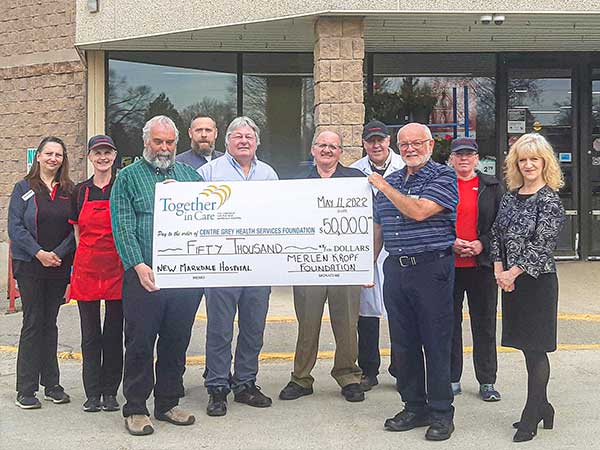 The Kropf Family was pleased to present a donation to Centre Grey Health Services Foundation for the new Markdale Hospital for a total amount of $50,000 issued by the Merlen Kropf Foundation. The family's involvement in the Dundalk community began in 1976 with construction of the L&M Food Market store. The store moved to its current location in January 2000, where the pride in community service has continued.
L&M Food Markets also served the Markdale community, opening in July 1978 and operating for many years. Merlen Kropf, the President of L&M Food Markets for 56 years, passed away in January 2022. He was a firm believer in and proud supporter of community hospitals. Merlen's wife Doreen, their children Dale and Debra as well as their grandchildren and great-grandchildren, in carrying forth Merlen's wishes and legacy, are pleased to offer this donation to the hospital which will serve many communities. "It is our privilege to have the Kropf Family as members of our donor family" stated Harvey Fraser, Chair of the "Together In Care" Campaign and Centre Grey Health Services Foundation. "It is with pride that we will have a naming plaque in their honour in our new hospital. They are strong advocates of this community and of health care and we are incredibly grateful for their support." states Fraser.
Several structural elements of the new Markdale Hospital are now complete and they are drywall installation has begun in the lower level. This new technologically advanced facility is on track to be completed in mid-2023.
---
At South Grey News, we endeavour to bring you truthful and factual, up-to-date local community news in a quick and easy-to-digest format that's free of political bias. We believe this service is more important today than ever before, as social media has given rise to misinformation, largely unchecked by big corporations who put profits ahead of their responsibilities.
South Grey News does not have the resources of a big corporation. We are a small, locally owned-and-operated organization. Research, analysis and physical attendance at public meetings and community events requires considerable effort. But contributions from readers and advertisers, however big or small, go a long way to helping us deliver positive, open and honest journalism for this community.
Please consider supporting South Grey News with a donation in lieu of a subscription fee and let us know that our efforts are appreciated. Thank you.