August 04, 2022
Grey Highlands community leader Jim Harrold passes away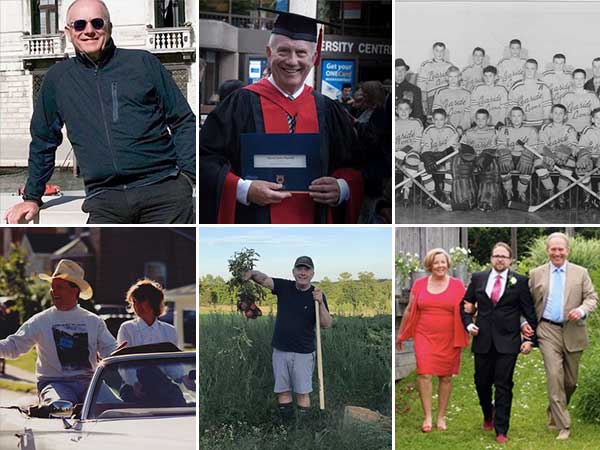 Photos: Fawcett Funeral Home
BY SOUTHGREY.CA — The community of Grey Highlands lost one of it's best-loved sons this past week. Jim Harrold was a Councillor and Reeve of the former Artemesia Township. He passed away on July 27 with family by his side, at Chapman House - Residential Hospice of Grey Bruce.
According to his obituary, "Jim loved Leaside where he grew up and later, his farm in Artemesia Township where he and his family chose to live. Jim was the best kind of dreamer and restless soul. His quest for country property over the years led to a derelict farm in Artemesia Township purchased at an auction in 1986. As with most things, Jim could see the potential of this 100 Acre parcel though the outbuildings had fallen, and the house had burnt down. It is on this land that Jim, Mary Claire and Matthew built a special home for their family and soon developed deep relationships personally, professionally, and politically."
Solidly entrenched in his community, he was a hockey and baseball coach, served as Chair of the Library Board in East York and in Flesherton, as a member of the District Health Council, as board member of Grey Bruce Hospital in Owen Sound and Markdale Hospital and for the past six years, he helped guide operations for the South East Grey Community Health Centre.
Jim's love of historical and contemporary visual art led him to serve on the Board of the Tom Thomson Memorial Art Gallery in Owen Sound where he was Vice Chair for seven years. In 2020, he was awarded the 2020 Distinguished Alumni Award by the York University Department of Geography.
A lifelong learner, Jim received his Honours BA and MA from York University, a mediation certificate from Harvard University and then his PhD from the University of Victoria in 2017. Jim also held faculty appointments at Ontario and British Columbia universities. In December 2021, as a Professor of Geography-adjunct at the University Victoria.
His obituary also lists his many business achievements. "Jim's business acumen was evident early when he quickly rose through the ranks at CIBC to become Vice President of Marketing. He then decided to set-up his own management consulting business. The scope of his influence on public and private sector organizations was broad including the integration of federal and provincial hospitals; program development at the Master of Health Sciences program at University of Toronto; and curriculum development at the then new Northern Ontario School of Medicine in Sudbury. Projects occasionally led to short-term, full-time engagements. Jim has been the Academic and Campus Director, Georgian College, Owen Sound Campus, City Manager of Owen Sound, President and CEO of Weeneebayko General Hospital in Moose Factory, Interim Chief Executive Officer of Sioux Lookout Meno Ya Win Health Centre, and Director of Planning and Development of Four Arrows Regional Health Authority in Winnipeg for the past four years."
But his smile and pleasant nature will be most sorely missed by his many friends and acquaintances. He will be remembered as one of the best community advocates Grey Highlands could ever claim as their own.
Visitation and service will be held at the Harrold home on Saturday, August 27, from 1-4 pm.
---
At South Grey News, we endeavour to bring you truthful and factual, up-to-date local community news in a quick and easy-to-digest format that's free of political bias. We believe this service is more important today than ever before, as social media has given rise to misinformation, largely unchecked by big corporations who put profits ahead of their responsibilities.
South Grey News does not have the resources of a big corporation. We are a small, locally owned-and-operated organization. Research, analysis and physical attendance at public meetings and community events requires considerable effort. But contributions from readers and advertisers, however big or small, go a long way to helping us deliver positive, open and honest journalism for this community.
Please consider supporting South Grey News with a donation in lieu of a subscription fee and let us know that our efforts are appreciated. Thank you.