November 16, 2022
Impaired driver drove on closed roadway during police investigation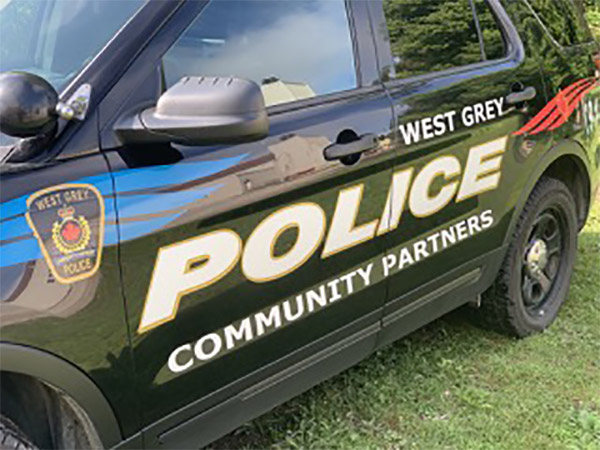 Sunday November 13, 2022, at approximately 2:30 am, members of the West Grey Police Service were preserving the scene of a two vehicle fatal collision that occurred on Grey Road 4 between Allan Park Road and Grey Road 3 in the Municipality of West Grey.
A vehicle travelling eastbound on Grey Road 4 at Grey Road 3 circumvented the 'Road Closure' signs with flashing lights and drove 1.7 km on a closed highway.
The driver ignored police vehicles and officers, then drove through the debris field of the earlier collision.
West Grey officers blocked the path of the vehicle and initiated a traffic stop.
The driver of the vehicle was administered a roadside screening device test and registered a 'FAIL'. The driver was arrested on the scene and transported to West Grey Police station where breathalyzer tests were conducted and the driver was found to have double the legal limit of blood alcohol content. A 22 year-old female from West Grey was arrested and has been charged with;
Operation while Impaired - CC 320.14(1)(a)
Operation while Impaired - blood alcohol concentration (80 plus) – CC 320.14(1)(b)
Drive on closed highway – HTA 134(3)
The accused was processed and later released on an Undertaking. She will appear in the Ontario Court of Justice – Walkerton at a later date.
Her vehicle was impounded for seven days, and her drivers licence was immediately suspended for 90 days.
---
At South Grey News, we endeavour to bring you truthful and factual, up-to-date local community news in a quick and easy-to-digest format that's free of political bias. We believe this service is more important today than ever before, as social media has given rise to misinformation, largely unchecked by big corporations who put profits ahead of their responsibilities.
South Grey News does not have the resources of a big corporation. We are a small, locally owned-and-operated organization. Research, analysis and physical attendance at public meetings and community events requires considerable effort. But contributions from readers and advertisers, however big or small, go a long way to helping us deliver positive, open and honest journalism for this community.
Please consider supporting South Grey News with a donation in lieu of a subscription fee and let us know that our efforts are appreciated. Thank you.