September 16, 2022
Sorting through the large list of Grey Highlands municipal candidates made simple with In Grey Highlands Podcast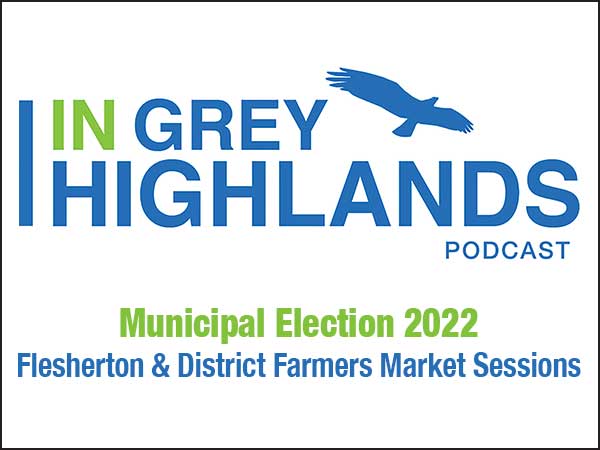 BY SOUTHGREY.CA STAFF — Frontiers in Political Science, a worldwide research organization, released a Canadian Municipal Election Study in September, 2021. The study looked at voting behaviour in our local elections, citing our perceived lack of interest in municipal politics.
The study concluded that homeownership has a significant impact on voter participation. Gaps in a variety of attitudes also exist, including the level of interest in politics and the belief that voting is a duty, as opposed to just a choice.
The Grey Highlands Municipal League is a group of of local residents and organizations committed to boosting civic engagement in our municipality. They believe that an abundance of choice among candidates is the key to political engagement. So too, does an informed understanding of the candidates, their background and the issues that affect our everyday lives.
Whatever the reason for casting a vote may be, it's clear that we need to do better. In the previous municipal election (2018), two thirds of eligible Grey Highlands voters didn't participate.
In an attempt to effect positive change, South Grey News has been working with the Flesherton and District Farmers' Market, the Grey Highlands Municipal League and our friends at In Grey Highlands Podcast to help inform the voting public, leading up to the counting of ballots on October 24.
On September 10, candidates were invited to meet and greet customers of the Flesherton and District Farmers' Market. While there, each of them took approximately three minutes of their time to discuss the focus of their campaigns. Recorded and edited into a special municipal election podcast, Tim Reilly of Leaking Ambience Studio has published the result, with easy-to-navigate chapter markers separating each candidate.
To listen, click here.
A full list of candidates with links to their websites and social media pages can also be found at VoteGrey.ca
---
At South Grey News, we endeavour to bring you truthful and factual, up-to-date local community news in a quick and easy-to-digest format that's free of political bias. We believe this service is more important today than ever before, as social media has given rise to misinformation, largely unchecked by big corporations who put profits ahead of their responsibilities.
South Grey News does not have the resources of a big corporation. We are a small, locally owned-and-operated organization. Research, analysis and physical attendance at public meetings and community events requires considerable effort. But contributions from readers and advertisers, however big or small, go a long way to helping us deliver positive, open and honest journalism for this community.
Please consider supporting South Grey News with a donation in lieu of a subscription fee and let us know that our efforts are appreciated. Thank you.