October 27, 2022
Grey Highlands couple buy house for Ukrainian newcomers as part of community support system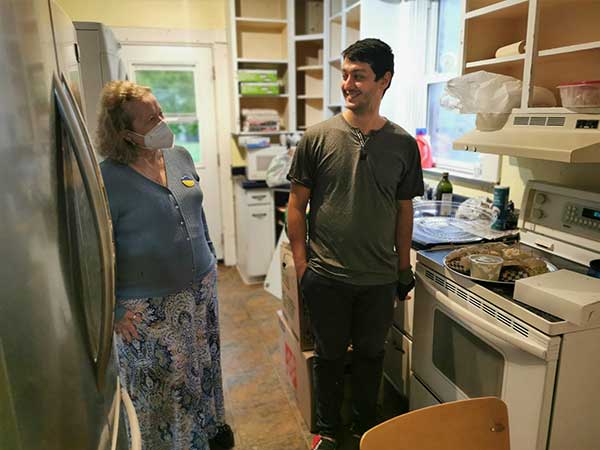 Ukrainian newcomer Siavash M. and Grey County Cares Chairperson Lynn Silverton during renovations to the Rural Net House in Owen Sound, before his family moves in.
BY JOHN BUTLER FOR SOUTHGREY.CA — If you need to find a house for a Ukrainian newcomer family, then go out and buy one.
This decision by Heiner Philipp and his activist wife Susanne von Toerne shows the kind of 'just do it' outlook that makes them indispensable members of the team in Grey Highlands who help Ukrainian families to escape the perils of their homeland and to settle in or near Grey Highlands.
Heiner owns and is President of Rural Net, an internet service provider headquartered in Flesherton. From the beginning of the invasion of Ukraine, Heiner has donated a portion of his firm's monthly income to help Ukrainian families seeking refuge in Canada. Susanne, a German-trained surgeon with a history of hands-on voluntary medical assistance to vulnerable populations overseas, carries her 'get it done' approach to her work helping the same people Heiner cares about. Susanne has made two trips from a base in Germany to a Polish camp for fleeing Ukrainian families, on each trip bringing families to initial safety in a quiet German town. But this was only the beginning for her. Once back in Canada, she worked tirelessly to help Ukrainian families to legally enter Canada and helped them to settle here — not an easy task since the families usually fled Ukraine with nothing more than a suitcase or two, and little or no money.
Fortunately, Susanne discovered and joined a group of kindred spirits in Grey Highlands — people committed to helping Ukrainian newcomers, but with the longer term goal of helping any families who have been compelled to flee from their homelands — women-led families from Afghanistan for instance. The core of these helpers formed a group called Grey County Cares (GCC), organized largely by playwright and Markdale bookstore operator Kevin Arthur Land. Grey County Cares has concentrated on raising money and soliciting and distributing supplies to newcomer families in partnership with the Markdale Rotary Club — a relationship made easier through the commitment of then-Club President Lynn Silverton. Through the sale of Grey County Cares lapel pins and several fundraising events, Grey County Cares has raised thousands of dollars to cover flight costs of three Ukrainian families (comprising 20 people) from Europe to Canada, initial rental cost for families as they move into rented independent lodgings, dental bills, bicycle helmets for children, SIM cards, drivers' license costs, discretionary spending money and a host of other expenses. As well, GCC has sought and distributed vast amounts of donated clothing, housewares and other necessities as families find their feet in Canada.
Housing has been essential, says Susanne. In addition to the accommodation provided by host families when newcomers first arrive, follow-up accommodation is needed for families moving to the next step — their own rented homes, close to where family members can access jobs and education. While Grey Highlands can provide some of these resources, many families need to move to larger nearby centres — Owen Sound and Collingwood – to find work and the educational resources they need.
That's why Heiner and Susanne bought a house in Owen Sound — dubbed Rural Net House.
The M. family have moved into the house (to protect their privacy, we are not using their full name). The family comprises wife Angela, husband Siavash, son Raian and son Liam (a three month old baby born after the family arrived in Canada). Siavash moved into the house first, to take a lead in carrying out renovations with the help of volunteer work gangs and tradespeople who donated their expertise. Angela and their boys lived temporarily in Mississauga during the renovation phase and the family, reunited, all now live in their Owen Sound home. Heiner and Susanne hope to help Siavash to requalify as a dentist/dental surgeon here in Canada – something that may take several years. Heiner hopes a GoFundMe campaign will help cover the steep cost necessary for Siavash to become part of Ontario's oral health workforce. Angela, Siavash and their boys were able to become the house's first Ukrainian tenants because of the success story of another family, the N.'s (again, not their full name). The eight members of the N. family were slated to move into the house, but Yuryi N., a Greek Ukrainian Catholic priest, was able to secure a job assisting the priest in charge of a church in Brampton.
Angela M., an accountant by profession, lives with an anxiety common among Ukrainian newcomers — she worries about an elderly relative left behind. Angela's grandmother has refused to leave her home in Cherkasy, saying she survived World War II in that town and she will not let Russians force her out. Other Ukrainian families live with constant fear because their sons and fathers are fighting on the Ukrainian front lines, or because their relatives are exposed to the terror shelling of residential areas by Russian forces.
Susanne and Heiner are quick to point out that they are part of a larger network of helpers, and they are eager to publicly thank as many of these helpers as possible, even at the risk of leaving out the names of some of the many caring people in our communities. As examples of these hero-helpers, they mention:
The many Canadian families who have been the initial hosts of arriving families, giving them a roof over their heads and extending warm hands of friendship
The companies in Grey County who assisted at low cost or no cost in helping prepare Rural Net House in Owen Sound for its occupants: Home Depot Owen Sound that provided ceiling lamps free of charge; Van Dolder's in Owen Sound that gave a discount on new doors and windows; and Rural Routes Pest Control from Neustadt that provided pest control services
Ontario Works in Grey County (a shout-out to caseworker Charmaine Grosse) and Huron Bay Co-Operative in Markdale, that have both helped secure winter jackets and boots for children in newcomer families
Joanne Gainer and Gwen Kloosterboer, who served as volunteer English teachers to adults and children in two newcomer families. As well, when Susanne left Canada early in September to work at a refugee camp in Greece for a month, Gwen Kloosterboer took on many of Susanne's tasks (helping newcomers with the paperwork of settling into a new country, driving them to appointments and helping them move into their new homes for instance)
Marilyn and Russ Blackman from Priceville, who donated a camper to Heiner and Susanne to house an incoming family adjacent to the Philipp/vonToerne home in Flesherton
The Flesherton Food Bank that provided food and other supplies to newcomer families
Highland United Church in Eugenia, whose yard sale in July produced $600 to help newcomer families
Four separate donations of hand-made quilts (25 in all) that were provided to Ukrainian families
P. J. Knickerbocker's store in Markdale that donated many new kids' books for newcomer children
Elite Excavating from Townsend Lake that donated a bouncy castle for a summer camp for Ukrainian children on Heiner's and Suzanne's rural property in Flesherton.
Members of newcomer families who have themselves become contributors and enablers of successful newcomer settlement here. Susanne cites the examples of a newly arrived Ukrainian woman — a skilled graphic artist — who designed the Grey County Cares butterfly logo, and the teenage boy from a newcomer family who helped Heiner and Susanne to engage children at their summer camp.
The members of the Grey County Cares Committee, whose tireless fundraising and acquisition and distribution of supplies helped Susanne and Heiner and other host and newcomer families so newcomers can get to Canada in the first place and so they can secure the basic necessities of life and of opportunity once they are here
The Markdale Rotary Club that provides charitable receipts to people who donate money to Grey County Cares. As well, four Rotarians became members of the Grey County Cares Committee.
The many businesses and offices that allow Grey County Cares lapel pins to be given out on their premises in return for a ten dollar donation
The Grey Highlands Peace Committee, which will donate to Grey County Cares the proceeds of a silent auction at its annual Peace Lunch on November 12. As well, Peace Committee members Pam Burgess and June Butler have crafted a queen-sized quilt, with help from community volunteer Lynn Mockry, that incorporates the colors of Ukraine's flag and that will be raffled off at the Peace Lunch to benefit Grey County Cares.
Thousands of people who have donated money, supplies and volunteer time, helping newcomers to believe that Canada is a warm country after all.
Susanne points out that these people and organizations are only the tip of the iceberg that comprises what she calls our compassionate community. She also says that not one donor or volunteer has asked for public recognition in return for their contribution.
According to Susanne, much need has been met but more need will emerge as incessant bombing and the onset of a Ukrainian winter without adequate fuel drive more families with children to seek a haven here.
People willing to donate money, supplies or services to Grey County Cares should contact Susanne von Toerne at sanne.vt@hotmail.de or Lynn Silverton, Grey County Cares Chairperson, at lynn@bmts.com.
---
At South Grey News, we endeavour to bring you truthful and factual, up-to-date local community news in a quick and easy-to-digest format that's free of political bias. We believe this service is more important today than ever before, as social media has given rise to misinformation, largely unchecked by big corporations who put profits ahead of their responsibilities.
South Grey News does not have the resources of a big corporation. We are a small, locally owned-and-operated organization. Research, analysis and physical attendance at public meetings and community events requires considerable effort. But contributions from readers and advertisers, however big or small, go a long way to helping us deliver positive, open and honest journalism for this community.
Please consider supporting South Grey News with a donation in lieu of a subscription fee and let us know that our efforts are appreciated. Thank you.