April 21, 2021
Grey Bruce hospitals respond to capacity challenges amid third wave of COVID-19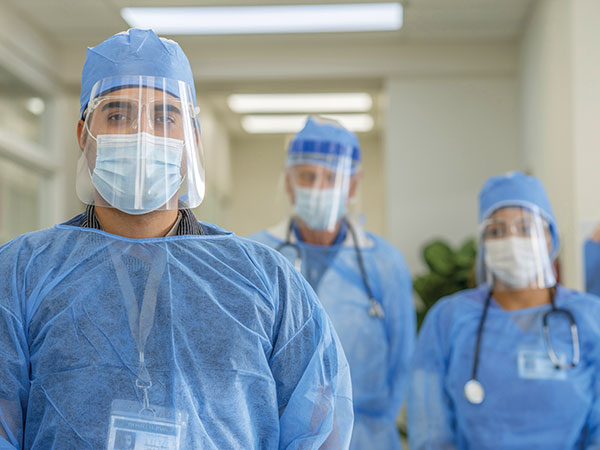 In response to escalating bed capacity challenges across the province and a Ministry of Health directive issued on April 20 requiring all non-emergent and non-urgent elective surgeries and procedures to be ceased, the three hospital corporations in Grey Bruce are increasing bed capacity and ramping down elective surgeries and procedures beginning this week. The postponement of elective surgeries is necessary to ensure hospital staff are available to provide care for the additional beds that have been opened.
All impacted patients will be contacted directly by their physician's offices. Grey Bruce Health Services (GBHS) is encouraging the public not to call the hospitals or their physician's office.
All urgent and emergent surgeries will continue, and physicians will evaluate patient status and provide care as needed.
The number of COVID+ patients in Intensive Care Unit (ICU) beds is increasing dramatically, particularly in the Greater Toronto Area (GTA), and hospitals outside the GTA have been asked to take patients from other hospitals that have become overwhelmed. All hospitals across Southwestern and Eastern Ontario have been asked to support these efforts.
Over the weekend, Ontario Health West advised hospitals that patient transfers out of the GTA will begin on a daily basis to free up ICU capacity, with up to ten patients per day to the South West Region. As bed capacity across the Grey Bruce region is already nearing or at 100%, additional beds are required to support these repatriations.
Hospitals are also facing bed capacity challenges because there are a large number of Alternate Level of Care (ALC) patients in hospital — patients designated as ALC are those people who have completed their hospital stay but are unable to be discharged to their next destination (long-term care, home, supportive housing, etc.) because that destination is not available.
South Bruce Grey Health Centre (SBGHC)
Beginning April 21, five additional surge beds will be opened at the Walkerton hospital, and three surge beds that were previously opened at the Kincardine hospital to manage additional capacity will remain open. Health care human resources are stretched thin at this time, and as a result, support for these additional beds will include allied health professionals working alongside nurses in a team nursing model.
To free up staffing resources to support the team nursing model, Diagnostic Imaging procedures will be slowed to 50-75% beginning April 21, and surgical services have been ramped down to focus on priority- one and -two procedures through May 10. If your previously booked Diagnostic Imaging exam or surgery is impacted, you will be contacted to reschedule.
"Every hospital bed is a provincial resource," explains Michael Barrett, SBGHC President & CEO. "We fully support a seamless provincial hospital system that will accept patients from other hospitals, share resources and prioritize services so all hospitals can continue to provide safe, effective care to both COVID-19 and non COVID-19 patients."
Grey Bruce Health Services (GBHS)
---
At South Grey News, we endeavour to bring you truthful and factual, up-to-date local community news in a quick and easy-to-digest format that's free of political bias. We believe this service is more important today than ever before, as social media has given rise to misinformation, largely unchecked by big corporations who put profits ahead of their responsibilities.
South Grey News does not have the resources of a big corporation. We are a small, locally owned-and-operated organization. Research, analysis and physical attendance at public meetings and community events requires considerable effort. But contributions from readers and advertisers, however big or small, go a long way to helping us deliver positive, open and honest journalism for this community.
Please consider supporting South Grey News with a donation in lieu of a subscription fee and let us know that our efforts are appreciated. Thank you.