June 23, 2021
Holland Centre man wins $500,000 with Instant Plinko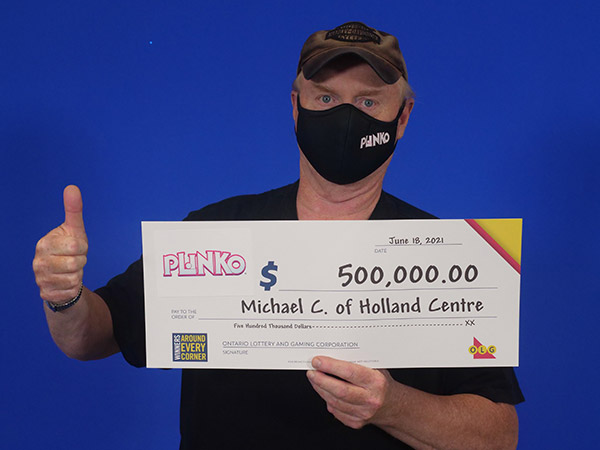 Michael Carefoot of Holland Centre is celebrating after winning $500,000 with INSTANT PLINKO (Game #2215)!
Michael, a 63-year-old welder, says this is his first big win and he enjoys playing INSTANT PLINKO and CASH FOR LIFE. "I'll continue to play the lottery after this win," he shared.
Michael says when he discovered his big win, he couldn't believe it. "It's just crazy. My girlfriend is happy!"
Michael plans to save his winnings for retirement and house renovations.
"I am still having an adrenaline rush after dropping the chip," he said. "I never thought it would happen, but I won!"
$5 INSTANT PLINKO combines popular scratch play with prizes revealed in-store by an animated chip drop on the lottery terminal screen and potentially, the chance to drop a chip on a real PLINKO Board at the OLG Prize Centre in Toronto.
There are three fun ways to win with INSTANT PLINKO:
SCRATCH – Scratch the five (5) LUCKY NUMBERS and twenty-four (24) YOUR NUMBERS entirely. Match any one of the LUCKY NUMBERS to one of YOUR NUMBERS, win the corresponding prize from $5 to $100,000 or a CHIP prize.
WATCH – If the prize won is CHIP, visit any OLG retail location to validate your ticket. Upon validation of a CHIP winner, watch the animated PLINKO chip drop on the lottery terminal screen to reveal your prize from $10 to $10,000 or a PLINKO top prize. 3.
DROP – If the prize displayed is PLINKO, you qualify for a PLINKO Event at the OLG Prize Centre in Toronto to win a guaranteed prize of $100,000 to $500,000.
PLINKO and THE PRICE IS RIGHT: ®/© FremantleMedia Netherlands BV. 2021. All Rights Reserved.
The winning ticket was purchased at Variety Plus on Garafraxa Street in Chatsworth.
---
At South Grey News, we endeavour to bring you truthful and factual, up-to-date local community news in a quick and easy-to-digest format that's free of political bias. We believe this service is more important today than ever before, as social media has given rise to misinformation, largely unchecked by big corporations who put profits ahead of their responsibilities.
South Grey News does not have the resources of a big corporation. We are a small, locally owned-and-operated organization. Research, analysis and physical attendance at public meetings and community events requires considerable effort. But contributions from readers and advertisers, however big or small, go a long way to helping us deliver positive, open and honest journalism for this community.
Please consider supporting South Grey News with a donation in lieu of a subscription fee and let us know that our efforts are appreciated. Thank you.